9 Things You Need To Know Today (March 28)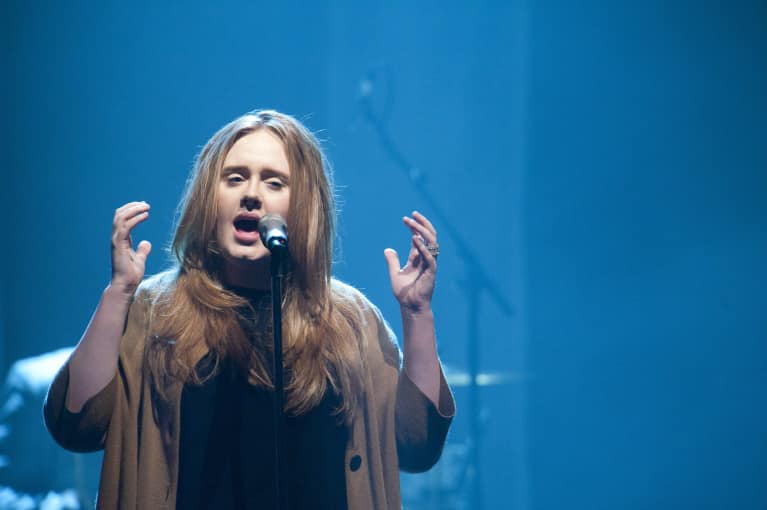 1. Adele has spoken out about the "ridiculous" pressure to breastfeed.
The opinionated singer opined to her audience at London's O2 Arena last week, "It's f*cking ridiculous, and all those people who put pressure on us, you can go f*ck yourselves, all right? Because it's hard. Some of us can't do it. I managed about nine weeks with my boobs." (Mashable)
2. Last year, there were twice as many investments in renewable energy as there were in coal and gas.
Great news for alternative energy, especially considering the fact that fossil fuel prices are dropping fast. (EcoWatch)
3. Almost all meteorologists think that climate change is real.
A new study finds that 95 percent of meteorologists believe that the world is warming, and 80 percent think that humans are responsible. Trust the experts, folks. (Washington Post)
4. Monarch butterflies may go extinct in our lifetime.
According to a new study, the widespread use of agricultural herbicides could wipe the species out within two decades. (EWG)
5. A single traveler may be responsible for this whole Zika mess.
According to a new study of the virus's genome led by Brazilian and British researchers, it first appeared in the Western Hemisphere in the blood of a single traveler who went from French Polynesia or Southeast Asia to Brazil between May and December of 2013. (NY Times)
6. Toxic metal may be lurking in your chocolate.
Not the most appetizing. According to a new study by consumer group As You Sow, the odds are pretty high that the chocolate you eat contains toxic levels of lead, cadmium, or even both. Testing 50 different popular chocolates, they found unsafe levels of the two heavy metals in 35 of them. (Grub Street)
7. Woman's honest obituary for her sister raises awareness about mental health.
Eleni Pinnow penned a heartbreakingly honest obituary about her younger sister, Aletha, who died at age 31 last month "from depression and suicide." The abrupt loss compelled Pinnow "to tell the truth" about mental illness and the devastating impact of depression, in hopes of saving others from the same fate as her sister. "Unfortunately, a battle with depression made [Aletha's] innate glow invisible to her and she could not see how desperately loved and valued she was," she wrote. "If the family were to have a big pie in the sky dream, we would ask for a community-wide discussion about mental health and to pull the suffocating demon of depression and suicide into the bright light of day." (Washington Post)
8. Study links caffeine to miscarriage.
Listen up, coffee addicts. A study published in the journal Fertility and Sterility suggests it's possible that drinking too many caffeinated beverages while trying to conceive could result in a pregnancy loss—and it doesn't matter if it's the man or the woman. (NBC News)
9. The number of women having healthy breasts removed (choosing double mastectomies when facing breast cancer in a single breast) tripled between 2002 and 2012.
New research overseen by surgical oncologist Dr. Mehra Golshan shows that "the number of women who have cancer in just one breast but choose to have both breasts surgically removed is rising ever more dramatically. The data show that "double mastectomies did not improve [patients'] long-term odds of survival. That lack of survival benefit has been clear for years, but they underwent the major operation anyway. The takeaway: "Having a healthy breast removed is "medically unnecessary, but a choice." (Common Health)