What's Your Flower Color? Choose The Perfect Bloom For Any Mood
Our editors have independently chosen the products listed on this page. If you purchase something mentioned in this article, we may
earn a small commission
.
"More than anything, I must have flowers always, always."
So wrote the great Impressionist painter, Claude Monet, whose paintings exploded with the colorful blossoms of his Giverny garden. From the time I was a little girl gathering armloads of daisies from my mother's garden, I have been similarly addicted to flowers.
To me, there is nothing more beautiful than a single peony—or tulip or dahlia—at its peak of bloom. You can get lost in its subtle shadings of color or the waxy perfection of its petals.
You'll find a more extensive consideration of color and texture in my new book, The Flower Workshop, but here's a primer on how to choose blooms to reflect your mood (or score the mood you want).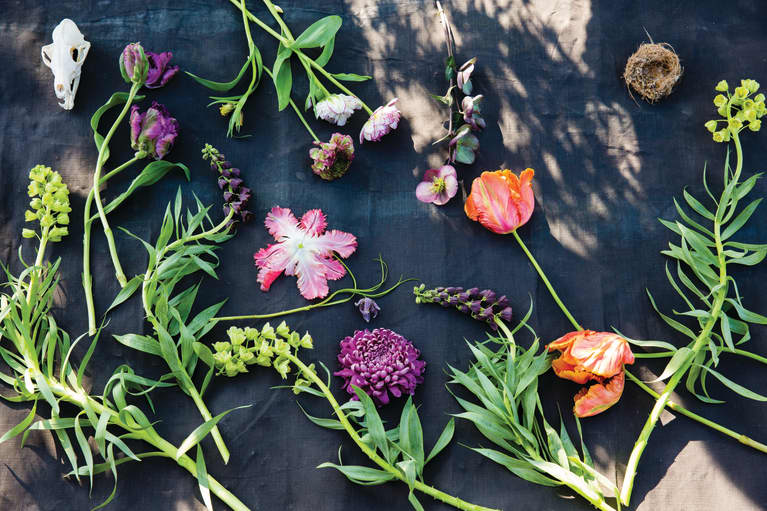 Red is a strong color of passion and desire, and it makes a bold statement. Don't pare down the drama by mixing it with other colors. Instead, use a variety of reds for added emphasis. For example, red tulips combined with red, black-centered anemones are electric—and just plain sexy.
Orange can bend in many directions—toward autumnal hues or the soft light of dawn. If I'm aiming for a romantic mood, I'll pair peachy cottage roses with soft pinks and yellows that blend along a sunset spectrum. But orange has another, "wake-up/look-at-me" personality that sets an entirely different tone. Think of bright orange California poppies gathered in bunches on your breakfast table. Suddenly, you're wide-awake.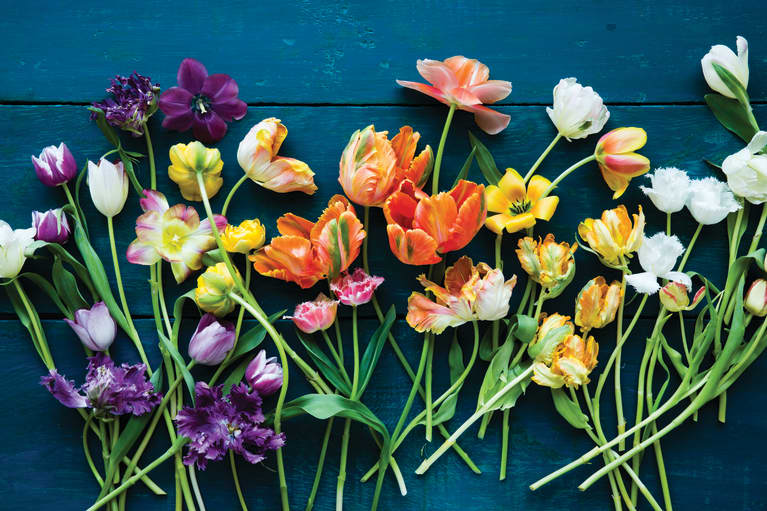 Blue is the most difficult hue to find in the garden. Yet the blues that nature does deliver are extraordinary, and they set a regal mood. I always feel I have to sit a bit straighter when visited by an arrangement of stately delphiniums. I love to showcase delphiniums surrounded by a cloud of "Jackmanii" clematis and blue gentians—two blossoms that echo its strong, dramatic color.
Yellow is an optimistic color, filled with light and full of promise. Perhaps that's because so many yellow flowers signal the start of spring: daffodils, of course, and all manner of narcissus, crocus, and forsythia. I like to use these blossoms in small arrangements, often paired with pots of more sophisticated yellow orchids. These flowers scream, "Don't worry, be happy."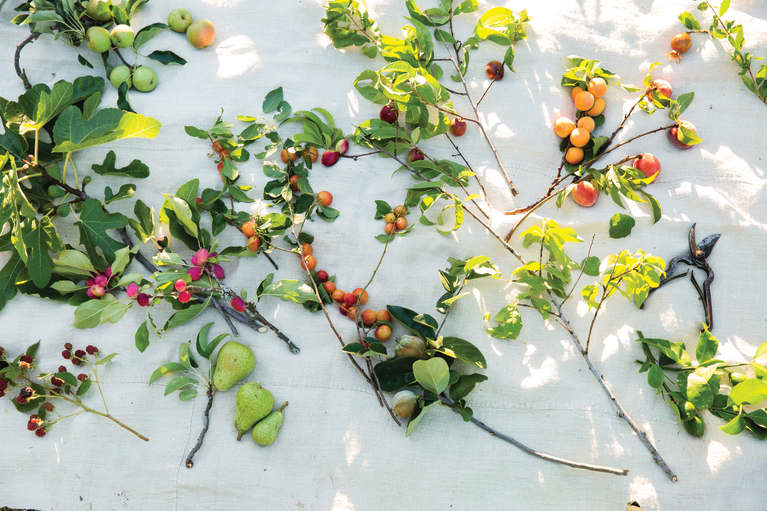 I love the elegance of white: white sheets, white dishes, all-white rooms. White flowers achieve the same simple sophistication, but the variety you select will fine-tune the mood a bit. A bunch of daisies is cheerful and sweet; white orchids, cool and aloof; lilies of the valley, full of promise and romance. White flowers always bring a dramatic touch to evening events, for night is the time when lilacs, lilies, and jasmine release their most potent scents.
Pink, the color of grace and elegance, flatters just about everyone—from the pale seashell pink of a little girl's skirt to the bright pink of a favorite lipstick. Pick a position on its spectrum of shades and you can set the mood for sweet romance or wild sophistication. For the former, I'll choose pink peonies and pair them with similar shades of foxglove and roses. The softness of the petals reinforces a sense of girlish charm. But the mood changes to spiky and dramatic if I choose cactus dahlias in brighter pinks and pair them with castor bean blossoms and branches of cranberry viburnum.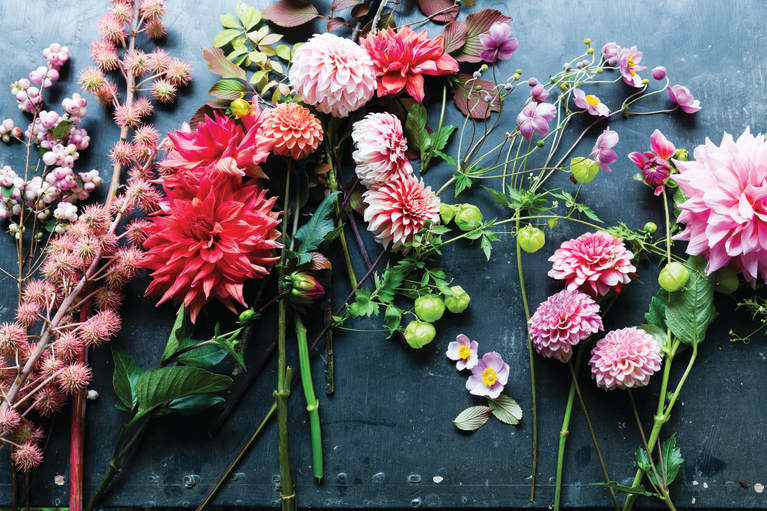 Most often, green plays a supporting role in floral design. Green foliage punctuates a bouquet, adding background and subtle shading to the dominant color. Now and then, green steps into the spotlight and takes center stage. I find green a cheerful color, especially since the dominant shade is chartreuse—as in "Envy" zinnias and the early blossoms of the Limelight hydrangea. When paired with lime green nicotiana in a late summer arrangement, the results emphasize petal variety and texture and demonstrate a sweet, playful charm.
For more on how to fashion flowers to fit any mood or occasion, check out my new book, The Flower Workshop, available where books are sold.