What Holistic Nutritionist Jesse Lane Lee Eats In A Day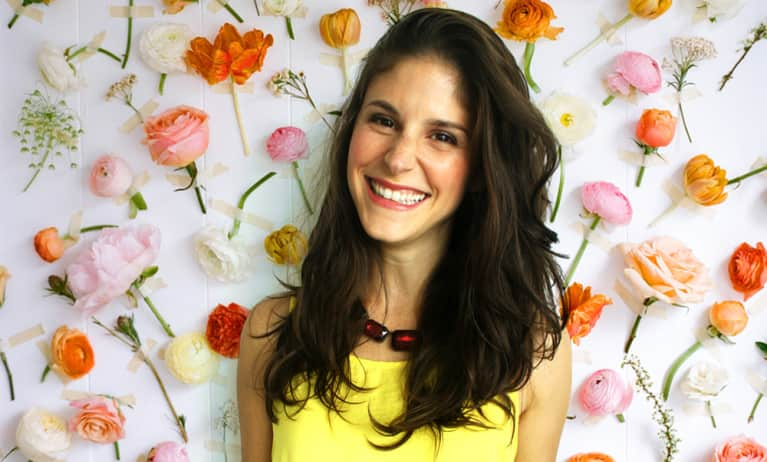 As a holistic nutritionist, cookbook author, cooking class instructor, and founder of JesseLaneWellness.com, a web-based holistic nutrition practice and healthy recipe resource, I love teaching people that healthy eating can be fun, easy, and most of all delicious!
I believe that food has incredible and almost magical healing powers. While I was studying engineering at university, I experienced debilitating digestive distress. With the help of holistic practitioners, I figured out the food formula that worked for me, and it was like I had come back to life!
I felt amazing and was bursting with energy and I love seeing my clients experience the same transformation. I enjoy playing in the kitchen and creating recipes that accommodate a wide variety of food allergies and lifestyle choices.
I spend a lot of time in the kitchen testing out new recipes for my website, cookbooks, and live online cooking classes. By the end of the day, the kitchen is a complete disaster and I'm covered in food!
I'm so excited to give you a behind-the-scenes look at the food I eat every day.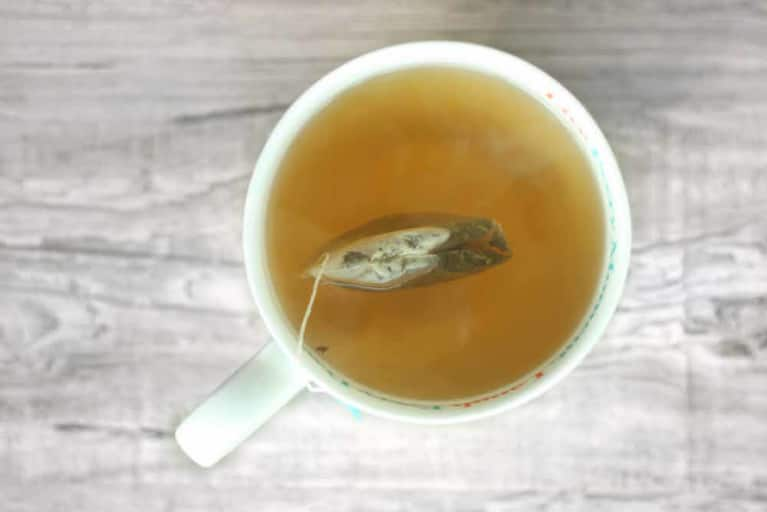 I love starting my day with tea, even in the summer! I like to spend the first bit of my day curled up on the couch reading and researching the latest and greatest nutrition trends and studies. It's important for me to stay up-to-date in my field so that I can provide my clients with the best solutions out there.
Breakfast #1 (yes, I eat two breakfasts!) is usually something quick that I can enjoy before taking my dog for a long walk. Today I blended up the Chocolate Crave Raspberry Smoothie from The Holistic in the City 21-Day Smoothie Guide.
I love this smoothie because it tastes just like dessert, but it is very high in easily digestible fiber. Other mornings I will eat chia pudding, a banana/apple and almond butter, or dessert (I eat dessert for breakfast a lot!).
Breakfast #2 is usually something savory and often contains an egg. Today I sautéed some spinach with onions, salt, pepper, and red pepper flakes and topped it with an over easy egg. Other days I will fry an egg and enjoy it over last night's dinner leftovers. I love doing this because it is quick and easy to make, but the egg on top makes it feel like breakfast. I've discovered that over-easy eggs taste good on just about anything!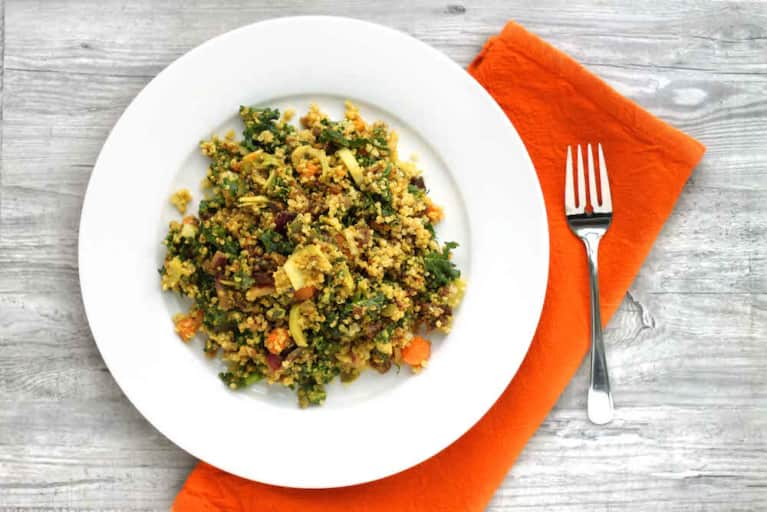 I love to have great big salads for lunch. It's such a great way to get a megadose of veggies in the middle of the day. Today I ate my Curry Kale Quinoa Salad, which is bursting with flavor and super filling.
I love this salad because it keeps really well in the fridge. I made a big batch and will enjoy it again for lunch a few more times this week.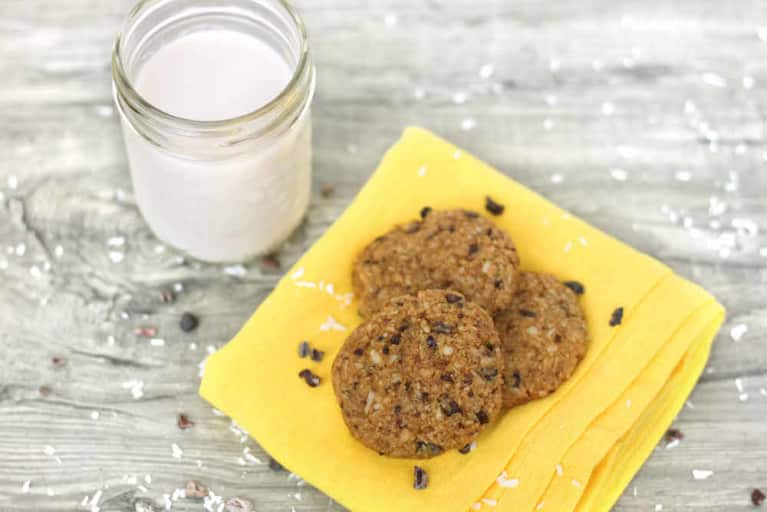 I don't like eating dessert after dinner because it's not great for digestion, but I need to fit dessert in somewhere because I am a recovering sugarholic!
These are Almond Coconut Choco Chip Cookies from my cookbook Healthy Dairy-Free Desserts. I made them on a TV segment yesterday, so I decided to enjoy the leftovers as a snack. I love eating something sweet midafternoon.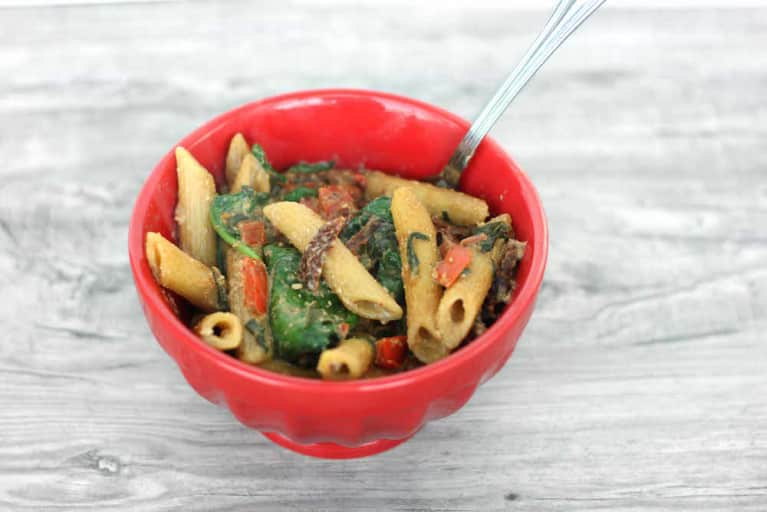 At the end of the day, my husband and I put on music, dance around the kitchen, and make dinner together. Tonight we made my Vegan Alfredo Pasta because I'm teaching people how to make it in an upcoming live online cooking class and I wanted to make sure it was perfect!
I love this recipe because it has all the creaminess of regular Alfredo pasta with none of the dairy.
If you want to get your hands on these recipes, you can check out my cookbooks and upcoming live online cooking classes.