8 Cleansing Spring Foods To Support Your Liver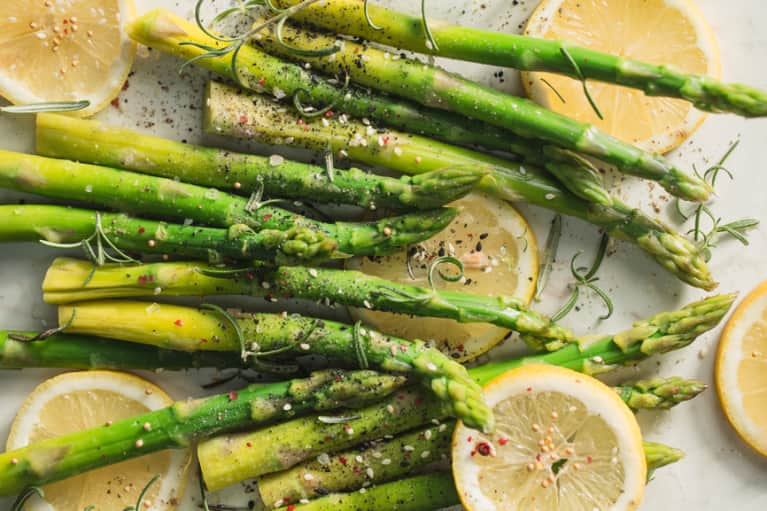 There's a reason that asparagus is the celebrated veggie of spring. Yes, it is one of the first vegetables to make itself known in the garden, but that's not the only thing to get excited about.
Asparagus, along with a few other foods, gives our body the boost in needs to recover from the chill of winter. Spring is a natural time to think about hitting the dietary reset button.
There is no right way to spring clean your diet, you just need to pick a starting point. Choose foods that support your body's natural detoxification process and that fuel your life force—your prana or chi.
Foods that purify your system include colorful veggies and fruits that are antioxidant rich. Phytochemicals in plants absorb sunlight giving them their rich colors and vibrant flavors. When we eat these foods the energy is transferred to us.
Try to add one or two more servings to your day, or add a new color or vegetable that you haven't tried. Some ideal veggies include:
Asparagus contains glutathione, a powerful antioxidant known for its role in supporting the body's natural detoxification process carried out by your liver.
Asparagus cooks very quickly, making it an easy addition to an omelet in the morning. What's better than starting your day with a fresh green veggie?
Along with asparagus, avocados are rich in glutathione. This powerful antioxidant supports the liver in getting rid of harmful materials.
Avocados are a fun addition to a smoothie—hello, yummy creamy beverage.
The volatile oils in the rind of the lemon are called limonoids. These chemicals, in addition to the juice of the lemon, support healthy digestion.
Lemons are also abundant in vitamin C, which boosts your immune system while fighting free radical damage to the body.
Squeeze a little in your water, or, better yet, make your own zesty salad dressing. My favorite is lemon tahini, which is great drizzled on kale, broccoli, or just about any other veggie you can think of.
High in ALA (alpha-linolenic acid), a type of omega-3 fat that not only boosts brain power and also supports detoxification in the body.
You know what to do here: Toss some on a salad or just enjoy them as a snack.
Raw garlic, in particular, activates liver enzymes, helping your body to destroy unwanted chemicals and toxins.
Mince or chop fresh garlic, let it sit on the counter for a minute or two (this activates the allicin, the enzyme that gives it its aroma), and then add it to salad dressing or a really nice olive oil for dipping vegetables or crusty bread.
Yes, the pesky lawn weed has medicinal properties. The root of dandelion makes a great tea that has been shown to help the liver rid the body of toxins.
The tea is a tad bitter, so add a splash of local honey.
Nothing says spring better than iced tea. Why not make it iced green tea? Green tea is high in catechins, which cleanse the body and support liver health.
Add a bit of mint for a refreshing twist.
Spring is a natural time of transition. No matter where you may have drifted over the winter, don't let that stop you. As we now head into the vibrancy of spring, start thinking about what your reset looks like. Keep a growth mindset over the next few weeks.
This is not a pass-fail event but rather an invitation to transition your diet to one that supports your best self as you step into the warmth of spring. Pick one food each week to add to your cooking routine.