An Easy Shrimp + Radish Salad That Tastes As Good As It Looks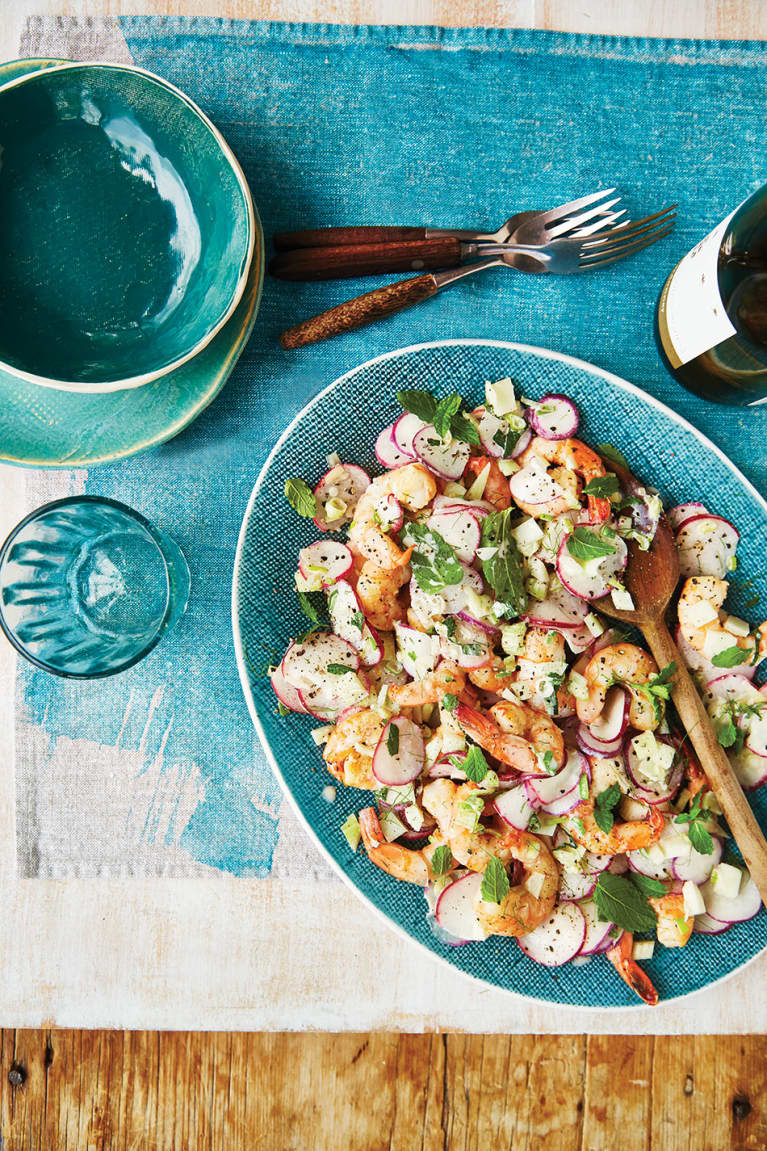 Our editors have independently chosen the products listed on this page. If you purchase something mentioned in this article, we may
earn a small commission
.
Shopping for radishes at the farmers market can bring you a choice selection nearly as endless as the colors of Easter eggs. Using two different radish varieties automatically gives this salad a vibrancy of textures, colors, and flavors.
Georgia Shrimp + Radish Salad
Makes 4 servings
Ingredients
2 lb. unpeeled, large raw shrimp
2 tablespoons extra-virgin olive oil
1 teaspoon table salt, divided
3⁄4 teaspoon freshly ground black pepper, divided
1 (4-oz.) watermelon radish, cut into fourths and thinly sliced
4 oz. d'Avignon radishes, thinly sliced
4 scallions, sliced
1⁄2 cup diced fennel bulb
1⁄4 cup fresh orange juice
1 teaspoon honey
1 teaspoon Dijon mustard
2 tablespoons mayonnaise
1⁄4 cup chopped fresh mint
Garnish: fresh mint sprigs
Preparation
1. Peel and devein shrimp, and pat dry. Sauté in a very hot cast-iron skillet over medium-high heat for 4 minutes.
2. Combine shrimp, olive oil, 1⁄2 teaspoon salt, 1⁄2 teaspoon pepper, and next 4 ingredients in a large bowl.
3. Whisk together orange juice, next 4 ingredients, and remaining 1⁄2 teaspoon salt and 1⁄4 teaspoon pepper. Pour over shrimp mixture, and toss. Serve chilled.