Deliciously Ella On Following Your Passion, Healing, And #Wellth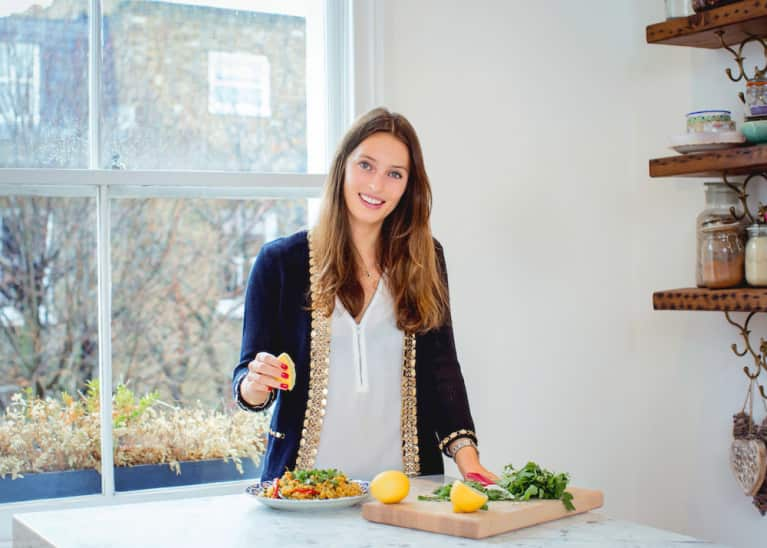 Our editors have independently chosen the products listed on this page. If you purchase something mentioned in this article, we may
earn a small commission
.
I've spent the past year thinking a lot about "wellth"—the idea that success is found in a lifestyle devoted to mental, physical, and emotional health. (I even wrote a book about it.) In this new series, we're celebrating visionaries who embody what it means to be wellthy.
Here at mbg, we love blogger and author Ella Woodward's delicious, plant-based approach to food. She's inspired people all over the world eat cleaner and in her new book Deliciously Ella Every Day, she makes it easier than ever to add more greens to your plate—especially avocados!
EW: Avocados, I'm absolutely obsessed! Smashed avocado with chili flakes, lemon juice, black pepper, and salt on rye toast is my favorite thing.
What's your favorite way to sweat?
I like a mix of workouts—yoga, reformer Pilates, boxing, weight training, spinning, walking my dog, and just about anything else.
Do you have a favorite healthy place to eat in the United States?
Cafe Gratitude in Venice, the best food ever. I lived right next door for a few months in 2014 and became totally addicted.
What's the biggest life lesson you've learned in the healing process?
You get back what you put in. The more effort, time, and love you put into anything in your life—from your health and well-being to your career and relationships—the more you get back.
What's your favorite way to escape to get some nature?
Walking my dog! I'm totally obsessed with my dog, Austin, and I love taking him out for an hour or so—it really clears my head.
What does feeling comfortable in your own skin mean to you?
Being happy in who you are and believing in yourself. It's a hard place to get to, and I think like everyone else I'm still working on it, but it feels great to start feeling comfortable in my own skin.
What does "wellth" mean to you?
Being happy in all aspects of your life and appreciating what you have.
Any advice for someone who's looking to build a life that they love and follow their passion?
Go for it! It's hard work but it's amazing; there's nothing more rewarding than finding success in something you love, no matter how tough it can be to get to the place you want to be at.