Easy Ways To Make A Better Flower Arrangement: Tips From A Sustainable Florist
Our editors have independently chosen the products listed on this page. If you purchase something mentioned in this article, we may
earn a small commission
.
Sustainable florist Ariella Chezar's stunning arrangements have graced tables from the New York Public Library to the White House. Check out the essentials she teaches in all her floral workshops, and let them inspire you to create your own living piece of art.
Certain techniques can be employed in preparing and constructing a flower arrangement regardless of its size and content. If you want your arrangements to last, the flowers must be properly conditioned as soon as you bring them home. Once you are ready to create an arrangement, there are several basic steps that will help you achieve your vision.
The key ingredient for good floral maintenance is water. Supply lots of it and be sure your flowers are prepped to absorb as much as they can. If you are shopping at a flower market, travel with a bucket and a half-gallon jug of water or at least enough water to fill your container half full. If you are cutting flowers in your garden, carry along a bucket of water.
When planning a big event, it's best to let flowers sit overnight in a cool spot so they become conditioned to the environment and absorb as much water as possible. After the rest, they will be less traumatized and open their buds to reveal added color and detail.
Cut flower stems when you bring them home, and cut them again immediately before you add them to a vase. It's best to cut on a diagonal, which exposes more of the stem to water. Branches or woody stems should be crosscut with an X at the bottom to allow for more water intake (if they are narrow, a single slice will do).
When preparing hyacinths, tulips, irises, or other bulbs, be sure to cut off the hard white section at the bottom of the stem so that water can be more readily absorbed. Place the stem in cold water after cutting. For poppies, scorch the stem by burning the tip with a match or lighter, or dip in scalding water. Poppies ooze a kind of sticky sap, and they last a lot longer in water if the ends are sealed.
Cut away all excess foliage. Leaves often suck up water, so unless they will be featured in your work, remove them when you first trim the branches. Likewise, remove all leaves that may fall below the water level so they do not decay and soil the water.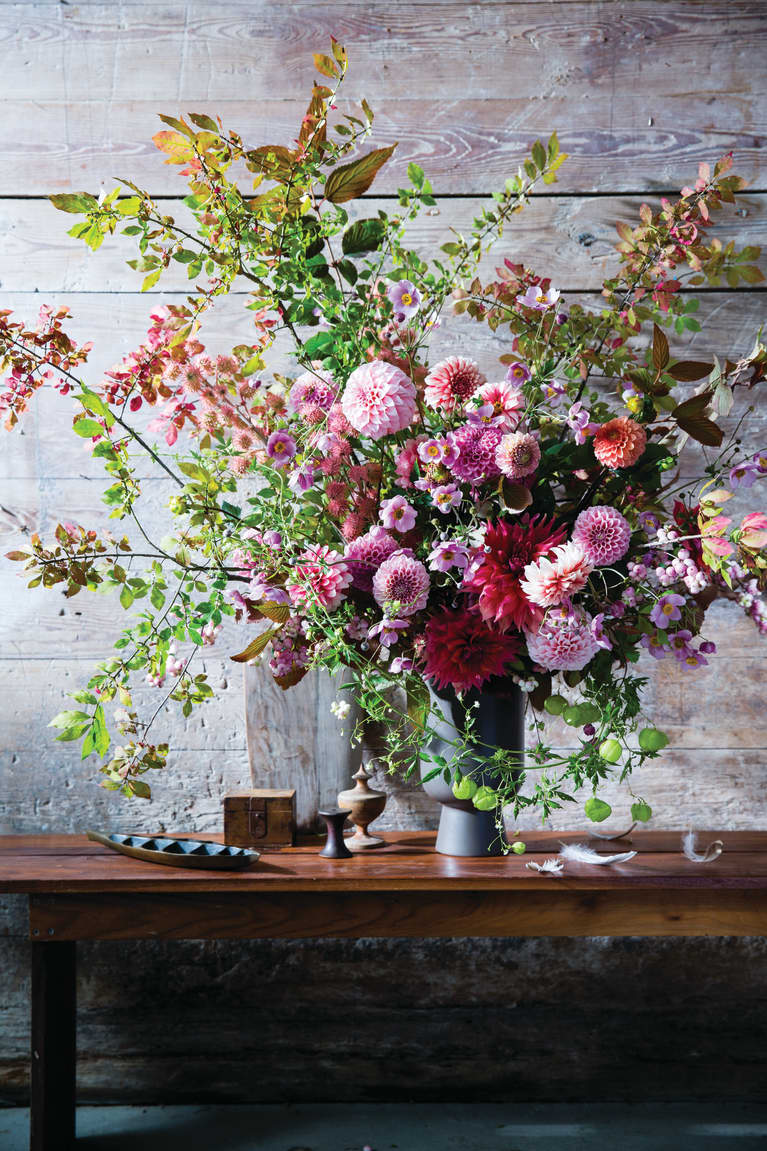 If you are using a vase or vessel that doesn't hold water, find a smaller waterproof container and slip it inside the vase. If you are using a floral frog or another form of anchor, affix it to the bottom of your container with floral putty. Fill containers three-quarters full with cold water and start adding flowers. If you want to force tightly closed flower heads so they open fully and faster, use warm water instead. Warm water is suitable for rose or peony buds and for oriental lilies. Lilacs also prefer warm water.
Don't rush while arranging
This is the fun part! If you're not getting the look you want, start again. When stymied, wander into your backyard for inspiration. Clip a branch here, a bunch of greenery there. Take your time and let the beauty of the blossoms guide you.
As a rule, your tallest branch or flower stem should be about one and a half times the height of the vase you are using. That said, this is a rule that is made to be broken. My workshop students are often amazed when I cut a flower stem to 3 or 4 inches, placing the short flowers—or fruits and berries—along the edge of the container. This breaks the line of the vase and creates a more painterly, organic effect.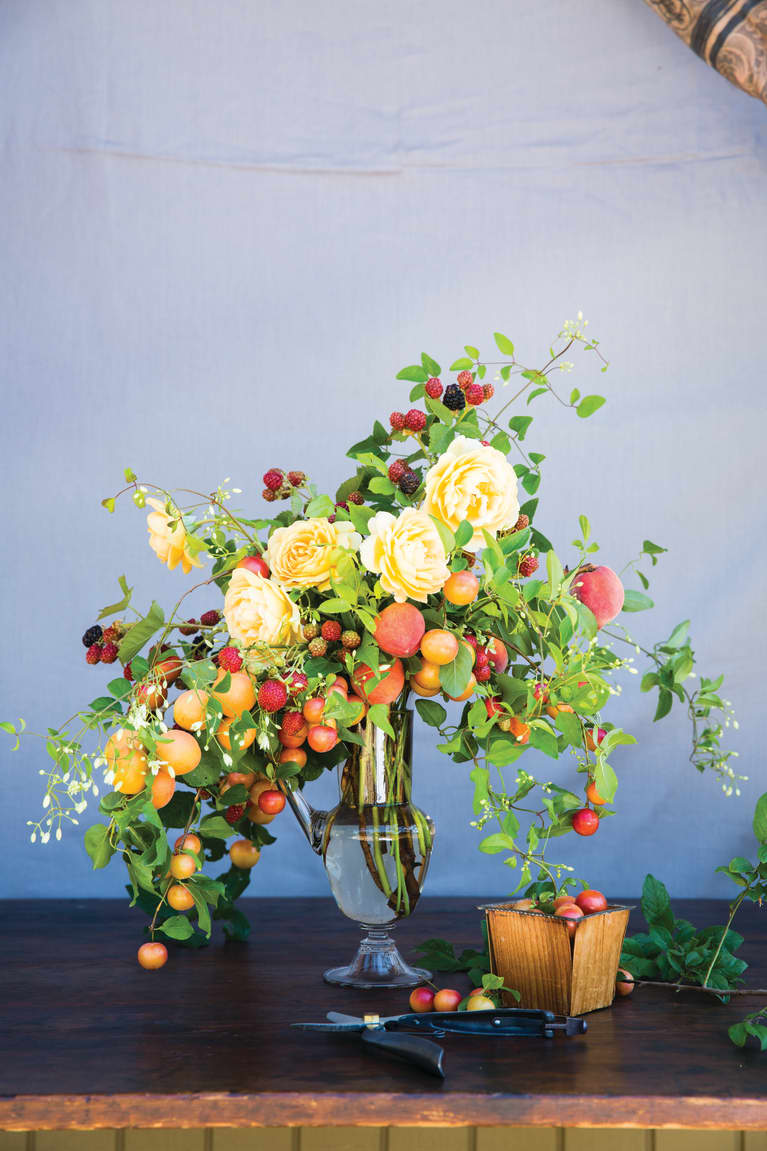 Work from large to small. Anchor large branches first in a base layer, then position your focal flowers by placing the stems into frogs or whatever grid you have created. If your arrangement is to be viewed from all sides, the focal flowers should be placed so they can be viewed from every angle. If your arrangement is to be located against a wall, don't waste important flowers far in the back, where they won't be seen.
Observe the rule of three
The Latin saying omne trium perfectum—"everything that comes in threes is perfect"—is an important floral mantra. An arrangement of three looks more natural and less forced than an even-numbered collection. Group three pots of orchids, for example, or three amaryllis bulbs, or three tiny vases on a windowsill. You can apply this same rule when constructing an arrangement. Cluster small blossoms in groups of three—or five—so they make a strong impression and create a balance of symmetry and asymmetry.
Edit ruthlessly. Flowers are beautiful, but they aren't perfect. Consider each branch and stem, looking for ways to improve its appearance. For example, you'll want to remove any buds that detract from the impact of a single flower. Eliminate outside petals that are less than perfect; trim leaves that compete for water; peel away the papery brown sheaths from a budding daffodil. Often, large branches require thinning, either of faded blossoms or of empty twigs. Like a sculptor, you are trying to remove anything that inhibits dramatic impact.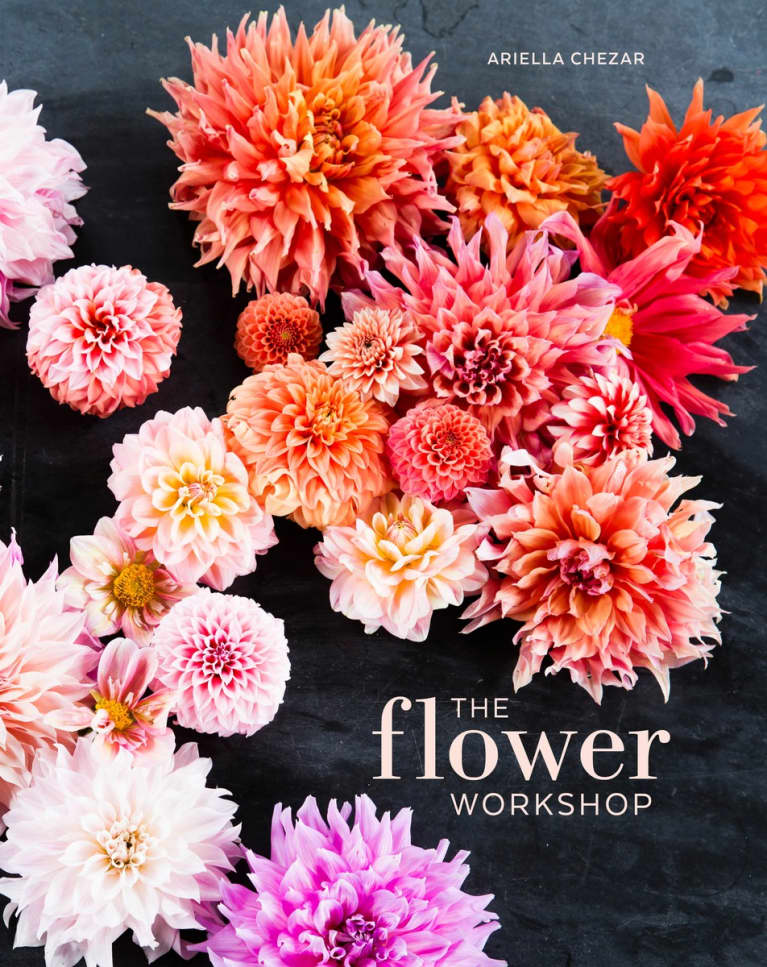 Reprinted with permission from The Flower Workshop, by Ariella Chezar with Julie Michaels, copyright © 2016, published by Ten Speed Press, an imprint of Penguin Random House LLC. Photographs copyright © 2016 by Erin Kunke.