Dana Claudat On Palo Santo, Feng Shui, And #Wellth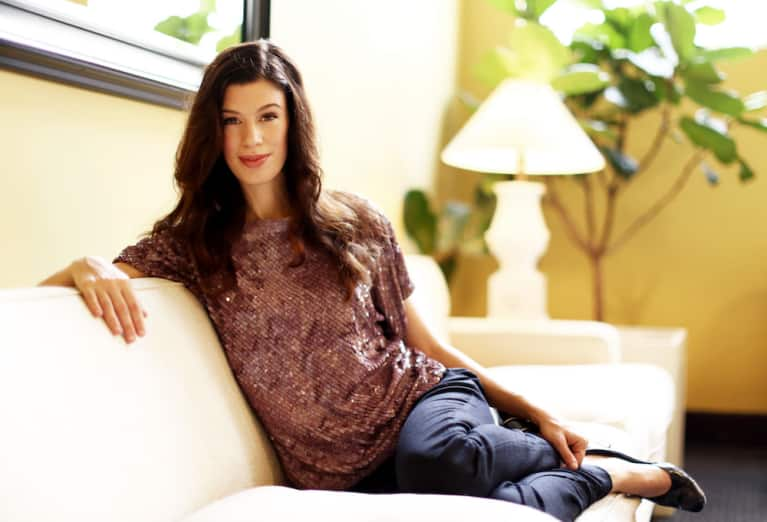 Our editors have independently chosen the products listed on this page. If you purchase something mentioned in this article, we may
earn a small commission
.
I've spent the past year thinking a lot about "wellth"—the idea that success is found in a lifestyle devoted to mental, physical, and emotional health. (I even wrote a book about it.) In this new series, we're celebrating visionaries who embody what it means to be wellthy.
Dana Claudat studied art history at Stanford University and went on to become a Pyramid School Feng Shui consultant. In her own words, "I help people rewrite their story to give more of themselves to life and get more of what they want from life."
Dana has been part of the mbg family since 2010, when we were just starting out and running on pure passion. When it comes to feng shui, there's no one better. She even put together our new Brooklyn office! She's a dear friend and truly family.
mbg: Favorite way to break a sweat?
DC: There are amazing hikes all over L.A. Fryman Canyon is my favorite.
Favorite healthy place to eat?
My house—or Gjusta in Venice, Calif.
Self-care is a big part of your job, as a feng shui and interior design expert. What are some of your favorite holistic self-care practices?
I try everything, but my daily routines include burning palo santo, detox baths (Epsom salt, sometimes a handful of quartz crystals), writing daily pages in a journal, and chanting at my Buddhist temple.
What's your favorite way to get some nature?
Beach walks, from Santa Monica to Malibu. (The sunsets are the best.)
Favorite holistic treatment?
I could move into a Korean spa—if the ones I liked had Wi-Fi. I'd sit in the Himalayan salt room pretty much all day. I'm also obsessed with my acupuncturist, Dr. Wing.
What does wellth mean to you?
Having been extremely sick in the past, it means health to me: mind/body/spirt health. And love. Giving love, feeling love. Lots of love. With health and love, business and money will follow.
Any advice for someone who's looking to follow their passion?
Declutter your life as much as you can—home, mind, body, and even digital outlets. I don't think there's one right way to do anything, but, speaking from experience, it's much harder to be creative, take risks, feel grounded, and build things that are solid when you've got a lot of clutter in your life.