How A Wellness Maven (And Mama) Keeps Her Skin Glowing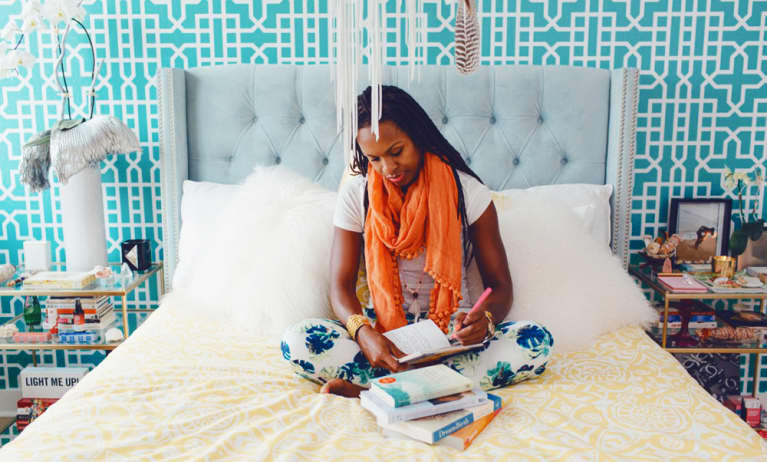 I grew up watching my mother engaging in beauty rituals, from hair maintenance to skin care. At an early age, she taught me the importance of exfoliation, drinking lots of water, and moisturizing my skin and she cautioned against excessive sun exposure. I didn't listen to that last rule and have the freckles to prove it! But I have developed my own self-care and beauty practice, which I call Glow Time. As a mother myself now, wellness maven, and trusted lifestyle guide, I am constantly exploring the best products out there to share with my community and our mamas at Mama Glow, the maternity lifestyle company and Web destination I founded. Clean living doesn't just mean eating well; it's also what you put on your body that matters just as much as what you put in your body.
Pregnancy is the perfect time to change your beauty regimen. What passes through your skin can potentially pass through the blood-placental barrier to your baby, so it's worth reassessing your vanity cabinet and stocking up on high-quality, natural products. If you intend on getting pregnant, this is an essential part of the process that so many women overlook. Remember, your skin is your largest organ, so be keen on cleaning up your beauty routine. Mama Glow and the Environmental Working Group created a nontoxic pregnancy guide that really all of us should use as a manual for living a more eco-friendly and toxin-free life.
My beauty routine is one that I would recommend to all women. It's not just about washing your face. It's about setting the tone for a relaxed and affirmative experience, one that you will repeat to tap into your inner queendom.
I'm about cultivating rituals and reveling in radical self-care. The moments we spend on ourselves and by ourselves are magical.
Check out my routine and suggestions for chemical-free beauty products that are good for your glow, fertility-approved, and also environmentally friendly.
When I wake up I like to take my time with my beauty regimen. I start with Tata Harper Regenerative Cleanser, an exfoliant that is very nutritive. I also use Clean Dirt by May Lindstrom, an exfoliant full of ground medicinal goodness for the skin. Exfoliation brings new skin to the surface, enriching your glow. I spend about two minutes massaging my skin in a circular motion. I apply the product to my face and neck (remember, the French consider the décolletage an extension of a woman's face). We often forget to take care of the skin on our necks, but that skin is quite sensitive. I then rinse, pat dry, and follow up with Tata Harper Floral Mist, which provides a layer of moisture, before I use moisturizer. I gently pat in the moisturizer and tap the under-eye region to disperse any puffiness. I travel a fair amount, so, depending on the climate, I will use a face oil. One of my favorites is Rain Oil Cleanser by Good Medicine. I dab a dime-size amount of oil into my hands and then spread it around my face and neck.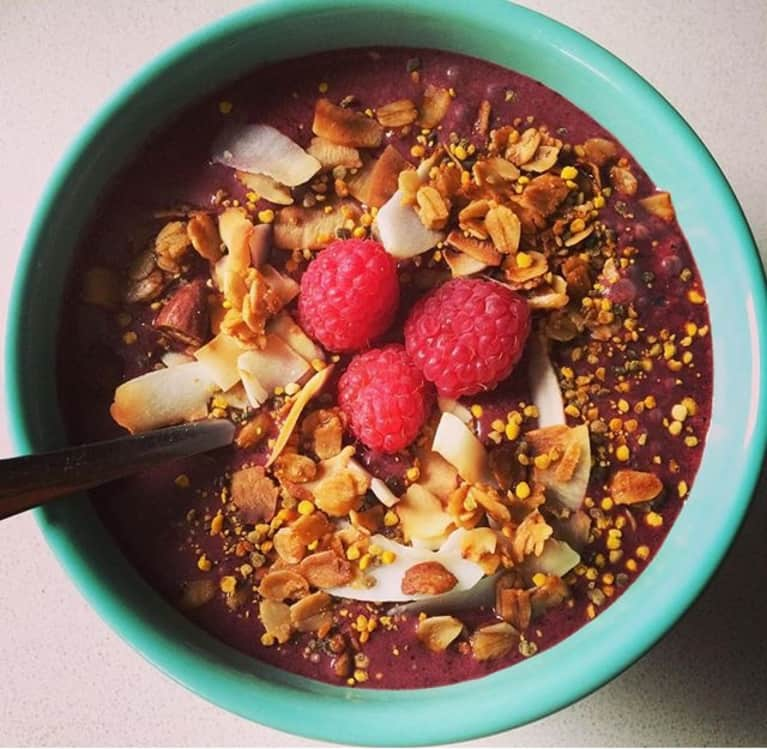 Breakfast and Reflective Time
After waking up and getting ready for the day, I take a little time for mindfulness. Then I make a nutritious breakfast. My go-to breakfast changes by season, but I love my morning açaí bowls. I lived in the Northeast of Brazil, and every morning I have açaí na tigela (a bowl of açai) with homemade granola on top. I incorporate cacao nibs, coconut butter, frozen blueberries, and frozen cherries, and then I blend with coconut water or filtered water. Once blended well, I put the mixture into a bowl and add a dollop of Anita's creamline coconut yogurt, hemp seeds, and homemade granola on top.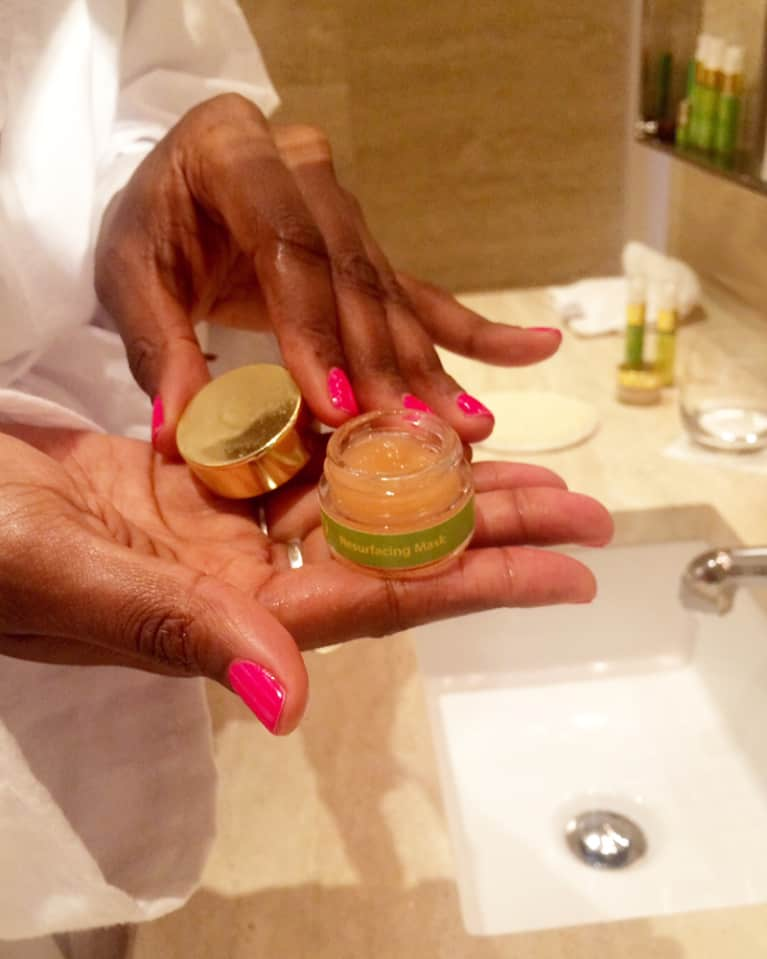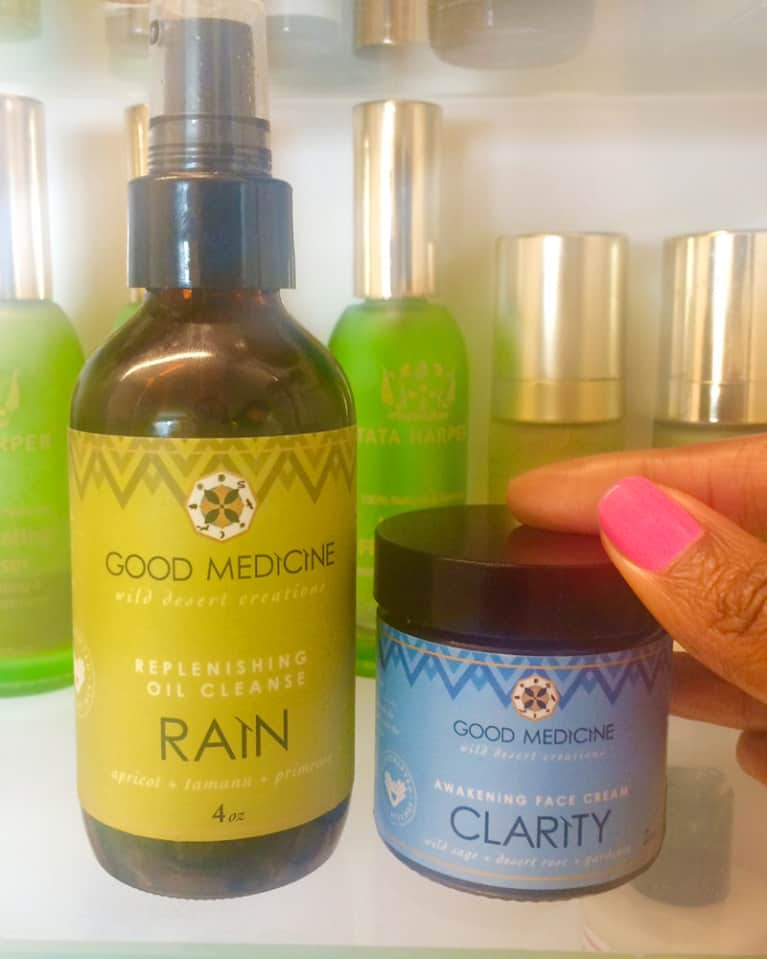 At the end of the day, it's important to cleanse the skin of dirt, remove makeup, and embed moisture and nutrition to feed your skin while you are asleep as the skin is in its cellular repair cycle. At night, I do an oil cleanse with Rain by Good Medicine, and use a warm wet cloth to open up the pores. I follow with a serum to smooth and protect, like Honey Dew Youth Serum by Good Medicine, which I rub into the chin, smile lines, and forehead areas. Finally, I finish with Tammy Fender Quintessential Serum. It's pricey but works wonders, and you don't even need to use that much of it. It's a very rich, nutrient-dense formula, containing avocado and castor oil.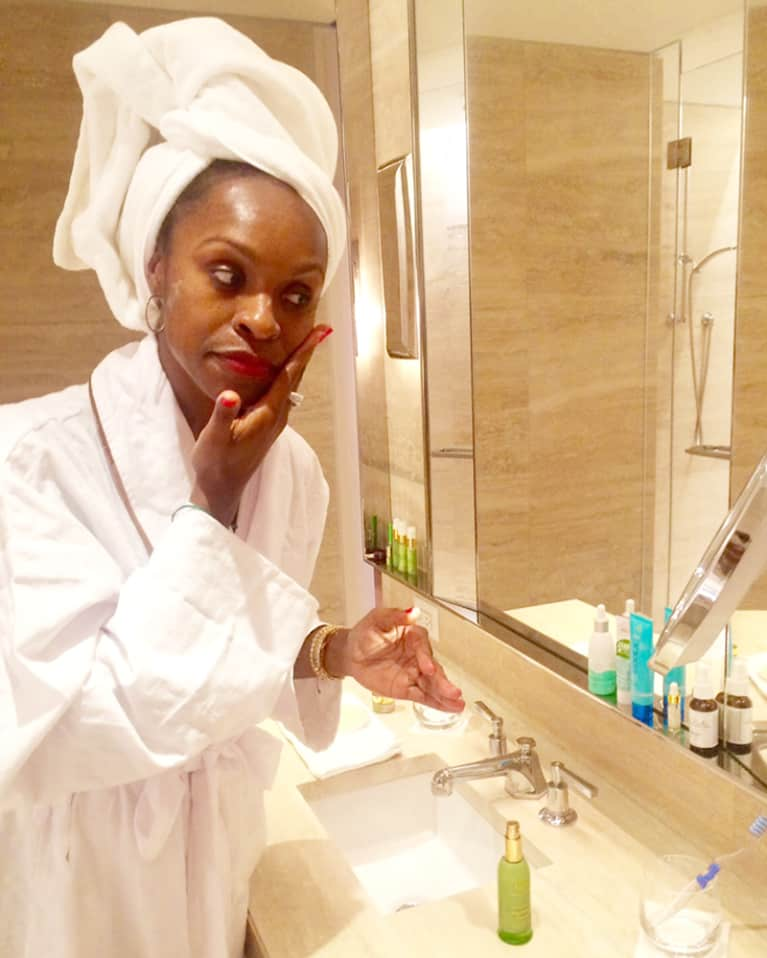 Pursoma Bath Soak has a Digital Detox bath, which I love. It is incredible because the clay and minerals draw impurities and toxins out of the tissues and it really detoxifies the body. I start by soaking in sea salt to mineralize my cells, then I add the clay bath. When I get out of the tub, I lather my skin with Drenched by Organic Bath Co, which is a whipped blend of argan oil, shea butter, and jojoba oil and feels heavenly.
Part of my self-care includes my hair care. I wear my hair in locs, and many people have questions about how to take care of natural hair. If I washed my hair daily it would be very brittle. My hair texture requires a lot of moisture. I use Royal Rinse by Herb'n Life, which is a blend of black soap; aloe; and tea tree, flax, and neem oils; it is super-nutritive. I scrub my scalp and wash my hair through the ends. Then I apply Love-In Conditioner by The Root Organics, which is loaded with argan oil, aloe, baobab oil, bhringaraj oil, and soothing aloe vera. I massage into my scalp and twist my locs. I then allow my hair to air dry. It smells heavenly.