Want To Amp Up Your Workout? Eat Chocolate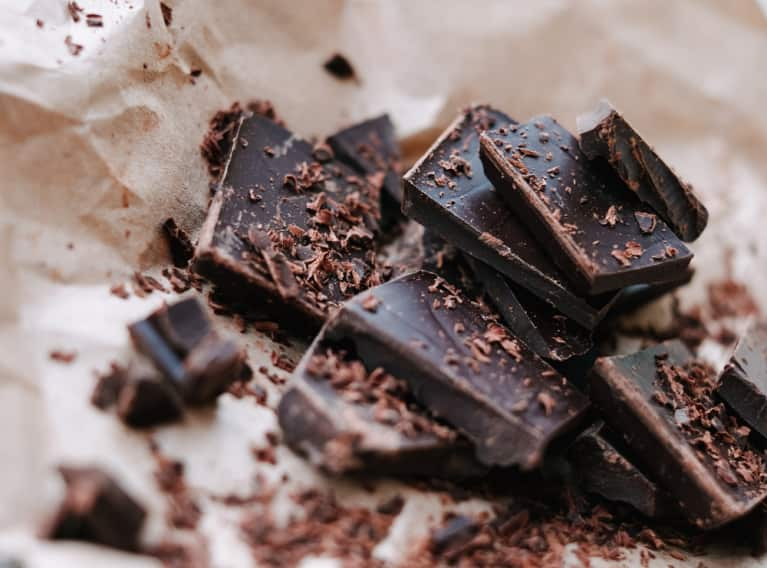 March 23, 2016 — 14:27 PM
When it comes to pre-workout fuel, chocolate is probably the last thing that comes to mind. We think carbs, fats, protein, and water.
But according to a new study of sports nutrition, a little dark chocolate may be exactly what you need before you embark on that crack-of-dawn run. Just like another recent study said about coffee, it may actually improve athletic endurance.
Coffee and chocolate? We're in.
We've long known that indulging our dark chocolate craving isn't something we need to feel guilty about. Studies show that small amounts may have benefits for the heart and brain likely because of a substance called epicatechin, a plant nutrient found in cocoa. By prompting cells that line blood vessels to release extra nitric oxide, epicatechin is known to improve blood flow and cardiac function.
So, obviously, athletes want to increase the amount of nitric oxide in their bloodstreams. Some swallow nitrate-rich supplement pills or beetroot juice (though the safety of nitrates is still unproven)—but no one had paid any attention to dark chocolate's ability to up natural nitric oxide.
Until now. The New York Times reports on researchers at Kingston University who suspected that dark chocolate could be a potent performance enhancer.
For the study, which was published in December in The Journal of the International Society of Sports Medicine, they recruited eight male recreational cyclists who agreed—after lots of protesting, I'm sure—to eat a little dark chocolate every day.
First, they tested the cyclists' fitness and oxygen uptake during moderate rides and all-out sprints on a stationary bicycle.
Then the cyclists were given 40 grams (about one and a half squares) of chocolate every day for two weeks. Half got Dove brand dark chocolate—which has been found in past tests to contain an above-average amount of epicatechin—and the other half got white chocolate, which contained the same number of calories.
After that two-week period, the scientists reran the tests on the subjects, and switched up their routine: those that had been eating dark chocolate were given white chocolate, and vice versa, for another two weeks.
And again, the cyclists returned and took the same performance tests.
The results shocked the researchers. Each cyclist performed better in most of the physical tests after two weeks of consuming dark chocolate, compared to after they'd eaten white chocolate and before they had eaten any chocolate.
The dark chocolate improved their bodies' ability to use oxygen, which would generally allow them to ride longer or harder before tiring, and enhanced their anaerobic ability, as they covered more distance during a two-minute, all-out time trial.
So, you now have an excuse to reward yourself before you ride off into the distance (or to nowhere, if you're a spinner).
But the scientists have not yet determined the ideal amount of chocolate for athletes, so don't assume that more than 40 grams means better performance. Feel free to eat the rest of that bar, but it's probably not going to do much for your body—other than your tastebuds, of course.