How Technology Can Help You Raise More Mindful Kids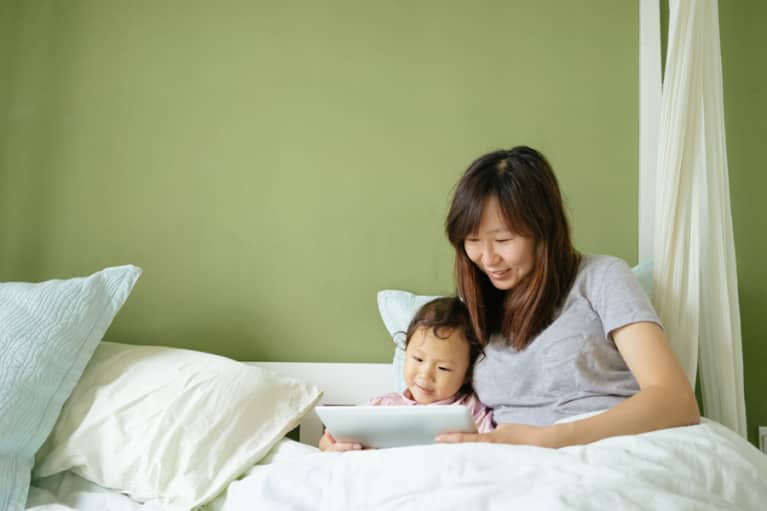 The words "mindfulness" and "technology" probably seem like polar opposites, not destined to even appear in the same article.
On one side, we have mindfulness, rooted in Zen Buddhism and quickly becoming a trendy concept in Western culture to promote healthy living. In a nutshell, mindfulness is the practice of focusing our full attention on the moment as it is, letting go of our past- and future-directed thoughts, and allowing all of our senses to experience this moment, without judgment.
Technology can, in fact, be used in the service of mindful parenting.
Our technology, consisting of innumerable forms of entertainment that are often described as "mindless"—think smartphones, gaming systems, and YouTube to name a few—seems to offer the opposite of mindfulness. With its constant barrage of information, technology serves as a distraction from the present moment, and, some argue, keeps us from being in touch with our thoughts, feelings, goals, and desires.
When it comes to parenting, we're often given the message that mindfulness can be used to promote "good" parenting, while technology is "the enemy." The reality is that technological advances will continue to evolve, and there is a middle ground, a balance to strive for, in thinking about the two constructs.
Technology can, in fact, be used in the service of mindful parenting. As a clinical psychologist at the Child Mind Institute, here are my five favorite tips on how to use technology mindfully while raising kids:
1. Download apps that promote mindfulness.
Mindful parenting involves parents engaging in their own self-care, as well as the care of their children. There are countless apps available for people of all ages that promote the practice of mindfulness, even just for a few minutes a day—for example, Headspace for adults, and OMG I Can Meditate for children and adults. There are also those that help you relax and take a break from a busy day, like Breathe2Relax.
Explore the many options available and select one or two that will benefit you and your children. Use the apps to practice mindfulness and de-stressing together.
2. Use technology for shared family activities.
Parents often have questions about how to monitor their children's Internet and gadget use. One surefire way is to have children use the technology in common rooms in your home rather than in their own rooms.
In addition, you can model this behavior by following the same principles. This allows you to more easily see what your children are doing with technology and allows for opportunities for family members to share experiences—such as watching a funny video online, talking to a long-distance family member or friend via Skype, or engaging in multiplayer online games.
3. Teach your children about self-care.
The amount of things we can learn about ourselves through technology in our modern era is quite remarkable. We can track our sleep, our food, our exercise levels, and even how stressed we feel in any given moment.
Plus, there are apps to monitor our moods (like Moodtrack Diary), online journals to help us express ourselves, and apps that encourage creative expression, like paintone. By using these technologies, you can help your kids determine their own goals for self-care and teach them to learn more about themselves.
4. Help kids increase their social networks.
Parents often struggle with the realization that a decent portion of socializing that children do today is not face-to-face but through apps, video-game systems, texting, and even online forums. Recognize that many children see this as legitimate socialization, and any attempts to tell them otherwise will go unheard.
So when you can't win, join them! Spend time with your children understanding the different modes of communication and socializing that they use (while also taking the opportunity to teach them about online safety and monitor activities). Encourage their interests and hobbies by helping them to find fun and safe online communities that will stimulate their passion and creativity in these areas and create opportunities to meet people from other parts of the country and world.
5. Track the total technology use of your family.
I recently learned about the variety of apps available, such as Moment, that track how much time you spend on your various technological devices, and even how many times you pick up your phone to check it, such as Checky.
These tools are an effective way to track your own usage (you may be shocked!), as well as allow kids to see for themselves how much time they're spending on technology.
In addition, the knowledge of family usage can promote all of you taking a much-needed "technology day-off"—and demonstrate what we can discover about ourselves, others, and our world without our gadgets.
Related reads: