This Might Be The Natural Solution To Chronic Back Pain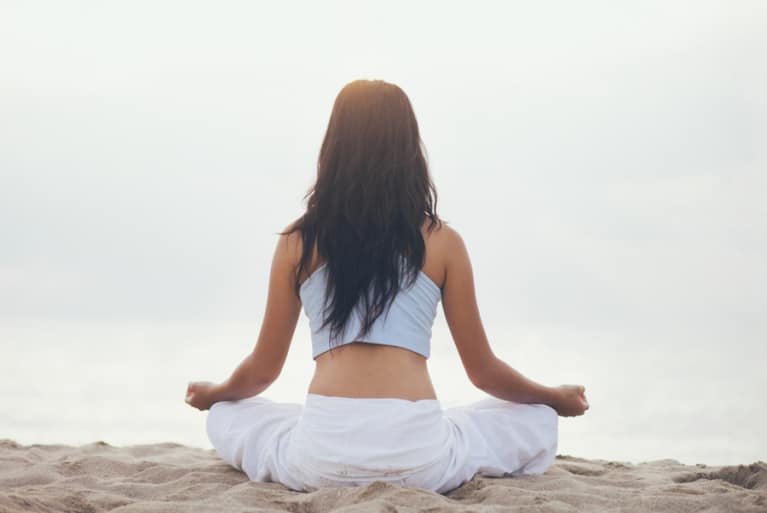 March 22, 2016 — 15:00 PM
Generally, people associate mindfulness meditation and cognitive behavioral therapy (CBT) with emotional pain. But a new study says that these types of interventions can also help to relieve physical pain.
In fact, the study, published today in JAMA, suggests that they may be more effective—and last longer—than traditional physical therapy and medication for treating chronic back pain.
It's the latest in an onslaught of studies saying that more natural interventions like exercise, physical therapy, and just the simple passage of time work better than opioids.
Given the CDC's new guidelines for prescribing painkillers for chronic pain, which urge doctors to think long and hard before whipping out the script pad, the results of this study may provide some hope for those seeking alternative ways to relieve their pain.
Other research had shown mindfulness helped lower back pain in older adults, but this is the first study to test it in in young or middle-aged adults.
The study involved 342 patients, aged 20 to 70, who had suffered from back pain an average of 7.3 years. They were offered either eight weekly sessions of mindfulness training; eight sessions of CBT; or to keep doing what they'd been doing.
Both techniques produced positive results. After 26 weeks, 43.6 percent of those who did the mindfulness training—which included meditation and yoga instruction—reported a meaningful reduction in pain, and 44.9 percent of those in the CBT group reported significant improvements. That's compared to 26.6 percent in the usual care group. And the numbers stayed pretty much the same when rechecked at 52 weeks—despite the fact that most people didn't attend all eight sessions of the programs.
"These findings suggest that [mindfulness-based stress reduction] may be an effective treatment option for patients with chronic low back pain," the authors wrote in an editorial accompanying the study.
But while this is all very encouraging, mindfulness training and cognitive behavioral therapy aren't accessible enough to chronic pain sufferers, and it's hard to get insurers to pay for it.
"Most physicians encounter numerous obstacles finding appropriate referrals for mind-body therapies that their patients can access and afford," they wrote.
But despite not yet understanding the mechanisms by which meditation might help back pain, the researchers believe that this study provides "a compelling argument for ensuring that an evidence-based health care system should provide access to affordable mind-body therapies."