Serena Williams Had The Perfect Response To Sexist Comments About Tennis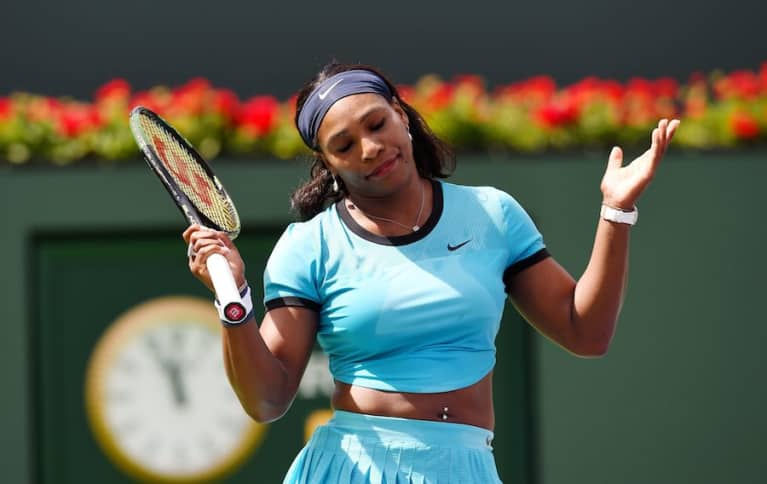 March 21, 2016 — 12:02 PM
Don't ever—ever—mess with Serena Williams. In the wise words of Ludacris, she will "always bring the racket."
But, for some reason (read: the patriarchy), Indian Wells Tennis Garden CEO Raymond Moore thought he might be the exception. And boy, was he wrong.
At Sunday's BNP Paribas Open, he said that players in the Women's Tennis Association (WTA) "ride on the coattails" of men and are "very, very lucky" for male players' success.
"If I was a lady player, I'd go down every night on my knees and thank God that Roger Federer and Rafa Nadal were born, because they have carried this sport. They really have," he continued.
First off: "lady player"? Gross. Second: "go down every night on my knees?" Disgusting. Third: Is he really going to credit men for Williams' status as world No. 1, 21 Grand Slam titles, and four Olympic gold medals? Really?
And if you think it stopped there, I respect your optimism, but you're sorely mistaken. Moore then made the brilliant decision to turn it into a physical appearance thing.
He attributed much of the WTA's success to Williams and said there are "a lot of attractive" players who can carry on her legacy when she retires.
Reporters asked Williams for her thoughts on Moore's comments—and thankfully, she did not hold back at all:
"If I could tell you every day how many people say they don't watch tennis unless they're watching myself or my sister, I couldn't even bring up that number," she said. "I think those remarks are very much mistaken and very, very, very inaccurate."
"Last year the women's final at the U.S. Open sold out well before the men," she added. "I'm sorry, did Roger play in that [women's] final or Rafa or any man play in that final that was sold out before the men's final? I think not."
And she obviously knows what she's talking about. For several years now, the ratings for high-profile women's tennis matches have often been better than the ratings for equivalent men's matches.
But, of course, no one knows that—not even Novak Djokovic. In response to Moore's remarks, he argued that the people who attract the most viewers (men, in his view) should get the most money: "I think that our men's tennis world, ATP world, should fight for more [prize money], because the stats are showing that we have much more spectators on the men's tennis matches."
He then went on to make some weird, patronizing comments about the "respect" he has for female tennis players "knowing what they have to go through with their bodies." Hmm.
Needless to say, Djokovic and Moore have something important in common: they have no idea what they're talking about. And, as Williams aptly put it, Moore's comments were disservice not only to female athletes but to "every woman on this planet that has ever tried to stand up for what they believed in and being proud to be a woman."
Moore later apologized for his comments, which he said were "erroneous" and in "extremely poor taste." Maybe he should "go down every night on [his] knees" and beg for forgiveness?