Best-Selling Author Sarah Wilson On Her Holistic Regimen, Infrared Saunas, And #Wellth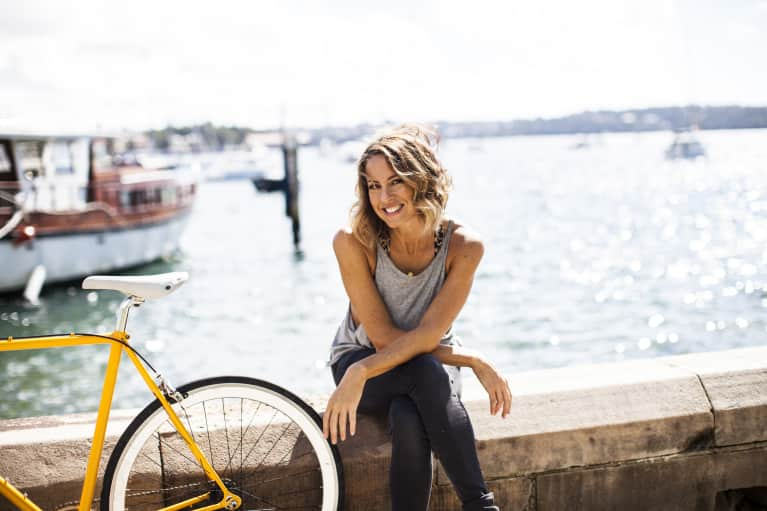 Our editors have independently chosen the products listed on this page. If you purchase something mentioned in this article, we may
earn a small commission
.
I've spent the past year thinking a lot about "wellth" — the idea that success is found in a lifestyle devoted to mental, physical, and emotional health. (I even wrote a book about it.) In this series, we're celebrating visionaries who embody what it means to be wellthy.
Sarah Wilson is a health coach and the author of New York Times bestseller, I Quit Sugar. Now, in her new book, Simplicious, she shows us how to shop, cook, and eat like we used to before sugar-laced processed food hit our shelves. As someone who quit sugar due to her autoimmune disease, Sarah knows a thing or two about taking control of your health. She embodies what it means to be wellthy!
mbg: Favorite healthy place to eat?
SW: Funnily enough, a pub... for good quality meat and vegetables.
What's your favorite way/ place to escape to get some nature?
The ocean. I do an ocean swim most mornings. 20 minutes of negative ions is enough to ground me for the entire day.
What's your favorite way to break a sweat?
Hiking in the bush in my green shorts.
Favorite holistic treatment?
An infrared sauna. (They heat objects, rather than the surrounding air, so they heat our organs and internal tissues without overheating the skin and respiratory system.) They help with detoxing, immune support, high blood pressure issues, water retention, lymphatic issues, bloating, joint pain... the list goes on.
How do you de-stress/ practice self-cafe?
I meditate for 20 minutes every day. It's my saving grace.
What does wellth mean to you?
It means living a life that matters, that balances freedom with responsibility. This is my ultimate goal.
Any advice for someone who's looking to build a life that they love and follow their passion?
Create first, and then trust that the success and reward will come later. It can only be done this way. "Where the mind and passion goes, the energy flows."