Michelle Pfeiffer Might Be Launching Her Own Wellness Brand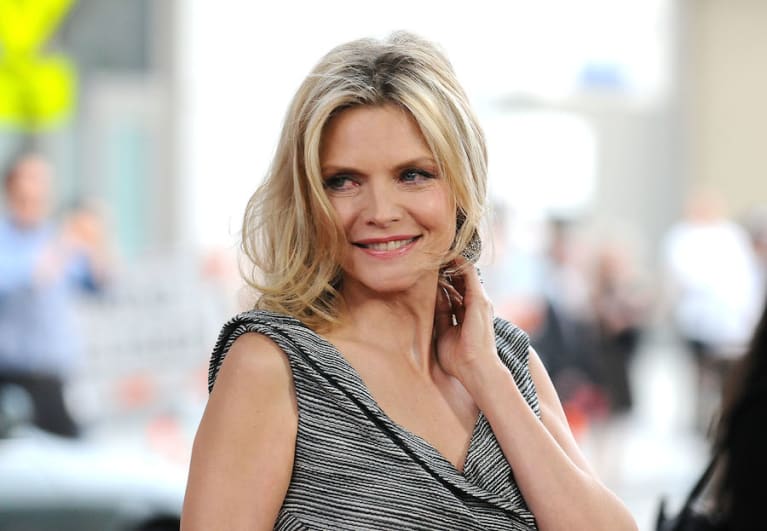 March 17, 2016 — 14:10 PM
Gwyneth Paltrow better get ready, because Michelle Pfeiffer might soon be stepping on her organic, all-natural turf.
She was spotted sneaking into the Natural Products Expo in Anaheim, California on Friday, reportedly to discuss launching her own healthy product line with exhibitors.
The witness told Page Six:
Wearing dark sunglasses, Michelle was walking up and down the aisles of the show taking meetings with anyone willing to sit down with her. Her goal, according to some exhibitors, was to secure herself some licensing deals or do her own product line with a focus on health and wellness.
Michelle had a name tag on that did not bear anything close to her real name, which was strange because you had to check in with ID.
Ooo, green juice gossip: the best kind of gossip.
But, honestly, this wouldn't come as a big surprise. More and more celebrities are making their way into the wellness space. Apart from the obvious goddess of Goop, Jessica Alba owns the Honest Company, which sells non-toxic baby, body and home care goods, and Gisele, Miranda Kerr, and Josie Maran all have their own organic skin care lines.
Plus, this wouldn't exactly be off-brand for Pfeiffer. We may picture her as Tony Montana's drug-addicted wife in Scarface, but the 57-year-old mother is actually quite the health nut. In fact, she's vegan.
But before when she was younger, she admitted to Ladies Home Journal, she wasn't exactly the picture of health. "I lived on Marlboro Lights and Coca-Cola."
In 2012, after watching the CNN documentary The Last Heart Attack, which discussed heart attack prevention and former President Bill Clinton's decision to go vegan, she decided to cut out meat and dairy.
"After two months, my cholesterol shot down 83 points. That's enough proof to me that it works." Pfeiffer said, "I think you begin to look and feel lousy the older you become, so now I eat really well. I don't smoke and I'm learning meditation."
We'd be very excited to see what kind of products she'd put out—but let's not get ahead of ourselves. This is all based on one person's account.
Still, it's hard not to speculate. Would she call it Moop? Would she design a vegan leather catsuit? We can only hope.