What The GMO Debate Means For You, From The Filmmakers Of "Consumed"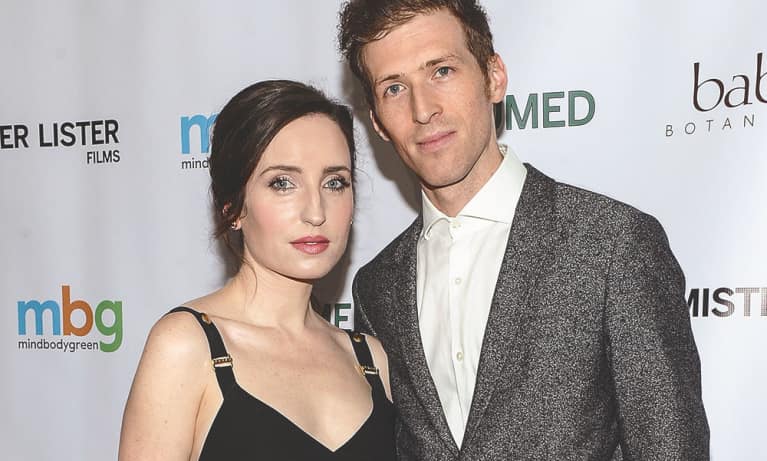 Actress Zoe Lister-Jones and director Daryl Wein are weighing in on the GMO labeling debate with their latest film, Consumed. Read the couple's take on the contentious issue, and get a sense of what it means for you and your food.
Last week, one of the biggest decisions affecting consumers' rights in this country was voted on in the Senate, but very few Americans took note. Luckily, the odds were in our favor.
On March 16, a measure to pre-empt states' rights to label GMOs was overturned in Congress. Commonly referred to as The DARK Act (Deny Consumers the Right to Know), this bill would not only reverse pre-existing labeling laws in states such as Vermont, but it would prohibit all states from enacting such laws of their own.
More than 90 percent of Americans are in favor of labeling foods containing genetically modified ingredients. And more than 4 million Americans signed a petition urging the FDA to require labeling of GMO food. So why exactly is this such a divisive issue?
My husband Daryl Wein and I set out to try to answer this question seven years ago, when we began researching the subject of GMOs for our latest film, Consumed. Consumed is the first narrative thriller (not a documentary) to tackle the world of genetically modified organisms.
We wanted to make a film that could unpack the complex potential effects of GMOs on our health and environment while taking the audience on an entertaining ride. With starring turns from Danny Glover, Taylor Kinney, and Victor Garber, we hope it sparks a conversation around these all-too-relevant issues. It's time that we as consumers look into the food we are feeding ourselves and our children.
More than 90 percent of Americans are in favor of labeling foods containing genetically modified ingredients.
My character in the film is a single mother who goes on a journey to uncover the cause of her son's mysterious illness. In so doing, she learns a lot about the current state of our food supply.
In writing this film, Daryl and I set out on a similar journey to try to understand the GMO debate in all its complexity. While the safety of GMOs is contested, the fact is that the anti-GMO movement can't claim that GMOs have health risks, just as GMO proponents can't claim that they don't.
There simply has not been sufficient research on the topic.
In fact, some of the most respected scientific bodies in the world including Codex Alimentarius (run by the World Health Organization and the Food and Agricultural organization of the United Nations), the American Medical Association, the British Medical Association, and the American Public Health Association have stated that more research needs to be done on GMOs before we can truthfully determine their safety.
One of the most interesting aspects of the safety debate is a FDA regulatory principle called "Substantial Equivalence." It says that if a GMO crop contains comparable amounts of a few basic components—such as proteins, fats, and carbohydrates—as its non-GMO counterpart, then the GMO crop is "substantially equivalent" to the non-GMO one.
Under this paradigm, GMOs and non-GMOs are the same, and no safety testing is required by the regulatory agencies. This made Daryl and me pause. We couldn't help but wonder … if conventional food and genetically modified food were inherently the same thing according to the FDA, then how could you conclude that genetically modified seeds were different enough to be patented? If these GMOs are so new and novel that they require a patent, they must certainly require a label.
The issues surrounding GMOs are vast in scope, and it can be overwhelming to sift through so much conflicting information. Our intention as filmmakers was to probe these important questions to reach viewers, both confounded and unaware, around an issue that affects us all—but on which too few are focusing.
The best way to support the film and the cause is to rent or buy a copy of Consumed directly from the filmmakers themselves on their website: www.consumedthemovie.com. You can also purchase the film on the following platforms: iTunes, Amazon, Google Play, Vimeo, Google Play, and TV VOD Platforms. Follow on twitter/Instagram @consumedmovie.