Eat For Beautiful Skin With This Antioxidant-Rich Kale Salad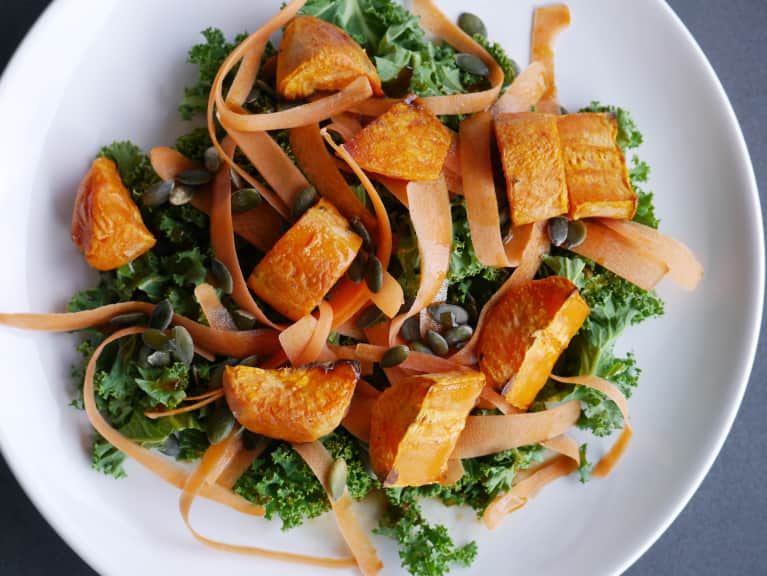 This recipe is replete with beta carotene, the vegetable form of vitamin A, making it wonderful for the skin. Kale is loaded with minerals, including zinc, which is especially important for your complexion, since a deficiency can lead to breakouts. Pumpkin seeds and coconut oil are beneficial fats that will help reduce inflammation. This salad is absolutely bursting with antioxidants so you can glow!
Roasted Sweet Potato, Raw Ribboned Carrot, Kale & Pumpkin Seed Salad with an Orange Balsamic Dressing
1 teaspoon coconut oil
Himalayan crystal salt
1 small sweet potato
1 small ribboned carrot
Handful of kale
Handful of pumpkin seeds
Juice of ½ an orange
1 teaspoon balsamic vinegar
Preparation
Preheat the oven to 200°F. Peel the sweet potato, and cut it into cubes. Then, place the sweet potato cubes on a baking tray with coconut oil and some Himalayan crystal salt atop. Bake for 35 to 40 minutes or until soft.
In the meantime, prepare the kale by removing stems and roughly chopping. Peel off the first layer of the carrot. Then, using same peeler, make the ribbons. Add the ribbons to the kale, along with the pumpkin seeds. Squeeze the orange juice and mix it with the balsamic in a little jar.
Once done, add the sweet potato to your salad, and drizzle your dressing over! Enjoy!