This Dating App Gives You ONE Swipe—Ever (And That Might Be A Good Thing)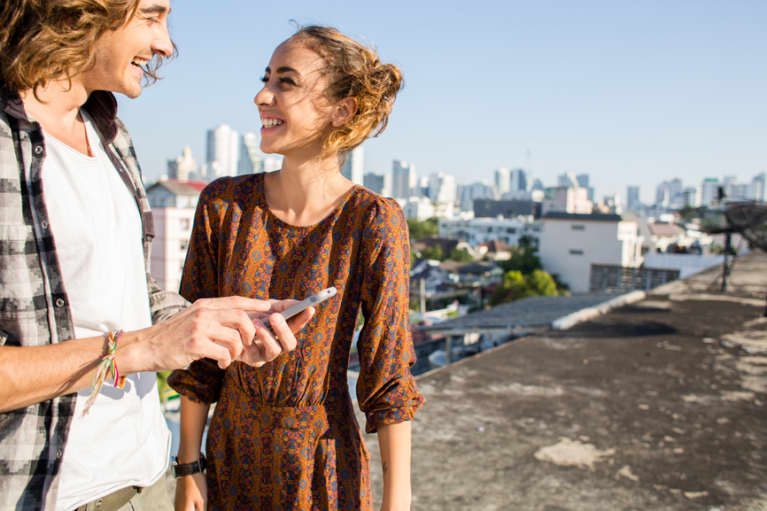 I've been online dating since the early 2000s—back when it was akin to a college application process—hours spent agonizing over essay questions and photos. In the Tinder era, online dating has evolved to suit our ever-shortening attention spans—reduced to a single universal gesture: the swipe.
What first feels like an embarrassment of riches for very little effort soon becomes akin to sorting through your "spam" folder for any legitimate content you might've missed.
Swipe long enough (on the treadmill, the train, with one eye open at 2 a.m.), and you might begin to question the system itself and whether that endless stream of profile pics is anything more than a dating purgatory, where this one isn't bad, but the next one could be better. And then, well, isn't. Not really.
What if you weren't given quite so many choices? What if, in fact, you were given only … one? Enter Hindur, a dating app unlike any other on the market, which calls itself Tinder for Hindu-inspired arranged marriages. The tagline says it all: "Start your arranged marriage now. One swipe is all you get."
It's worth adding that your one swipe must be right. Left is not an option.
There's a reason for this. The philosophy behind it is this: "We go through hundreds of swipes, and breakup after breakup, trying to choose our way into happiness," says co-founder Jeff Greenspan. "But for all the free will we [apply to] dating, the divorce rate is [hasn't gotten better.]"
"Our goal was to remove a lot of the stress [resulting from the] overwhelming amount of choice that we have these days, while still making something modern that [users] can get excited about," says Hindur co-founder Andrew Tider.
What if, says Greenspan, instead of spending what could be a decade of your life searching for The One, you handed that choice over to someone else entirely and decided to build a relationship right now?
To be clear, you don't have to be Hindu to use Hindur—nor are you matched with only Hindu people. The founders, neither of whom are Hindu themselves, emphasize that they don't adhere to Hindu principles but have been inspired by the arranged marriage culture.
Why? Isn't that backward, given that freedom of choice is America's founding principle?
Well, because when it comes to choice, less may, in fact, be more. In her widely publicized study When Choice Is Demotivating, social scientist Sheena Iyengar and her team found that when people are given limited options, they're more likely to commit to a purchase than when they are given many—and more likely to be satisfied with what they choose.
"In traditional, Western love-based marriages," says Greenspan, "two people tend to marry at the apex of their love, and from there things go downward. By contrast, many who have started with an arranged marriage have very short courtships and their love has, well, nowhere to go but up." What we learn from an arranged marriage, say the co-founders, is that we actually can learn to love anybody.
Take a look at arranged marriage statistics: According to the Statistic Brain Research Institute, 89 percent of marriages in India are arranged (54 percent worldwide). The average divorce rate for arranged marriage? Just 4.2 percent.
Now, obviously, there is a serious contrast in cultural expectation here, and I, for one, have no idea how many of the people in arranged marriages are actually happy. But I do know plenty of people who chose their spouses out of "love," and they're not happy at all. I'm certainly not an expert on marriage. My longest relationship lasted two years and change.
So, how does Hindur narrow down your pool of potential matches? Every dating app has an algorithm, but Hindur developer Ryan Kulp won't disclose his. "You log in with your Facebook profile, so it has plenty to work with," he says.
But Greenspan suggests I may be asking the wrong question.
"Rather than question the app's algorithm, you might want to ask yourself about your internal algorithm," he says. "What choices are you making that rule out possibilities in your mind? Because there are so many swipes, there are so many reasons to dismiss people after you meet them."
This, he says, breeds laziness and fear of commitment. "You're always looking to see if someone better, taller, or more interesting has walked into the room."
In other words, our selection process in the world of modern dating has become more of a deselection process, where we look for reasons to discount and exclude.
"Listen to any brunch with single people in NYC," says Greenspan. "Oh this person did this. I liked him until he did that. If only he were more this or that." I don't hear too many people thinking about how they can become more empathetic or whole or committed."
Hmm. Was he eavesdropping on my Sunday brunch/board meeting where we all found reasons to fire each other's dates?
Tider chimes in, "What we say at the Hindur office is this: Love isn't about finding the right person. It's about becoming the right person."
As of mid-February, Hindur had 600 users, and about 4,000 visits. This isn't the first time Greenspan and Tider have challenged the status quo. Greenspan served as BuzzFeed's first chief creative officer and now works with art director Andrew Tider as a creative consultant.
My favorite project of Greenspan's might be the tourist lanes he drew on the center of certain NYC sidewalks, delineating one side for New Yorkers and the other for tourists.
I may be one of the only people who has used Hindur twice (since, obviously, this is not a repeat business). The first time, I was matched with a 47-year-old woman named Kathy who sports a fedora in her profile pic. I'm open-minded, but I am heterosexual, so I asked for another shot. (Turns out there was likely a blip on my Facebook profile responsible for the mix-up. It's since been addressed.)
My new husband-to-be is a man named Chadwick Mitchell who resides in Portland, Ore. I sent him a Facebook request and messaged him to let him know that he is my Hindur match and that we're in it for the long haul.
He wrote back that he's puzzled because he'd just matched with another woman 10 minutes earlier. I'm guessing they're still working out the kinks, because I don't remember anyone saying anything about being part of a harem.
Of course, if at any point I become unhappy with my arranged marriage, the makers of Hindur invite me to consider an arranged affair through their sister site, AshwiniMadison.com (coming soon).
Good to know.
Related reads: