SeaWorld Will Finally Stop Breeding Whales In Captivity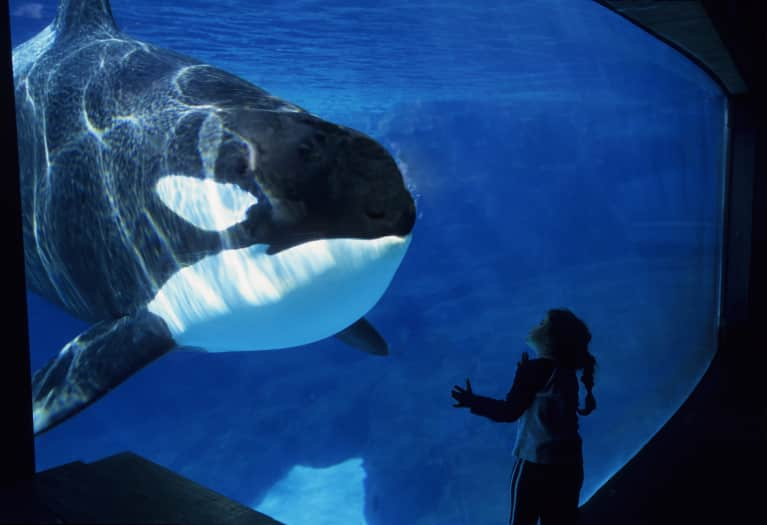 March 17, 2016 — 13:28 PM
SeaWorld will finally free Willy—well, sort of.
This morning, SeaWorld announced that it has ended the inhumane practice of breeding orcas in captivity. The 24 orcas currently there will be the last generation of orcas at SeaWorld. And it will also stop its killer whale show, replacing it with what the company calls "natural" encounters, though we're not exactly sure what that means.
This decision comes after years of controversy and campaigning. Three years ago, SeaWorld was put in the hot seat by Blackfish, a documentary that examined the poor treatment of killer whales and dangerous working conditions of their trainers. Then, in the wake of declining attendance and reduced profits, SeaWorld announced in August 2014 that it would double the size of its killer whale tanks.
Still, animal rights activists were not satisfied: a bigger tank is not the same thing as an entire ocean. And despite larger living quarters, the whales would still be forced to perform daily for thousands of wide-eyed children who have no idea what goes on behind the scenes.
So in November 2015, Adam Schiff, a southern California congressman, stepped up to the plate and proposed a bill to ban all public displays of orcas. Subsequently, SeaWorld's San Diego announced plans to phase out the Shamu show by next year. And now, with its latest announcement, the company is expanding that policy across all of its parks, replacing them with "new, inspiring, natural orca encounters" that will "focus on orca enrichment, exercise, and overall health."
SeaWorld's President and CEO, Joel Manby, also explained the park's focus will shift from entertainment to the "expanded advocacy for wild whales, seals, and other marine creatures."
But while orca breeding at SeaWorld ends today, the shows won't be phased out completely until 2019 in Orlando, which serves as evidence that SeaWorld hasn't had some moral epiphany; it's just finally responding to mounting public pressure.
Park attendance plummeted after the release of Blackfish in 2013, and SeaWorld reported a fourth-quarter loss of $11 million in February. In 2014, the company's stock (SEAS) fell by 50 percent.
In a statement, PETA President Ingrid E. Newkirk said the move is a step in the right direction but, again, it doesn't go far enough:
PETA has campaigned hard, and now there is a payoff for future generations of orcas. SeaWorld must open its tanks to the oceans to allow the orcas it now holds captive to have some semblance of a life outside these prison tanks. SeaWorld has taken a step forward but more must come.
This is undoubtedly a monumental move by SeaWorld—we're just hoping the ill-fated remaining orcas get some extra love as the company rebuilds its business model to seem a little less cruel.