Actress Zoe Lister-Jones On Why Success Is A Spiritual Undertaking, And #Wellth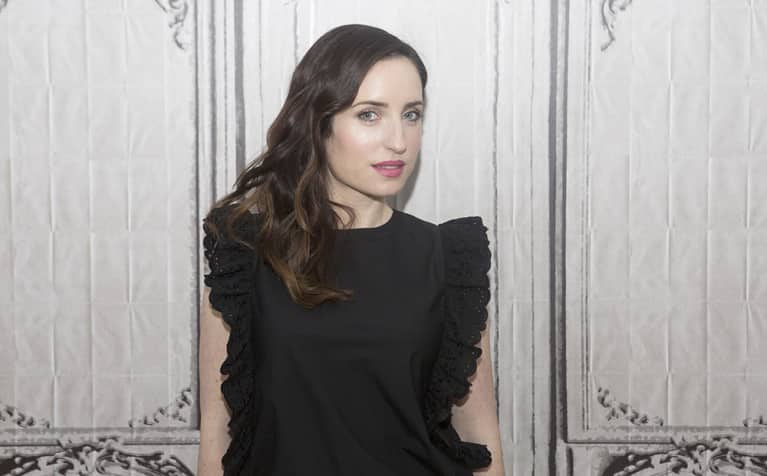 Our editors have independently chosen the products listed on this page. If you purchase something mentioned in this article, we may
earn a small commission
.
I've spent the past year thinking a lot about "wellth" — the idea that success is found in a lifestyle devoted to mental, physical, and emotional health. (I even wrote a book about it.) In this new series, we're celebrating visionaries who embody what it means to be wellthy.
You might know actress Zoe Lister-Jones from her current role in the CBS sitcom Life In Pieces, but it's her passion for the environment and GMO labeling that makes her part of our world at mbg. She came to speak at our Revitalize event and her latest film, CONSUMED, which she wrote, produced, and stars in, is now available for purchase. Zoe and her husband Daryl Wein (who co-produced and co-directed CONSUMED) have become great friends and supporters of mbg!
mbg: What's your favorite healthy place to eat?
What's your favorite way to escape to get some nature?
Even though I am a very pale person, I love the beach (under a hat and umbrella, and swathed in Babo sunscreen).
What's your favorite way to break a sweat?
Favorite holistic treatment?
How do you de-stress and practice self-care?
I'm still learning! Meditation is very helpful, as is connecting with people I love.
Why did you decide to make your most recent movie, "CONSUMED"? Why is this such an important issue?
GMOs are in 80 percent of processed foods in the country, and yet few consumers understand what they are or their potential impact on our environment and our health. We wanted to, first and foremost, make an entertaining thriller, but we also wanted to spark a conversation about the foods we are eating in this country.
There have been no long-term studies on the safety of GMOs, and consumers aren't given the information they need to make a choice when it comes to purchasing them. This is due to the fact that the United States, unlike 64 countries around the world, does not label GMOs. The labeling battle is at a fever pitch right now, so it couldn't be a better time for Americans to start educating themselves on the state of our food supply. One step toward doing so is renting CONSUMED on iTunes and VOD!
What does wellth mean to you?
I think wellth is all about perspective. Success is a spiritual undertaking more than it is an economic one. It's about understanding what success means to you, how to feel fulfilled, and constantly pushing yourself to seek greatness.
Any advice for someone who's looking to build a life that they love and follow their passion?
Well, I think the first step is gaining an understanding of what your passion is, which can take years and years. Sometimes it means trying things and failing. And then, once you find your path, the hunger to explore it will lead to you to have no choice but to build a life around it.