The Wellness Destination Everyone's Talking About + 25 Of The Best Spots To Visit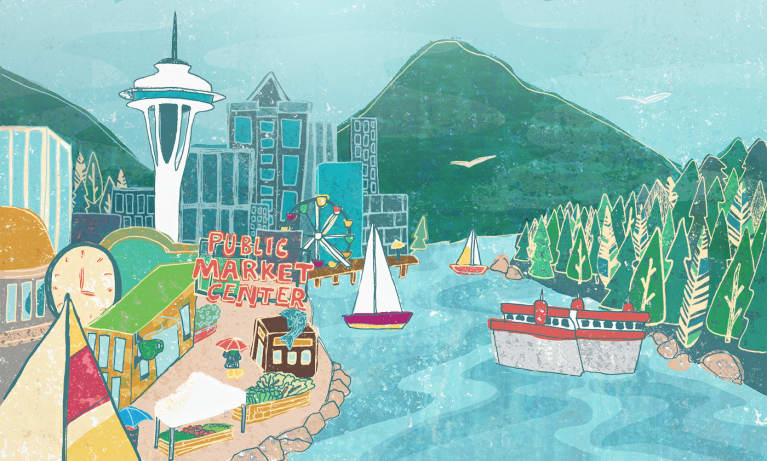 The first stop in our new Destination Wellness series was San Francisco. From there, we packed up a healthy supply of SmartyPants adult gummy vitamins (a must for any road trip!) and headed due north to Seattle.

If you're on a quest for wellness hotspots, this Washington gem won't disappoint. Consistently rated among the top 10 healthiest cities in the U.S., it boasts more ways to nourish your mind and body that we can possibly count. But that didn't stop us from trying.
We've rounded up 25 of our new favorite ways to eat, move, and live well in the Emerald City. Whether you're in town for a few days or lucky enough to call Seattle home, these are the places you won't want to miss.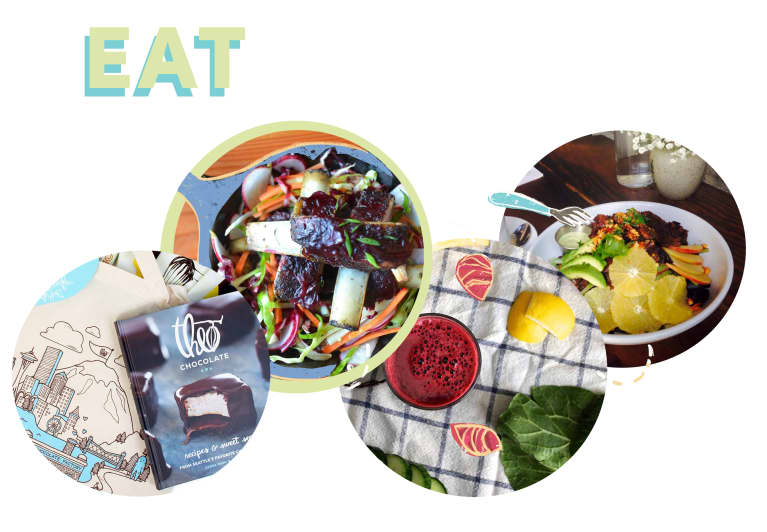 When trying to squeeze the most out of your day, you'd do well to start with the fresh-squeezed creations at this artisan juicery. In addition to organic, cold-pressed juices, you'll also find colorful entrees like wraps, bowls, and salads. Located in the heart of Seattle's University District, it's the perfect spot to people-watch as you sip on a Green Beauty smoothie.
4915 25th Avenue NE, 206-985-1000
The name of this cozy Belltown outpost pretty much sums it up: Nearly every ingredient is sourced from within a 360-mile radius of Seattle. (Exceptions are made for hard-to-grow items like lemons and coffee). This commitment to sustainable fare is beautifully showcased in dishes like a foraged mushroom Bolognese or line-caught ling cod with smoked onion vinaigrette. When happy hour rolls around, kick back with creative cocktails made from Washington spirits and—wait for it—$1 oysters on the half shell. The space is warm, with string lights and recycled wood to create a farmhouse-elegant vibe. Should you want to re-create the magic at home, an adjacent mercantile is stocked with sauces, preserves, and baking mixes from the Local 360 kitchen.
2234 1st Avenue, 206-441-9360
This beloved little bistro has a mission: make veganism accessible to everyone. Even sworn carnivores rave about the sliders packed with smoky quinoa or the Southern-fried seitan. As for the Mac n' Yease (made with nutritional yeast flakes), it's a full-on guilty pleasure—be sure to order a side of collards with crumbled smoked tofu. Jazz and world music bounces off the concrete walls in Plum's striking space; on warmer days, the garage-door front opens fully to the manic scene at 12th and Pike Street.
1429 12th Avenue, 206-838-5333
Theo's makes chocolate. Crazy good, wonderful chocolate. It also has the distinction of being the first organic and fair trade chocolate factory in the country. Their artisan confections range from rich, velvety bars to vegan peanut butter cups that are officially our new obsession. To see how the chocolate is made from the bean up (and indulge in free samples while you're at it), be sure to schedule a tour of their factory.
3400 Phinney Avenue North, 206-632-5100
This lively sushi joint has been around since 1994. But in 2009, owner Hajime Sato took a stand on principle and decided to make his restaurant the city's first sushi bar serving only sustainable fish. No more guesswork on avoiding overfished species; here all the seafood is responsibly harvested, then cut with art and care. You won't find the usual sushi-bar staples like Atlantic salmon or Bluefin tuna, but you won't miss them when you discover new delicacies like Hawaiian spearfish and silver-skinned sardines. Thrifty picks include udon noodle soups, an amazing bento box sampler, and a la carte sushi. If you feel like splurging, the sushi and sashimi platters are well worth it.
4725 California Avenue SW, 206-935-4339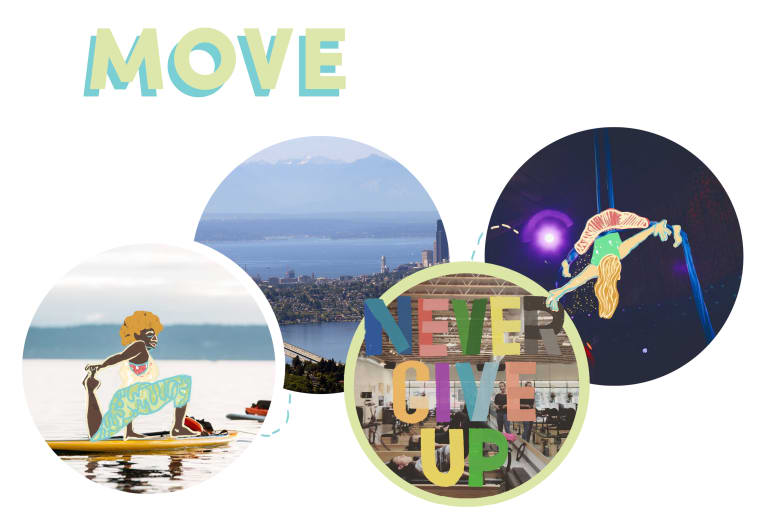 Yoga on a paddleboard? Yep, you can do that here. Operating out of a funky Ballard surf shop, WASUP Yoga classes begin with a brief shore-side lesson on paddleboard basics, followed by a guided paddle to warm you up. From sun salutations, you'll flow into strengthening postures, breathing exercises, and guided meditation, all set to a chorus of curious waterfowl. Classes are designed to be accessible to participants of all levels, including those who've never been on a paddleboard or twisted into a triangle pose.
6300 Seaview Avenue NW, 206-387-9054
Boredom is never an issue at this Capitol Hill boutique studio. With Pilates, barre, yoga, TRX, and aerial conditioning on the class lineup, you'll find a new way to sweat every time you visit. Custom-made equipment is designed to mimic natural movement and build functional strength so you can kick butt in the real world. And while the instructors will challenge you, they'll also offer plenty of modifications for your ability level.
606 Broadway East, 206-325-0662
Located just south of downtown Seattle, Emerald City Trapeze Arts (ECTA) is housed in the former Canal Boiler Works building. While the rustic space is inviting enough at the ground level, the real magic is up in the air. Owned by a former Cirque du Soleil performer, ECTA houses a full-size trapeze rig, performance stage, and gorgeous aerial studio. Choose from highflying trapeze or aerial classes with hoops and silks, all taught by world-class instructors with a serious thing for safety. Never touched a trapeze bar? They love beginners. Experienced flier? Advanced classes will get you ready for the big top.
2702 6th Avenue South, 206-906-9442
Should you choose to explore Seattle by bike, you'll be in good company—more people bike to work in Seattle than in any other similarly sized city in the U.S. The popular 51.3-mile loop around Lake Washington tours some of Seattle's most loved parks and neighborhoods. Starting at Gas Works Park, you'll pedal northeast on the Burke-Gilman Trail and cross the University Bridge for a cruisy spin along the western shores. You'll have to tackle a major climb at mile 33, but it's rewarded with an easy 2-mile descent back to the Burke-Gilman trail, where you'll head back to your starting point. No worries if you don't have a bike—pedal anywhere Seattle delivers rentals.
Set right on Puget Sound, Seattle has no shortage of lakes, bays, and other waterways to explore. You can head toward Lake Union for great views of the city, or venture through the Arboretum to float through lilypadded water trails. Plenty of outfitters around the city offer kayak rentals along with lessons and guided tours. We like the Northwest Outdoor Center; they have over 20 different kayak models you can test before venturing out. And Agua Verde Paddle Club on Portage Bay has a great waterfront café for post-paddle noshing.
2100 Westlake Avenue North, 206-281-9694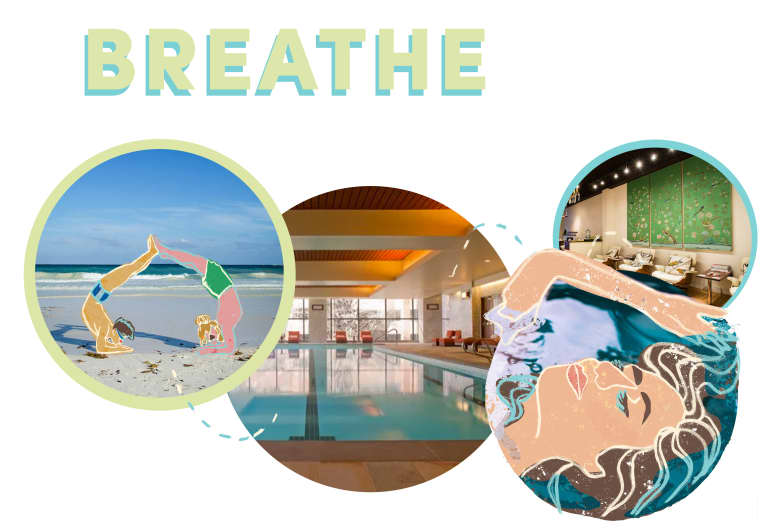 Some yoga studios make you feel like you need to join an ashram or be decked out in head-to-toe spandex. 8 Limbs Yoga falls gracefully between these two spectrums with a friendly, down-to-earth attitude that will immediately make you feel at home. The original studio, set above a costume shop in Capitol Hill, has since expanded to include three more locations around the city. Seattle Weekly readers consistently name 8 Limbs the best yoga studio in Seattle; with affordable classes, experienced instructors, and a fervent dislike of dogma, it's easy to see why.
550 East Pike Street, 206-325-8221
We get it. Meditation is hard, especially when you're immersed in the hustle and bustle of everyday life. The solution? Immerse yourself in a flotation tank at Float Seattle. Each of their four tanks is filled with 10 inches of warm water that's been super-saturated with pure Epsom salt. This buoyant mixture is a recipe for relaxation that's proven to relieve stress, soothe achy muscles, and even boost your immunity. Once the pressure of the world is literally off your body, you'll be free to clear your mind and revel in the moment.
408 NE 70th Street, 206-673-5132
Most nail salons don't carry toxin-free products, making Mimisan Natural Nail Spa a refreshing exception to the rule. Their polishes are completely free of formaldehyde, DPB, and toluene (which you don't want anywhere near your nails—trust us). Blissfully spared the harsh chemical smells, you'll sit in a comfy Eames-style pedi chair under a crystal chandelier while skilled technicians polish your nails to a high and healthy sheen.
2207 Queen Anne Avenue North, 206-402-4053
Lodged within the Hyatt, Seattle's first LEED-certified hotel, Elaia is an oasis of tranquility located smack-dab in the middle of the city. The spa prides itself on using eco-friendly practices that minimize its impact on the earth. That's reflected in their Market Fresh treatments, which feature natural, organic products from regional growers. (A massage using organic olive oil from Oregon? Yes, please.) Pamper yourself further with Elaia's signature facial, then top the whole experience off with a dip in the saline lap pool.
1635 8th Avenue, 206-676-4500
If a yoga studio and a spa had a love child, Urban Yoga Spa would be the joyous result. Located in the heart of downtown Seattle, it's the ultimate one-stop shop for your mind, body, and spirit. Rows of votive candles and minimalist white décor help you focus during an intense Hot Hatha or Power class. Afterward, reward all that hard work with a spa treatment—services include massage, acupuncture, reiki, waxing, and mani-pedis. If you're swinging in from out of town, a traveler special will hook you up with a week of unlimited yoga (including mat and towels!) for just $45.
1900 4th Avenue, 206-420-0222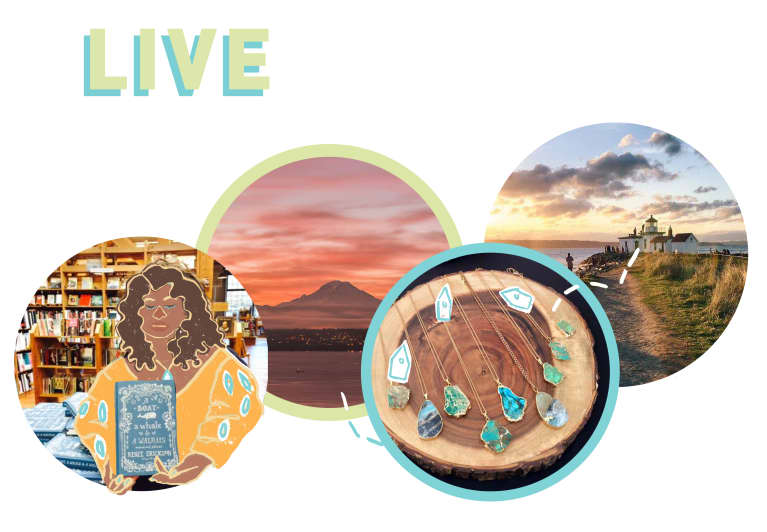 Seattle's year-round European-style street market is the perfect spot for brunching, browsing, and treasure hunting. Every Sunday, over 200 vendors come together each week to sell everything you can imagine and some things you can't—antiques, vintage and original fashion, handmade crafts, and colorful imports. Be sure to come hungry, as there's always a rotating cast of gourmet food trucks on hand to feed you. The market is free to the public, dog-friendly, bike accessible, and goes on rain or shine.
3401 Evanston Avenue North
Originally, this 534-acre parcel of land overlooking Magnolia Bluff was a remote military outpost. In 1970, the Army turned the land back over to the city of Seattle, and Discovery Park was born. Today, Seattle's largest park is a vital corridor for wildlife and a dream come true for hikers, joggers, cyclists, and bird watchers. Situated on Puget Sound, the park features 9 miles of footpaths, 2 miles of protected tidal beaches, and even an ancient lighthouse. Entry is free, and official hours are daily 4 a.m. to 11 p.m.
3801 Discovery Park Boulevard, 206-386-4236
Hop a ferry from the Fauntleroy terminal, and 22 minutes later you'll be transported back in time to a little piece of rural paradise known as Vashon Island. The island is home to a dozen family farms, selling everything from kale to free-range eggs from little farmstands that accept payment on the honor system. Head to town to explore a charming collection of galleries and fair-trade gift shops, or if you're feeling more adventurous, circumnavigate the island by kayak or bicycle. When you're ready to return to modern day, ferries run back to West Seattle every 20 to 60 minutes.
Elliott Bay Book Company is a much loved literary institution and host to free author readings virtually every night of the year. Over 150,000 titles are set on cedar shelves in a series of exposed-brick–walled rooms. We're not sure how, but the knowledgeable staff seems to know exactly where each one lives. Light streams through loft-style windows in the front of the store; in the back, a bright little café serves a light menu to go with your light reading.
1521 10th Avenue 206-624-6600
In 1907, eight farmers got tired of price-gouging middlemen and decided to sell their goods directly to consumers. The idea was an instant hit. One hundred and nine years later, the nation's longest-running farmers market is still going strong with over 500 vendors. Devote an afternoon to wandering the maze of shops, restaurants and flower stalls—it can be easy to get lost here, but that's half the fun. Just don't miss the fish throwers at Pike Place Fish Market, and be sure to pose for a selfie with market mascot Rachel the Pig, a 500-lb. bronze sculpture that proudly guards the entrance.
85 Pike Street, 206-682-7453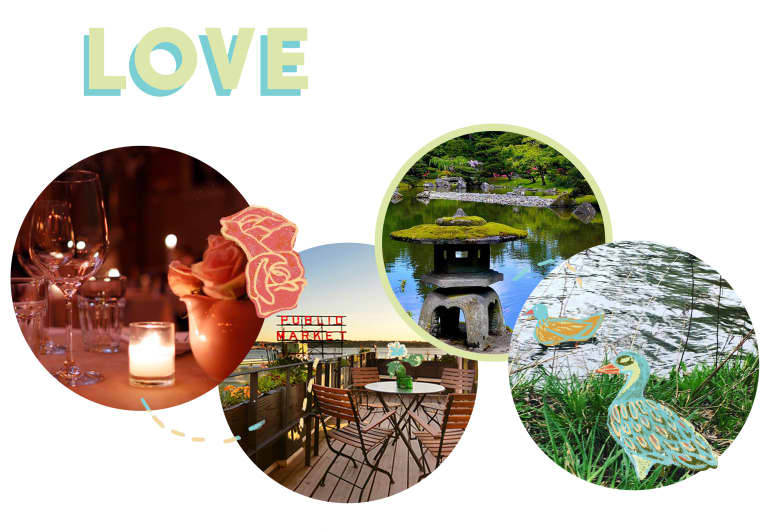 Located in the middle of a dense urban neighborhood, scenic Green Lake provides welcome breathing space for hemmed-in locals. The lake is named for the occasional algae blooms that turn the water a deep shade of emerald; in warmer months, it positively teems with rowers and paddle boaters. Stroll the 2.8-mile path around the lake alongside ducks, dog walkers, and hipsters, or stop by nearby PCC Natural Markets for picnic supplies and settle into the grass for an alfresco lunch.
7201 Green Lake Trail, 206-684-4075
Head down Post Alley off of Pike Place Market and look for—you guessed it—a pink door. This unmarked entry is your gateway to a bohemian circus meets Italian restaurant that's been charming Seattle for over 35 years. Dine on piquant cioppino or delicate house-made ravioli while you take in the nightly entertainment, which ranges from magic shows to trapeze artists. The evening cabaret scene is delightful, but arriving early for happy hour can feel just as decadent—especially if you can score a rooftop patio table during sunset.
1919 Post Alley, Pike Place Market, 206-443-3241
If you want to stay right in the middle of the action, you won't do better than the Inn on the Market. This 76-room boutique hotel is located quite literally in Pike Place Market, which means you can roll out of bed and explore the shops before the crowds converge. Some rooms look over the market or city while others have stunning vistas of Elliott Bay through floor-to-ceiling bay windows. Interiors are decorated in a contemporary country style, with pine armoires and plush furniture. After a full day of exploring, head to the rooftop deck to soak up the views and, if you're lucky, some rare moments of sunshine.
86 Pine Street, 206-443-3600
The Volunteer Park Conservatory
Part botanical garden, part architectural wonder, this ornate conservatory houses a remarkable collection of rare plants from around the globe and a few beloved cats. (One of them, Ivan Von Katzen, even had a devout Facebook following until his passing.) The structure is modeled after London's Crystal Palace and is organized by plant type into five glass viewing rooms. Stroll among the award-winning orchids and hibiscus flowers on a rainy day, and you'll almost fool yourself into thinking you're on an island paradise. For a small fee that helps maintain this 100-year-old gem, you can tour the collection with a green-thumbed guide.
1400 East Galer Street, 206-684-4743
We still don't have jetpacks or flying cars, but the most iconic symbol of that 1960s space-age promise—the Space Needle—still stands as Seattle's most recognized landmark. Built in 1962 for a futuristic World's Fair, the 602-foot Needle looks like a huge flying saucer on a towering tripod. At the 520-foot level, the observation deck provides panoramic views of the area's surrounding bays, lakes, and mountains. Just below, you can enjoy a 360-degree view in the revolving Sky City restaurant—if you've got time, wait for a window-side table for the full experience.
400 Broad Street