28 Can't-Miss Wellness Spots: San Francisco Edition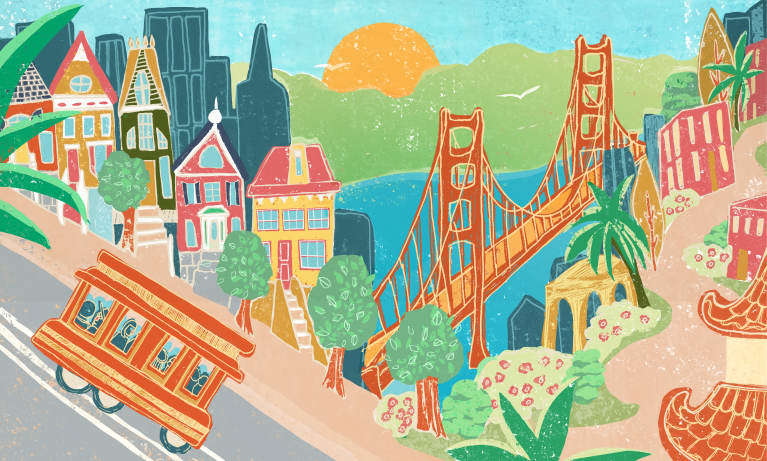 From the outside, San Francisco might seem like a wellness oasis, with hilly urban hikes, bountiful farmers markets, and green parks aplenty. From the inside, well, that's exactly what it is. Both locals and visitors who seek out a balance of delicious food, fun fitness, and ample time in the great outdoors know that the city's first-rate offerings are the stuff of fantasy.
At mindbodygreen, we know it's possible to eat healthy, be active, make planet-friendly choices, and have fun while doing it (case in point: starting the day off with SmartyPants adult gummy vitamins followed by a bike ride to Golden Gate Park and a green juice). To this end, we are proud to introduce our new Destination Wellness series to showcase the coolest, most creative wellness gems in cities across the country—the kind that make the art of living well entertaining and achievable for travelers and city-dwellers alike.
Whether you are in San Francisco for a weekend or a lifetime, there are more can't-miss spas and fitness studios, mind-expanding cultural events, and forward-thinking food and drink destinations to explore than there are hours in the day. So we've mapped out an attack plan to help you discover the very best of the bunch.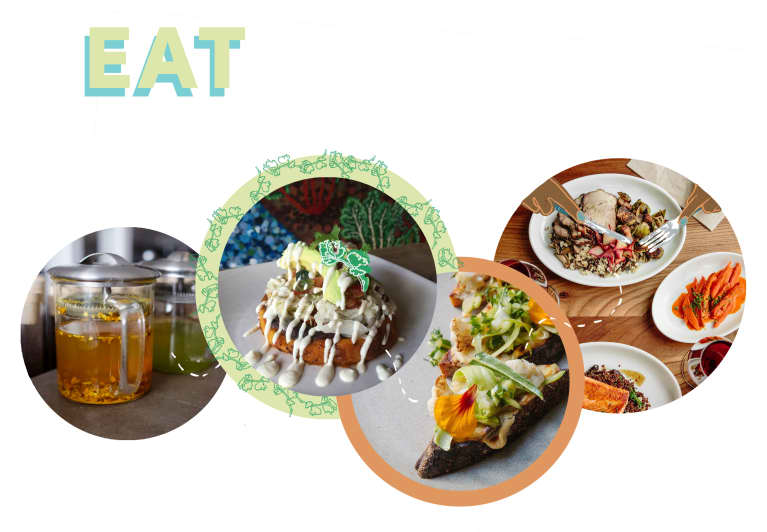 Anyone enamored by the recent "healthy-ish" dining movement will love the balanced offerings at this airy new Hayes Valley spot, masterminded by former members of the Thomas Keller Group. Both the sit-down and takeout menus make room for pleasures like bacon-laced soup broths, slow-roasted meats (pasture-raised and organic, of course), savory almond crumbles, and crispy flatbreads by featuring them in supporting roles—that is, by serving them alongside an array of seasonal veggies and healthy grains. The restaurant is fast-casual without sacrificing on quality or design: their counter service is flanked by sleek bars carved out of a single local elm tree.
400 Grove Street, SF, 415-914-0501
Even before veganism began its rise to the mainstream, this all-organic, can't-believe-it's-vegan Mexican restaurant attracted an admirable foodie following. It is consistently packed, even among the trendy eateries it neighbors in SF's hippest hood, the Mission. Riffs on classics include roasted butternut squash quesadillas and mushroom and poblano empanadas. But if you think you can't do Mexican without meaty tortas and melty queso, tempeh "chorizo" and cashew-based nacho cheese take care of your cravings. Their weekday happy hour menu features $5 street foods like flash-fried cauliflower tacos from 3 to 5 p.m.
2211 Mission Street, SF, 415-683-1346
Dinner at this refined restaurant could mean celeriac gnocchi with grilled apples or pasture-raised pork with yellowfoot mushrooms and marigold juice. But arguably more impressive than the pretty food on the plates is that this ambitious LEED Gold Certified restaurant has taken an often talked about aspiration in the food world—fighting climate change through better dining choices—and made it a reality. Vegetables, herbs, and micro greens grow in a "living pantry" that's mounted in the dining room, or in an aquaponic greenhouse in nearby Oakland. And the space is outfitted with recycled, reclaimed, and energy-efficient materials, down (er, up) to the ceiling, which was woven from wood shavings leftover from the handmade tables and chairs.
59 Ninth Street, SF, 415-500-7788
A high-design tea lounge with an outside-the-box menu, this wonderland for tea drinkers has opened three SF locations since 2001. The owner sources teas from an international network of small family farms, stretching from Hawaii to India. Try a house blend like the California Rose with black tea, cardamom, orange peel, rose, bergamot, and jasmine, or the Turmeric Spice with turmeric root, ginger, orange peel, lemongrass, and licorice root. Full food menus are available at their Castro and Yerba Buena Gardens locations, with offerings like tea-smoked chicken salad sandwiches, grilled halloumi kebabs, and Japanese tea soup.
Yerba Buena Gardens: 730 Howard Street, SF, 415-227-9400
One of SF's most beloved landmark buildings, this refurbished 118-year-old ferry transportation terminal is the site of what is arguably the city's most legendary farmers market three days a week. Early morning shoppers might spot some of the city's best chefs filling their baskets. Inside, a permanent roster of local food purveyors and artisans resides beneath the building's swoonworthy vintage archways—among them, a local oyster bar, butcher shop, gluten-free bakery, and a vendor specializing in quirky cultivated and wild edible mushrooms.
San Francisco Ferry Building, SF, 415-983-8030
This year-old, health-driven meal delivery startup is like the farm-fresh version of Blue Apron for Bay Areans. Chef Justine Kelly, former head of the famous Slanted Door restaurant kitchen, develops the recipes, which include rotating vegetarian, gluten-free, and/or Paleo dishes, like roast chicken with kale, sweet potatoes, and an artichoke romanesco. A staff nutritionist vets each and every meal, and the company's shipping model prioritizes recycled and recyclable products, as well as reusables designed for easy return.
1 Clarence Plaza, SF
Founded by a certified hypnotherapist/nutritional consultant and a licensed clinical social worker, this progressive wellness pop-up offers outright intriguing healing sessions in an open communal setting. Each Tuesday it hosts a group sound therapy and singing meetup. Or you can try an art-focused group hypnotherapy sesh: after a calming guided visualization, participants sketch, paint, or make collages drawing on what they experienced. Pop-up events range between $5 and $15 per person.
1500 Market Street, SF, 510-501-4209
Break bread with food-minded locals, famous chefs, and travelers alike at this nonprofit communal cooking school and event center, which uses cooking as a means to strengthen and unite communities. The staff teams with visiting chefs and experts to offer courses for individuals on ethnic foods including Korean, Gujarati, and Fijian, as well as techniques like preserving, fermentation, cheese-making, and more. Under their ongoing program Cooking Matters, 18 Reasons pairs nutritionists, chefs, and volunteers to teach six weeks of cooking and nutrition to low-income individuals and families.
3674 18th Street, SF, 415-568-2710
San Francisco might not be the obvious place for a hoedown, but locals love their bluegrass—especially when it's live, free, and playing from every corner of Golden Gate Park. More than 100 artists, 7 stages, and 100,000 concertgoers a day make the annual Hardly, Strictly Bluegrass festival in early October the ultimate party in the park. Each stage features its own breed of medicine for the ears, from banjo-pickin' bluegrass to soothing indie acoustic to old-time soul. Bring a picnic blanket and plan to make a day of stage-hopping and people-watching.
Golden Gate Park, SF
If you've heard San Franciscans are both food and outdoors obsessed, you heard right. To fuse the two, sign up for a ForageSF trip to forage the countryside for wild mushrooms, panning the coastal waters for edible seaweed, and more. This education collective organizes trips through the Sonoma Coast and Marin County (minutes outside SF). To ease into the process, try the foraged cocktails class, where your foraging efforts are rewarded with some plant-infused cocktails and bar elements you learn to make yourself.
1473 Oak Street, SF, 415-466-2938
Locals have looked forward to this outdoor nonprofit performing arts series every summer since 1938, when it was founded by civic activist and arts patron Rosalie Meyer Stern. Spread out over six weeks from June to August, the festival puts on concerts, ballet performances, and artist talks in a unique "natural amphitheater"—a grove of towering trees like eucalyptus and fir create the site's organic acoustics. In past years, the Doobie Brothers, Talib Kweli, and Smokey Robinson have been part of the starring lineup. Have we mentioned it's totally free?
832 Folsom Street, Suite 1000, SF, 415-252-6252
The first brick-and-mortar business from a previous online shop, this petite Mission district space falls somewhere between a gift shop, an art gallery, and a tiny indie library. Run by artists for creative, the shop vends an impressive array of small circulation zines, independent books, and specialty magazines on topics ranging from slow fashion to doodling. They also exhibit a rotating artist residency and offer live readings. In between soaking up the creative inspiration, you can rummage for small-batch bath and body products, housewares, and jewelry.
855 Valencia Street, SF, 415-643-4616
The Boiler Room at Heath Ceramics
Because it wasn't glorious enough to be the most coveted kitchen ceramics brand in the Bay Area, the overachievers at Sausalito-based Heath Ceramics recently added on The Boiler Room—an urban, Mission district space that's part gallery, part event venue, where the brand hosts social and cultural gatherings and exhibits for the public. Current and past installations have featured the one-of-a-kind work of sculptors, textile designers, muralists, and woodworkers, all available for purchase.
555 Alabama Street, SF, 415-361-5552 x50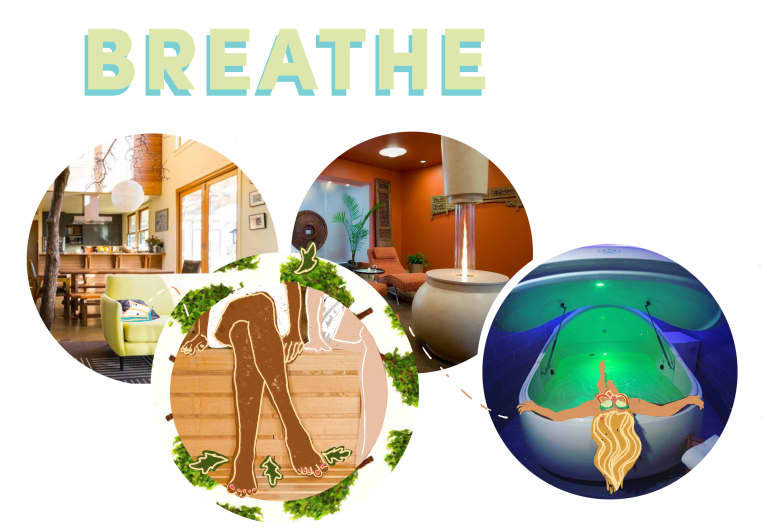 Reboot's Float Spa and Sensory Deprivation Tank
The ultimate escape from everyday stresses may lie right within the walls of the city. Hop into one of the four private "float pods" on the premises at Reboot, where near body-temperature water is saturated with so much Epsom salt, it allows your body to fully suspend as you lie faceup in it. The act is supposed to free you from the sensations of gravity, temperature, and touch, so you can focus the mind and be fully present. Practitioners say, besides feeling relaxing and restorative, flotation therapy can release muscle and joint tension, lower stress hormones, increase endorphins, and even boost immunity.
1912 Lombard Street, SF, 415-494-9032
Golden Gate Park and Chrissy Field are grand. But the best green mecca in all the city has to be the Presidio—an in-city national park preserve with views of the Golden Gate Bridge, the Bay, and Sausalito. And if that isn't reason enough to visit, you might be more enticed by the spa right on the grounds. SenSpa prides itself on integrative naturopathic, holistic, and Chinese spa methodologies that will downright spoil you. Get lost in an hour of bodywork, from Rolfing to lymphatic massage to accumassage (a combination of acupuncture and massage), or stay surface level and get a skin treatment like seaweed exfoliation, an antioxidant facial, or a eucalyptus steam.
1161 Gorgas Avenue, SF, 415-441-1777
Even with all of San Francisco's charms, anyone's daily routine can grow dull without the occasional inspirational getaway. Knowing there's nothing more transporting than an ocean breeze, the founders of Outsite created an eclectic, unfussy remote "workation" space in beachy Santa Cruz (about 1.5 hours outside SF). Among the change of scenery and windblown hair, you get the chance to meet like-minded friends from all over the world (or correspond with existing ones over free Wi-Fi and organic coffee), and stay in their overnight beach villa. And after a day's work sesh, you can opt in to cliff walks, surfing, movie nights, and barbecues. It's a vacation you didn't have to plan, without the worry of missing an email or deadline. (Outsite also offers workcations in San Diego and Lake Tahoe.)
101 Cooper Street, Santa Cruz, 415-832-9002
When chilly "Karl the fog" blankets the city in gray, a pilgrimage to a steam room is just what the doctor ordered. Get thee to Archimedes Banya, a spa that specializes in health through heat treatments, which has been studied for its immune-building effects. Because having only one type would be, um, basic, Archimedes' starting package ($42) allows you three hours to hop back and forth among a Russian (light steam) banya, Finnish dry sauna, Turkish (heavy steam) room, Jacuzzi, and cold plunge pool. Most are communal, and nudity is welcome.
748 Innes Avenue, SF, 415-206-9000
The Bison Paddock in Golden Gate Park
Of all the spectacles you can stumble upon in Golden Gate Park—Japanese tea gardens, live jazz trios, Ultimate Frisbee games—a herd of American buffalo has to be the most random—but maybe the most charming. These not-so-little remnants of the Wild West have allegedly dwelled there since the 1890s, when the San Francisco Zoo did not yet exist and the park had animals like bears, sheep, and bison on display. The buffalo herd that remains lives under the care of the zookeepers, but if you are lucky enough to see them dashing up and down the field (they can run up to 30 mph) or "wallowing" (rolling back and forth in divots in the ground), you would swear you stumbled upon these gorgeous animals playing in the wild.
1237 John F. Kennedy Drive, Golden Gate Park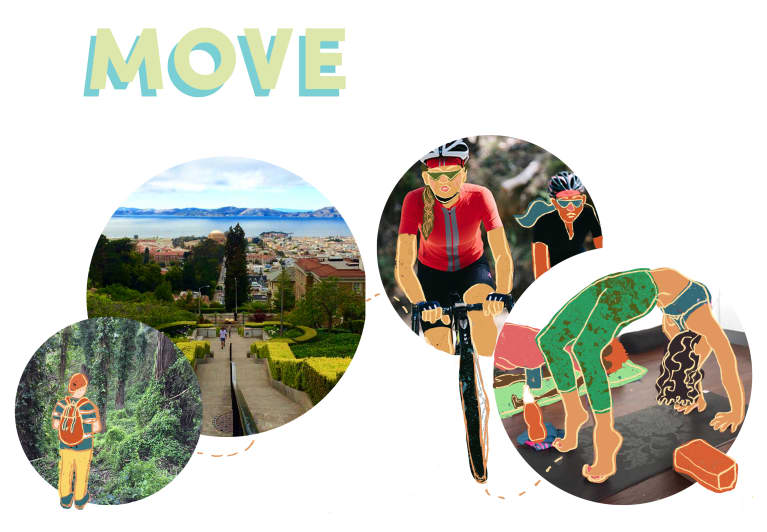 Some cities have high-rises—SF has towering trees. Established over 100 years ago by the mayor at the time, the Cloud Forest is an 80-acre forest preserve built right inside the city walls with fragrant eucalyptus trees reaching up to 200 feet tall. Well-shaded hiking trails zigzag through the trunks and climb a total of 900 feet in elevation. You're likely to be the only soul(s) on the path—many locals don't even know about it.
Mount Sutro, SF
One drawback to yoga's boom in popularity was the dime-a-dozen yoga studios that quickly sprung up in SF to meet the growing demand. However, everyone knows the Marina district's The Pad is different. Airy, serene, and just beaming with an inexplicable je ne sais quoi, the side-by-side yoga and Pilates reformer studios have a refined ambience but with down-to-earth instructors. Need proof? Check out one of their fun themed events like power vinyasa performed to the Nutcracker soundtrack at holiday time or their "reboot" sessions featuring live, soulful, but upbeat DJ music.
1690 Union Street, SF, 415-929-1690
It's absurd that something this fun can be a bona fide way to get in your cardio. An indoor trampoline park set in an old airline hangar near Chrissy Field, this massive bounce house features 42 trampolines and offers coordinated workout classes, dodge ball tournaments, private lessons, and open-air time, where a short coaching session from a trainer gives way to a free-for-all of choreographing your own workout. And with separate rooms for kids and adults, this might just be the best pop-up in town.
926 Old Mason Street, SF, 415-212-4197
Some fitness clubs can be, well, clubby. Which is to say that they aren't appealing or even available to others outside a certain skill level or set. Rapha Cycle Club is decidedly "not that club." Nestled on the corner of a residential block in the northern part of the city, this London-based bicycling club caters to serious cyclists but with a come-one-come-all attitude and offerings: it's a pre- and post-ride meeting spot, high-end apparel shop, and coffee bar in one. Rapha rents top-of-the-line bikes at low daily rates and offers organized club rides in breathtaking locations inside and outside the city. And although being a club member (or even owning a bike) is not a prerequisite, having their membership and mobile app connects you to other cyclists around the world and gives insight and access to local and global races organized by them and others.
2198 Filbert Street, SF, 415-896-4671
San Francisco is famous for its hills, so simply walking to get a coffee or catch a bus can mean a built-in micro workout. But for real-deal sweating when it's too nice to be in a gym, head to the Lyon Street Steps, a series of staircases and a popular workout spot measuring 244 steps and 150 feet altitude. Sweeping views of the colorful Pacific Heights mansions, sailboats in the Bay, and the mesmerizing Golden Gate Bridge from up high will help you lose count of the steps. So will bumping fists with some seriously committed fellow athletes wielding weights, chains, boxing gloves, and other workout-enhancing props as they ascend.
Broadway & Lyon Street, SF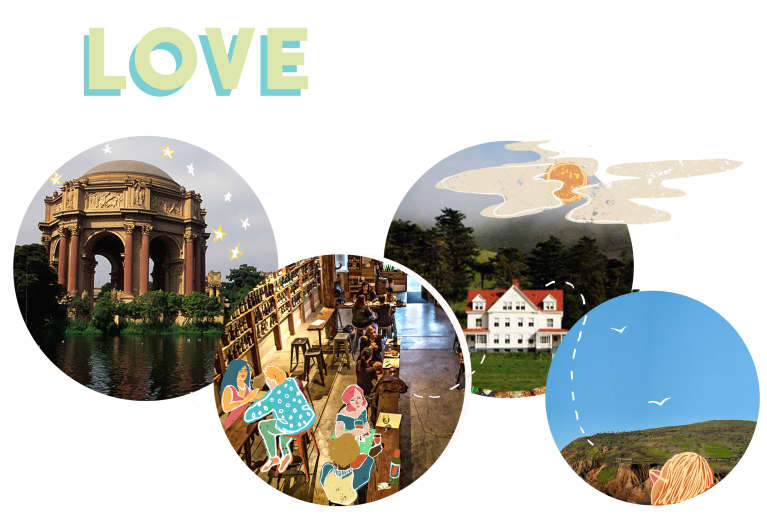 While the majority of city selfies are likely taken against a backdrop of the Bay or the Pacific, the lagoon behind the Palace of Fine Arts is one of the most picturesque (and lesser frequented) bodies of H20 in the city. City records state that it is one of the only lasting remains of a tidal wetland that once existed in the area. Besides its tranquil, glassy surface and Greco-Roman-style rotunda, the lagoon is also a common landing spot for birds migrating on the Pacific Flyway (stretching from Alaska to Patagonia). Translation: you are likely to see swans floating in the water or waddling around the property. It's one of the city's best spots to stroll with a loved one and, no coincidence, the site of many engagements and wedding photos.
3301 Lyon Street, SF, 415-563-6504
Though SF has no shortage of places to grab a good glass of vino, this hip, sultry, somewhat under-the-radar downtown bar may be the strictest of all about their selection. Whereas most traditional wines are made with additives to guarantee consistency in the flavor, clarity, and fermentation, the list at Terroir features only natural, organic, sulfur-free, and/or biodynamically produced wines, all sourced from small-scale, cultish producers all over the world. As funky as the wines (no, seriously—natural wines can be fizzy or cloudy, yeasty, or downright barnyard-y, which is part of the fun of tasting them) are the tunes from the DJ booth and vinyl hangouts they host.
1116 Folsom Street, SF, 415-558-9946
A luxury resort housed in a former Army post (Fort Baker) and current park preserve in Sausalito, the history at Cavallo Point is just as rich as the experience of staying there. The once-abandoned military barracks have been architecturally restored and transformed into an LEED-certified lodge—an ideal blend of old and new. Amenities include dramatic hillside views of the bridge and the bay, a world-class spa, yoga classes, organic bedding, and optional pet-friendly rooms.
601 Murray Circle, Sausalito, 415-339-4700
Roller Disco at the Church of 8 Wheels
Move while you groove at this weekend-only indoor roller-skating party, set in an old Fillmore Street church. Pull back the doors of the unassuming façade on Friday and Saturday nights to uncover the sounds of wheels spinning to DJ-supplied funk, disco, and rock music. The scene is complete with strobe lights, a disco ball, and a top-notch sound system—making for a totally "rolligious" experience.
554 Fillmore Street, SF, 415-752-1967
Rodeo Beach and the Marin Headlands
It has succulents, it has surfers, it has hilly hiking trails that look like scenes from The Sound of Music. This cliff-surrounded beach and network of windswept hiking trails is the place savvy SFers bring first-time visitors, and a site that has many locals coming back again and again on weekends. Getting there means a quick drive over the Golden Gate Bridge, and when you arrive you can choose from plopping down a blanket to bliss out in sensory overload or putting one foot in front of the other on the 5 miles of winding paths, friendly for hikers, bikers, and horse riders of all levels.
Marin County