Rachel Roy On How To Manifest Your Dream Wardrobe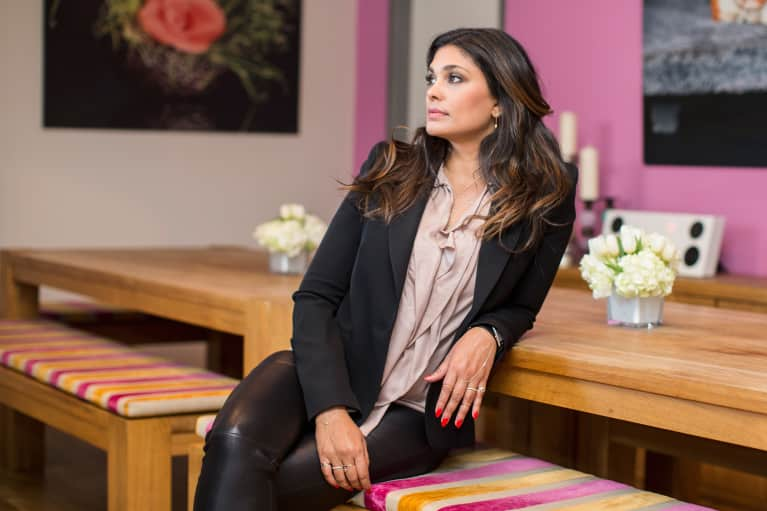 I often feel the right clothing, whether it's a perfect blazer, a graceful topper, or an eye-catching accessory, can elevate me into the world I wish to inhabit. My vision board and the dashing image of Cary Grant remind me of that every day. I determined early on that I'm a completely visual person—I process and retain information best when I have images to accompany the ideas. When I have visual cues in plain sight, I'm less likely to forget the intentions they represent. The tried-and-true saying "out of sight, out of mind" is a philosophy that unfortunately does not escape me. I know I can get caught up in the day-to-day rush of life and forget the details that make me creative, inspired, driven, and passionate. Surrounding myself with concrete images keeps my priorities at the top of my mind. I am not alone in this—I believe most people respond best to visuals, even if they view the world in black and white. Everyone has things that make their heart sing, and looking at those ideas as clippings every day will call them into their lives.
Starting your own vision board will help you begin to identify your personal style. Not everybody can spend hours reading fashion blogs or afford the latest in designer clothing. But the inability to invest in these areas in the present moment doesn't mean you can't curate your outward appearance to the world and create a spirit that you hope will manifest in everything you hope to achieve. Whether you tend toward Zara staples or Chanel couture, the choices you make in how you present yourself to the world have a huge impact on your self-image. Once you identify your own personal style, you will start to get a sense not only of how you currently feel about yourself and your present life but of how you wish to feel about yourself and the world around you. Don't underestimate the power of presentation: By dressing and embodying the values and aspirations you truly connect to, you are setting a goal of becoming more like the person you're building on that vision board in front of you. The vision board version of you is you—the difference is that she has all the certainty we sometimes lack (we all occasionally fail at feeling extraordinary—it's par for the course for most of us to slip). Starting to dress like her is not just a stylistic choice: Dressing the part means embodying her poise and unshakable faith in her values. It means starting to walk and talk like her as a way to channel that crucial confidence. The results will be almost immediate: The people around you will sense the shift in your energy and respond positively because you will believe it yourself. The laws of attraction meet the laws of intention. You are believing your best "you" into existence.
Your vision board is your inspiration, to start highlighting your best attributes and to breathe new life into your old pieces to create the best you possible. Design your new life, the one you're aspiring toward, not the one you're escaping.
As you can see, the vision board is a powerful tool that can inspire you in a million different ways. I'm surrounded by them on a daily basis both personally and professionally.
Keep this in mind—when you look at colors and images on your board, how do they make you feel? Lemon yellow, sunny? Grass green, fresh and breezy? Or gray and muddled, like a dark storm cloud? Jealous, competitive, or depressed? If an image somehow fills you with shame or self-doubt, it should not make it to the board. Am I sidetracked by a model's washboard stomach; does it make me feel bad about my own midsection, or does it inspire me? If it does anything negative to my energy, it doesn't belong on my vision board. This is an inspiration-only zone, and I have to be completely candid with myself about what the images do to my self-esteem, sense of self-worth, and motivation to achieve what's best for me. In order for the vision board to truly help you achieve your goals and not hinder your progress, be honest with yourself and ensure that the clippings you choose do not lead you down a critical path of judgment but instead take you through a progressive journey of self-discovery.
There is an image currently on my board of a model in jeans, a strong-shouldered red blazer, and a crisp shirt. The classic red blazer is slung casually over her shoulders. She is walking her formidable dog, who is sporting a natural rope leash. And most important, her subtle smile radiates an inner poise and peace that I find magnetic. It's these nuances about her that I like and feel drawn to—so natural, simple, and effortless with her style. She's an individual even though she's classically dressed, and her inner beauty effectively shines through because it's clear she feels comfortable, not only in her clothes but in her skin. That is what inspires me. What is the entire story saying from the image? These are questions you can ask yourself as you guide yourself to understanding your style and how you personally want to design your life through the images you choose.
Your vision board can help you figure out how to work with what you already own. We can all work with what we have and find clothes that flatter us and make us feel like the best versions of ourselves without breaking the bank. I always start by going into my closet to find the pieces of clothing that speak to the woman I'd like to portray. Whether it's for a meeting next Monday morning or for a date this Thursday night, I'll find a couple of pieces I haven't worn in a while and figure out a new way to make them work for me. This exercise helps me make a shift and evolve my style while allowing some of my familiar pieces to see the light of day. It doesn't require a shopping spree, a major splurge, or even a major time investment. All it takes is some thoughtfulness and creativity about the style and persona I want to cultivate.
I suggest that you take what's you, in your closet and in your life, and modernize it, add onto it, make it work for the you you've always wanted to be. Don't let preconceived notions about who you should be or who you've always been cloud your judgment: Just let the ideal you shine through and guide your choices. Your vision board is your inspiration, to start highlighting your best attributes and to breathe new life into your old pieces to create the best you possible. Design your new life, the one you're aspiring toward, not the one you're escaping. As Emerson said, don't be pushed by your problems; be led by your dreams. Be comfortable, be confident. But above all, be you.
Related articles:
4 Foolproof Ways to Create a Vision Board
Live Inspired! 5 Tips to Create a Vision Board
How I Created My Dream Wardrobe Without Buying Any New Clothes