This Fruit May Help Prevent Alzheimer's, Says New Study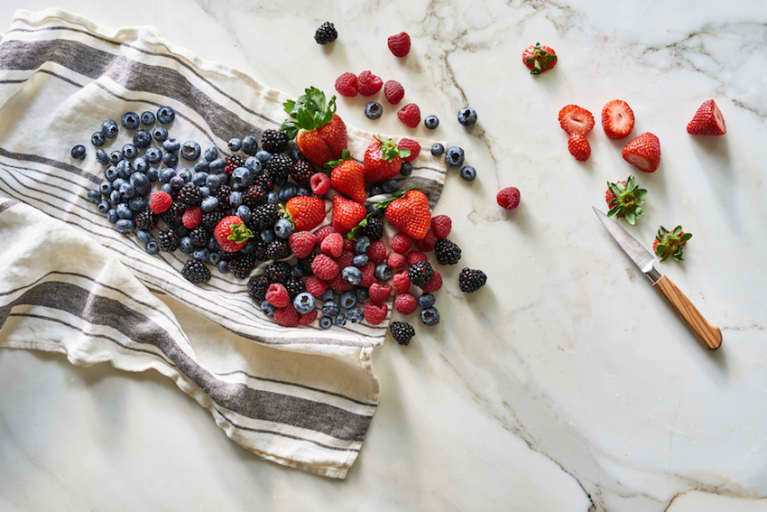 March 14, 2016 — 11:17 AM
Brain food is a real thing. Research has shown that certain foods, like olive oil, turmeric, and even red wine, can improve memory and cognitive function.
But researchers at the University of Cincinnati Academic Health Center think that the blueberry could be the ultimate brain food. It's already considered a "super fruit" for its power to potentially lower the risk of heart disease and cancer, but, according to their new research, it could also be used as a weapon to fight Alzheimer's disease.
They say the fruit is packed with antioxidants which could help prevent the unsettling effects of the increasingly common form of dementia.
Currently 5.3 million people suffer from Alzheimer's disease—and that number is only expected to increase. According to the Alzheimer's Association, the number of Americans with the degenerative disorder could rise 40 percent to more than 7 million by 2025, and it could almost triple by 2050.
So, in an attempt to slow down Alzheimer's alarming progress, the researchers conducted two human studies to follow up on earlier clinical trials.
For one study, the scientists gave 47 adults aged 68 and older, who had mild cognitive impairment (a risk condition for Alzheimer's disease), freeze-dried blueberry powder—which is equivalent to a cup of berries—or a placebo powder once a day for 16 weeks.
"There was improvement in cognitive performance and brain function in those who had the blueberry powder compared with those who took the placebo," said lead researcher Robert Krikorian, Ph.D. in a press release. "The blueberry group demonstrated improved memory and improved access to words and concepts." MRI scans also showed increased brain activity in those who ingested the blueberry powder.
Krikorian said that blueberries' powers could be due to flavonoids called anthocyanins, which have been shown to improve animals' cognition.
The second study involved 94 people aged 62 to 80, broken into four groups, who felt their memories were declining but didn't have objectively measured cognitive issues. The groups received blueberry powder, fish oil, or placebo.
"The results were not as robust as with the first study," Krikorian explained. "Cognition was somewhat better for those with powder or fish oil separately, but there was little improvement with memory." The MRI results were also not as striking for those receiving blueberry powder, which is likely because the participants had less severe issues in the second study.
Which means that blueberries may be more effective in treating people with cognitive impairments, but may not benefit those with minor memory issues or those who have yet to develop any cognitive issues—but the researchers plan to find that out in a future blueberry study with a younger group of people.
It is also important to note that this study was funded by the U.S. Highbush Blueberry Council, the National Institute on Aging, and Wild Blueberries of North America.
But last year, researchers at Reading University found that wild blueberry juice helped improve the memory and concentration in elementary school-age children. So, even though we're not positive they have the power to prevent Alzheimer's, we know they have brain-boosting benefits. Go ahead and stuff 'em into your face until you look like Violet Beauregarde. Do a crossword too, while you're at it. Your brain will thank you.