3 Reasons CrossFit Is Perfect For Beginners—From The Sport's World Champ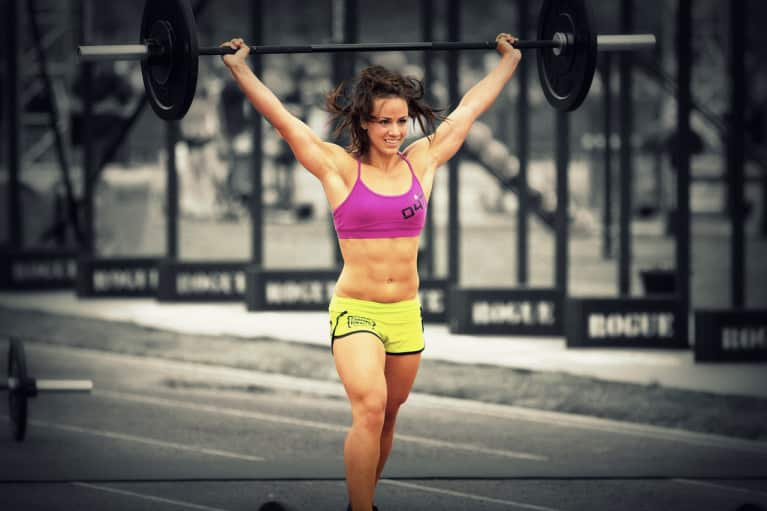 Camille Leblanc-Bazinet won the 2013 Reebok CrossFit Games, earning her the title "Fittest Woman on Earth." She's also a member of the Canadian National Team in Olympic Weightlifting, and she's been nominated as one of the five most influential female athletes in Canada. As the director programming at a CrossFit box in NYC (ICE NYC), she's here to argue that anyone (yes, yourself included!) can win at CrossFit.
1. Anyone can start CrossFit at any time.
You can scale every CrossFit workout from beginner, to intermediate, to advanced athlete. With the right instructor, an elite athlete and my grandmother would receive the same relative stimulus (i.e., they'd do essentially the same move). Every workout is scalable so that both the novice & the experienced CrossFitter can work out together.
2. You'll find a real connection with your team.
CrossFit is about community and camaraderie. We build each other up and as a family, both our bodies and our bonds get stronger. That's why I recommend finding a coach who is really passionate about CrossFit—that will foster a sense of community within your team. A passionate coach one who not only understands the specifics of CrossFit programming and the proper mechanics of movement, they also are a patriarch or matriarch of this family. Tough workouts will bring you close to your teammates as you conquer challenges together. Unlike a typical sport, in CrossFit it is the athlete that finishes last that gets the biggest applause!
3. You'll challenge yourself in ways you never have before.
CrossFit is constantly varied, functional movement, executed at high intensity. You challenge your body in disciplines like calisthenics, plyometrics, Olympic weightlifting, and gymnastics. And these challenges transcend the gym. CrossFit is about the pursuit of excellence—excellence in everything we do! We are not training for sport, we are training for life. When we realize that we are capable of more than what we originally believed, it leads to confidence both inside and outside of the gym. It improves our general happiness quotient and leads to stronger relationships and even translates to the office. It's total life improvement!
Related reads: