Dessert For Breakfast: Vanilla Bean Frozen Yogurt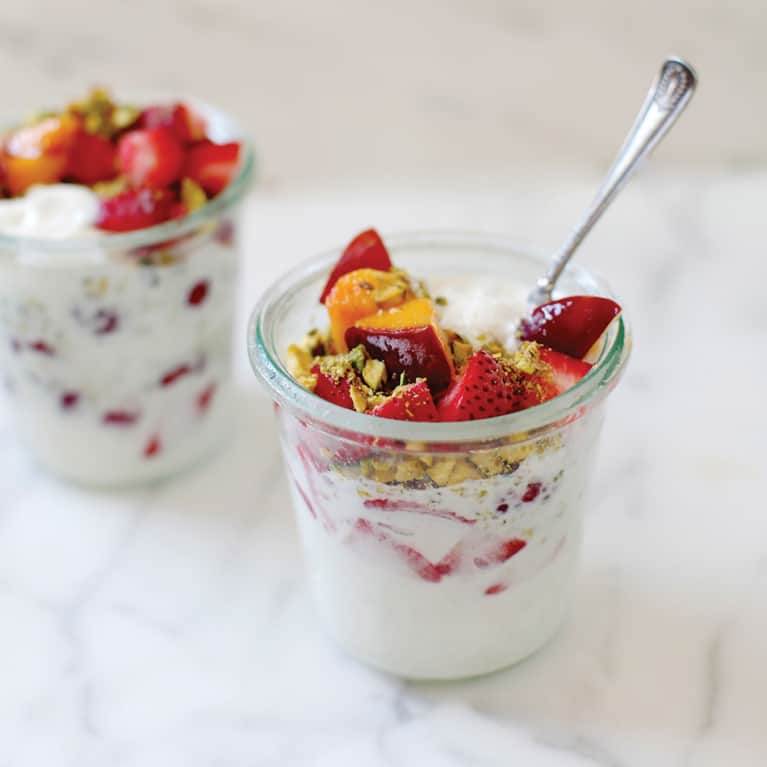 It's nice to have a simple vanilla frozen yogurt recipe. Whether serving a slice of fruit pie à la mode or creating the perfect brownie sundae, vanilla yogurt can be just the thing.
Because of its simple flavor profile, this frozen treat lends itself well to a playful assortment of toppings. I like a bit of crunch, so I load mine with toasted coconut, toasted chopped pecans, and cacao nibs. If I'm feeling extra decadent, I'll drizzle a hefty spoonful of vegan salted caramel sauce on top.
I let my boys eat this fro-yo for breakfast topped with chopped nuts and a sprinkle of toasted coconut or a handful of berries in the summer months. They think they're getting away with something, but really we're just talking about eating slightly sweetened yogurt here!
Vanilla Bean Frozen Yogurt
½ cup whole milk
1 vanilla bean
⅓ cup honey
2 cups plain whole milk yogurt
¼ teaspoon salt
Preparation
1. Pour the milk into a small saucepan. Slice the vanilla bean lengthwise, scrape the seeds into the milk, then add the bean. Place over medium heat, bring to a simmer, stirring to avoid scalding the milk, then add the honey and simmer, stirring until the honey is well incorporated, 3 to 5 minutes. Remove the pan from the heat and allow to cool, then remove and compost the vanilla bean.
2. In a large bowl, combine the milk mixture with the yogurt and salt. Cover and place the bowl in the refrigerator for a few hours to chill thoroughly.
3. Freeze the mixture in an ice cream maker according to the manufacturer's instructions. You can eat the frozen yogurt right away for a softer version, or freeze it for about 2 hours for a firmer consistency. When served right from the ice cream mixer, the frozen yogurt closely mimics the consistency of soft-serve ice cream.