Essentials For A Minimalist Kitchen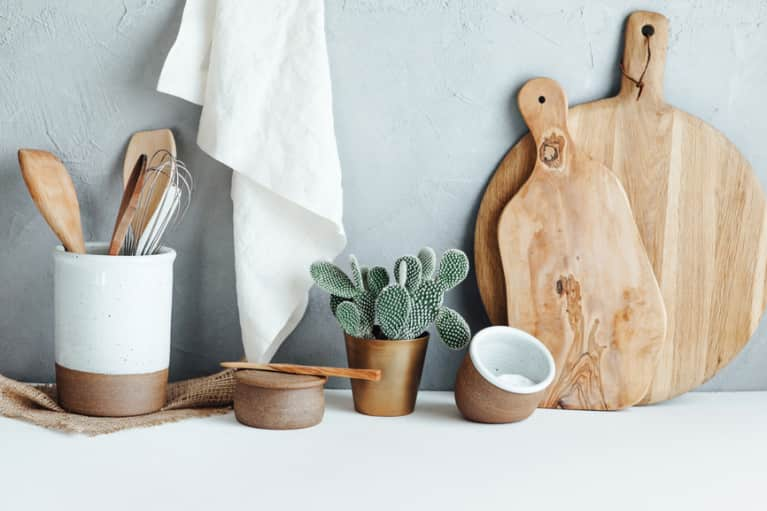 Our editors have independently chosen the products listed on this page. If you purchase something mentioned in this article, we may
earn a small commission
.
You may know Erin Boyle from her popular green living blog, Reading My Tea Leaves. (And If you haven't gotten lost in it yet, we highly suggest you do so right now.) Check out the writer, photographer, and minimalist's list of kitchen essentials, and take a peek at a few snippets of her culinary sanctuary.
The little black dress of china, a white plate can be dressed up or dressed down but will never go out of style. As the classic LBD advice goes: look for a shape that appeals to you, in a sturdy material, with few adornments. We chose handmade dishes with a creamy white glaze.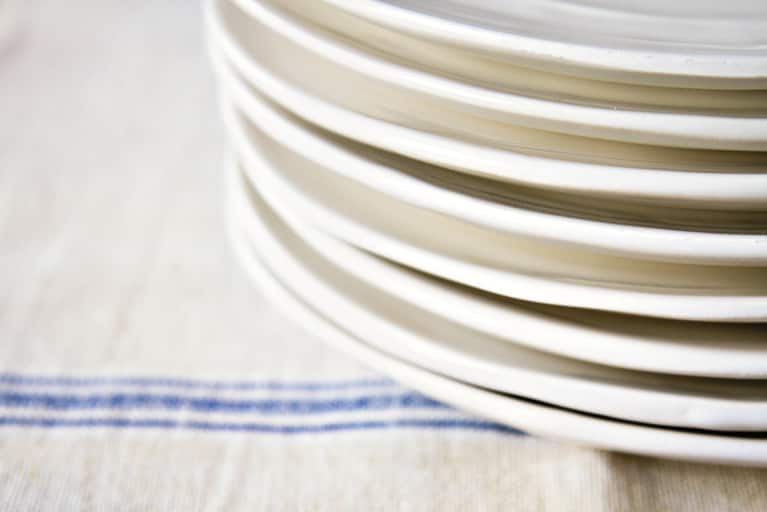 Classic French Duralex glasses are heavy-duty, functional, and affordable. We use these for everything from water and juice to wine and lattes. The smallest size is just right for a tiny toddler grip.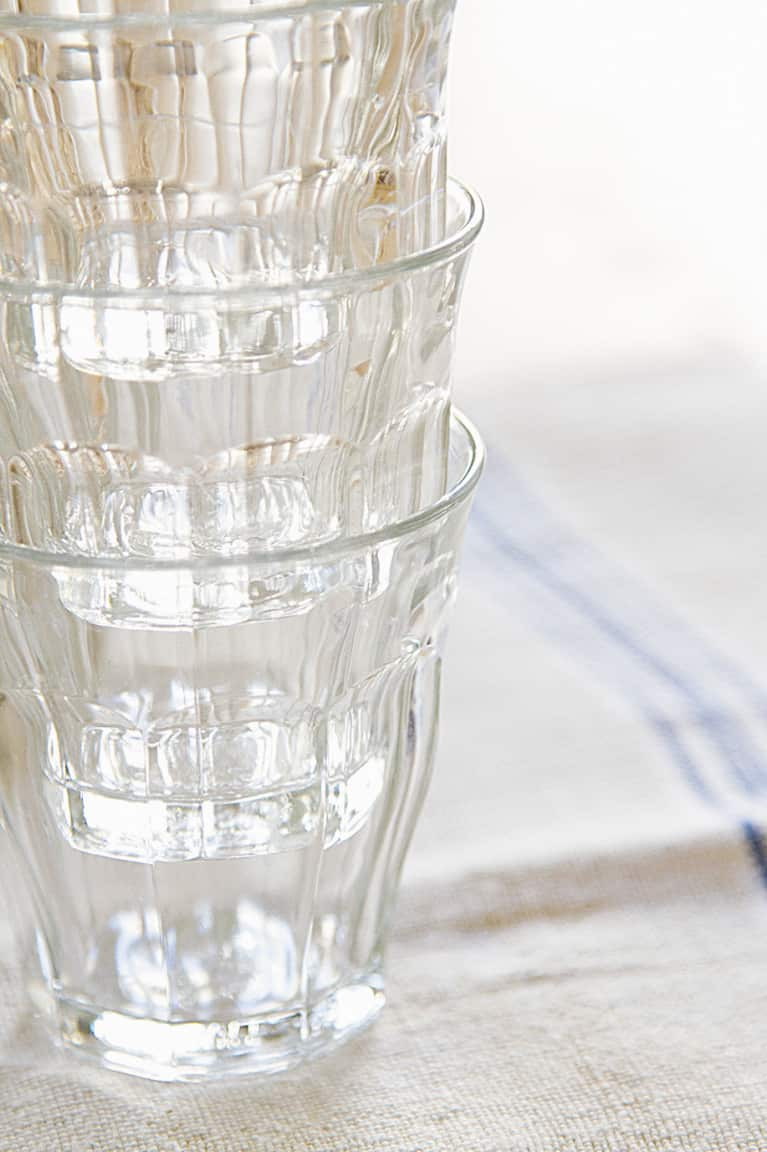 Go with stainless steel or silver, both of which can be put in the dishwasher and should last for decades—if not centuries. We have a beautiful set of wooden-handled stainless-steel cutlery that will last longer if hand-washed. Done again, I might opt for a set of vintage silverware to use every day that doesn't need to be specially handled. But then again, practicality can't always win.
Well-seasoned cast-iron pans are virtually nonstick, a source of iron, and workhorses in the oven or on the stovetop. Vintage cast iron can be pricey but has the advantage of being very well-seasoned and smooth-bottomed. Brand-new Lodge pans are incredibly affordable. Both will quite literally last forever.
Stainless-steel saucepans
We have a 4-quart and a 6-quart pan that we use near daily for everything from boiling water for pasta to simmering sauces and reheating leftovers.
In the land of one-pot cooking, nothing compares to a classic, enameled Dutch oven. And they can be just as good secondhand as brand-new. We use ours for simmering stews and chilis and baking bread. In a pinch, it can multitask as an ice bucket or a baby bathtub.
A thin wooden cutting board kept well-oiled and clean is the only one you need.
In a truly minimalist kitchen, you can probably get away with just one or two good chef 's knives. We use a 5-inch Santoku knife that we love, but I recommend going to a neighborhood kitchen shop and trying out a few to determine which one feels best in your hand. To save counter space and protect our knives from damage, we use a magnetic knife rack attached to the wall.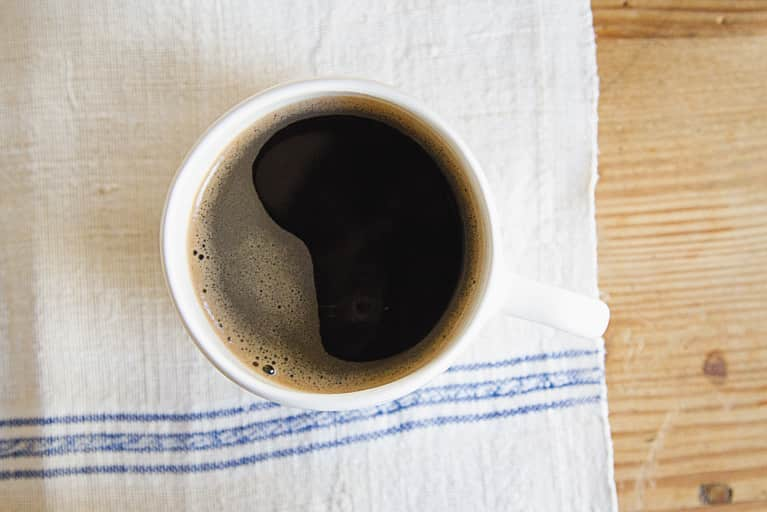 I'm still waiting for a beautiful wooden-handled version to make it to market, but a Microplane is a useful tool in any kitchen. Good for lemon zesting and cheese grating without taking up much room.
Stainless-steel sheet pans
Our tiny apartment oven is too small to fit a regular-size cookie tray, so we use jelly roll pans as baking sheets. Whatever the size, I've had the best luck with uncoated stainless-steel sheet pans. You can use them for everything from roasting vegetables to baking cookies. With only a bit of care, they won't warp, and they take scratches and nicks and everyday wear with gusto.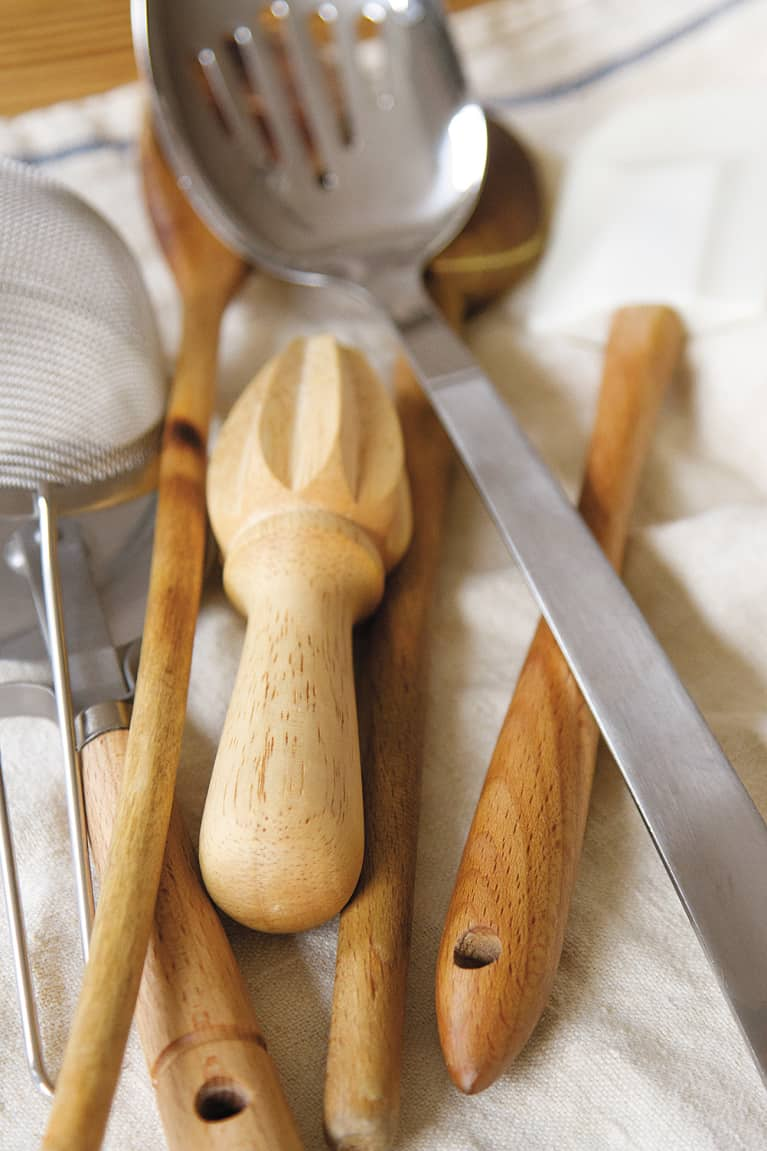 Measuring cups and spoons
Some things do call for a little precision. A 1-cup liquid measure and a set of dry measures is all we use, plus a set of measuring spoons. All of them are stainless steel, utilitarian, and sturdy. (If space is an issue, a standard 8-ounce mason jar can stand in for a 1-cup liquid measure.)
Whether tempered glass, stainless steel, or sturdy stoneware, a solid set of mixing bowls is useful for all manner of recipes, and an attractive set can do double-duty as serving bowls.
Adapted from an excerpt of Simple Matters: Living With Less and Ending Up With More, available where books are sold.