5 Ways Sharing Fitness Goals Will Make Your Relationship Stronger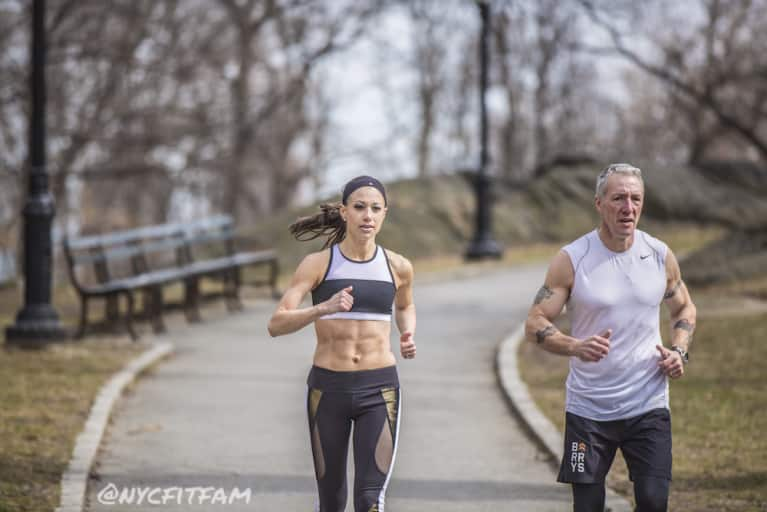 Let's face it: relationships are hard. Cohabitating, being patient and kind, and putting someone else's needs ahead of your own aren't always easy to do and can come with their share of stress.
Fitness has countless health benefits, but one thing you may not realize is its ability to bring you closer as a couple and make life together better.
My husband and I started our joint fitness journey shortly after we began dating. We have fun sweating together, engaging in our mutual #fitfam community, indulging in mindful movement like yoga, and watching our bodies reap the rewards of hard work and commitment.
Here are a few ways shared fitness can improve your relationship:
1. You'll spend more quality time together.
Some of our favorite moments together are spent in sneakers, whether sweating it out at the gym or running side-by-side on the road. Whenever we travel together, either for work or vacation, we get the added bonus of seeing new places on our two feet. We even plan fun weekend getaways around 5K and half-marathon races, which is a great reason to travel.
2. Working out releases endorphins, making you a happier partner.
During a workout, the body triggers cells to release endorphins, the magic little hormones that block the transmission of pain signals and produce a euphoric feeling. That post-workout glow? You're not imagining it.
Plus, people who stick to a fitness plan feel the pride that comes with accomplishing goals. This confidence can bolster a relationship by contributing to a greater sense of mutual well-being.
3. You'll make like-minded friends and share a sense of community.
Lots of couples, especially those who work in different careers, have two sets of friends that don't have a ton in common. Yet couples who build fitness into their lives often find that they build a shared friend base, which can be really fun and rewarding.
Try joining a running club together, hitting the same after-work boot camp class a few days per week, or attending a weekly Saturday-morning yoga class as a duo.
4. You appreciate each other's bodies more.
A hot bod is awesome, but there's actually nothing sexier than knowing your partner has dedicated themselves diligently to a fitness routine all week. It makes you feel proud of each other and reminds you of all the great attributes that made you fall in love in the first place.
5. You'll have better sex.
There is no doubt that the fruits of your labor will be evident in the bedroom. Not only will you both feel better about yourselves (which is half the battle!), but your chemistry will be turned up a notch as your bodies continue to change. Plus, your shared increase in endorphins will fuel the fire. When you exercise, the brain produces endorphins that stimulate the release of sex hormones. So have fun getting your sweat on at the gym and between the sheets!
Related reads: