This Underwear Ad Featuring Plus-Size Models Was Rejected By NBC & ABC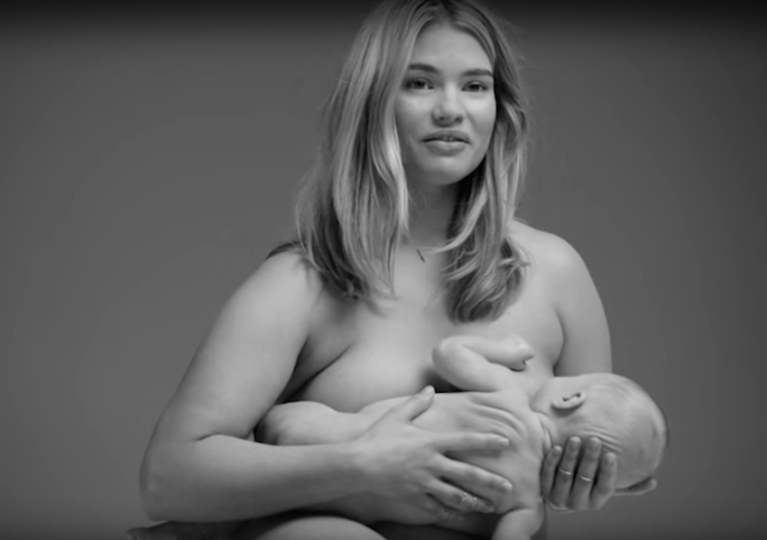 March 11, 2016 — 12:15 PM
Two major TV networks, NBC and ABC, reportedly gave a big thumbs down to an ad starring full-figured models—most notably Ashley Graham, the first plus-size model to grace the cover of Sports Illustrated—citing "indecency."
Which unfortunately means that these networks have the same opinion as model Cheryl Tiegs, who said, in response to Graham being featured on the cover of SI, that it's bad to glamorize women whose waists are over 35 inches.
According to TMZ, plus-size retailer Lane Bryant's sexy 30-second spot, which was created to encourage them to celebrate their bodies, has been turned down by both networks on the grounds that it "[does not] comply with broadcast indecency guidelines."
The unaired commercial features Graham and other full-bodies models, close-up shots of their bare bodies, and—*gasp!*—a model breastfeeding. So, basically, it had the same level of body exposure as a Victoria's Secret or Dove commercial—but with curvier models.
The This Body campaign was meant to be a fun way for us to celebrate and honor women of all shapes and sizes. What is too much for some does not hold true for others. All women should be celebrated and feel empowered to express themselves as they see fit. We want her to know she can attract as much media attention, look just as striking as any woman, and decide what beautiful means to her. The This Body commercial holds nothing back. It is a true celebration of women of all sizes doing what makes THEM feel beautiful whether its breastfeeding their newborn, flaunting their bodies the way they see fit, breaking down barriers all around and simply being who they are or want to be!
Meanwhile, NBC told the Daily News that they didn't straight up reject the ad—they just wanted to change some things: "As part of the normal advertising standards process, we reviewed a rough cut of the ad and asked for minor edits to comply with broadcast indecency guidelines," the statement read. "The ad was not rejected and we welcome the updated creative."
But the retailer responded later saying that they would not, under any circumstances, change the ad:
The first edit was turned down out of hand and while we clearly created the commercial to air we will not edit it as we believe it's a beautiful and appropriate expression of women's bodies. We do plan to air this through our own media and through digital channels where they find it as acceptable.
This situation is eerily reminiscent of the THINX scandal of 2015, in which the MTA rejected the absorbent menstrual underwear company's ads, citing "too much skin" and "inappropriate" imagery. Meanwhile, plastic surgery ads featuring nearly naked women are always plastered across subway cars.
So, even though this is clearly an ignorant move on the part of ABC and NBC, hopefully there's a silver lining in that Lane Bryant could get the same amount of media coverage as THINX did, because that's what really got everyone talking about them. And now, THINX ads are covering the Grand Central and Broadway-Lafayette subway stations.
I hate watching commercials just as much as the next person, but I do hope that if I don't have the option to fast-forward through them, I'll get to see Ashley Graham and her curvy companions flaunting what they've got.
And if not, oh well—I guess they're just too hot for network TV. The Internet will spread the ad more effectively, anyway.