This Make-Ahead Farro Salad Combines Spring's Best Flavors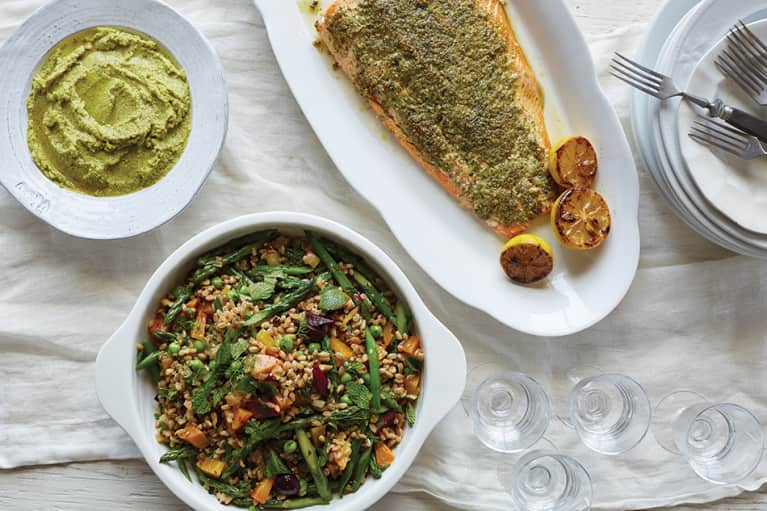 Our editors have independently chosen the products listed on this page. If you purchase something mentioned in this article, we may
earn a small commission
.
This is the centerpiece of my Easter brunch, full of bright spring flavors and satisfying texture. I wanted to use all the new vegetables that called to me at the farmers market—asparagus, golden beets, and tender sweet peas—so I did. I tossed in fresh dill, mint, and a good squeeze of lemon for zing, and pecans for a touch of crunch.
Bonus points: This salad can be made a day in advance; it keeps well in a tightly covered container in the refrigerator. It's a big batch because I designed it as a party dish, but leftovers travel easily for a springtime lunch at the office.
Spring Market Farro Salad
Serves 8 as a main, 10 to 12 as a side
Ingredients
1 lb. golden beets (trimmed weight)
4 tablespoons extra-virgin olive oil
1 medium yellow onion, coarsely chopped
¾ teaspoon sea salt, plus more to taste
1 large fennel bulb (8 oz. trimmed), diced
6 cups cooked farro, from 2 cups semi-pearled farro
1½ lbs. green asparagus
1 cup shelled sweet peas
1 cup (3½ oz.) chopped toasted pecans or pistachios
1 oz. fresh dill weed, coarsely chopped (⅓ cup)
2 tablespoons slivered fresh mint leaves
3 tablespoons fresh lemon juice
1 tablespoons agave nectar or honey freshly ground black pepper
Preparation
1. Preheat the oven to 375°F. Scrub the beets, trim off the stems to 1 inch, and wrap the damp beets in heavy-duty aluminum foil, crimping the foil together to make a packet. Roast the beets for an hour, or longer if needed, depending on the size of the beets. They should be tender enough to be pierced through easily with a fork. Allow the beets to cool, then slip off their skins and cut them into ½-inch dice or slender wedges.
2. Heat 2 tablespoons olive oil in a large nonstick pan and sauté the onion with a pinch of salt over medium heat, stirring often, for about 10 minutes. Add the diced fennel, cover the pan, and stir occasionally for 20 to 25 minutes longer, until both the onion and the fennel are tender and light golden in color. Remove from the heat, stir in the cooked farro, and transfer to a large mixing bowl.
3. Snap off the tough ends of the asparagus and cut them on a slant in pieces about 1 inch in length. Steam the asparagus for 2 to 3 minutes, until just barely tender. Steam the peas for about 45 seconds, then refresh with cold water.
4. Add the beets, asparagus, peas, chopped pecans or pistachios, and herbs to the farro mixture and toss until everything is well combined.
5. Whisk together the remaining 2 tablespoons olive oil, the lemon juice, agave nectar or honey, and ½ teaspoon sea salt, and drizzle over the farro mixture. Grind in as much black pepper as you like, then immediately toss again to distribute the dressing throughout. Serve the salad at cool room temperature.