6 Nutrients To Help Manage Stress + A Lemon Tartlet That Puts Them To Use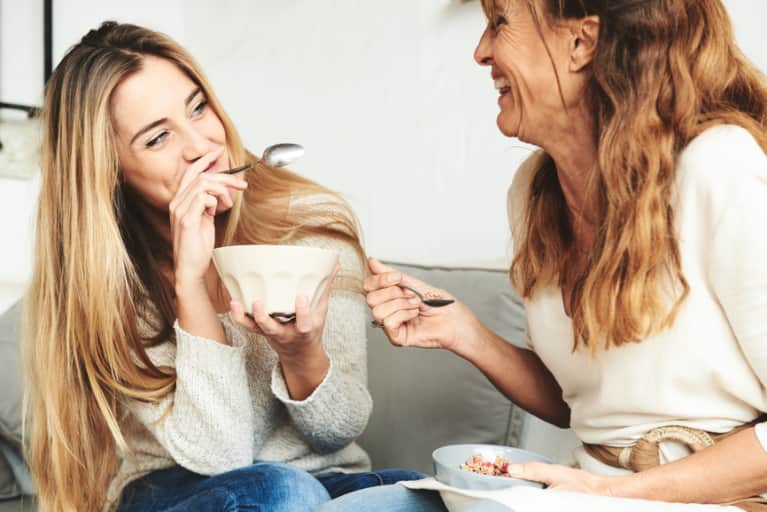 Our editors have independently chosen the products listed on this page. If you purchase something mentioned in this article, we may
earn a small commission
.
Stress is not an inevitable, unchangeable experience. As they say, you may not be able to control everything that happens to you, but you can control how you respond.
You have the power to change your mind, and this alters your body's reaction.
Make it your practice to handle stressful situations differently by responding with a conscious intention to maintain a positive state of being. As you practice this positive response, your body will learn how to effectively decrease your stress, your cortisol levels will stabilize, your blood pressure will drop, and your health will dramatically improve in a multitude of ways.
It's also important to adopt a consistent practice. Stress management isn't something you just take care of on the weekends. You need to handle it on a daily basis because that's how often debilitating stress rears its monstrous head.
There are many different stress-reduction techniques, and what works best for you may not have the same results for someone else. You might really enjoy meditating, but someone else may feel calmer just by cleaning their house. Stress management is a highly selective and individual thing. The last thing you want to do is to nullify any potential benefit by getting stressed out with your chosen stress-busting activity.
You'll have to find what kind of daily activity works best for you. As you'd guess, making smart food choices will support your overall health and increase your body's resiliency. Be sure to get adequate sleep, too, as sleep deprivation dramatically impairs your body's ability to handle stress. And make your chosen stress-relief activities an adventure—experiment with different things and see what brings you joy. Some popular stress relievers include:
exercise (e.g., yoga, weight training, hiking)
meditation or breathing practices
having fun with family and friends
enjoying time alone in nature (or wherever your "happy place" is)
music (both listening to it and making it)
sex (duh!)
Be sure to deal with stress in healthy ways. When people use alcohol, tobacco, or drugs to try to deal with their stress, sadly, instead of providing the body with relief, they tend to keep it in a stressed state and cause even more problems, including addiction.
Top stress-reducing nutrients
1. Folate: Our bodies cannot synthesize folate, so we must consume it through diet. Folate is crucial for regulating many bodily functions, including DNA repair, which in turn, eases stress in our brains and our bodies.
Try eating more: lentils, spinach, and chickpeas.
2. Glutathione: Another essential nutrient that aids in cellular repair and fights against free-radical damage, glutathione helps to relieve anxiety and stress.
Try eating more: garlic, asparagus, and avocado.
3. Polyphenols: Another micronutrient responsible for fighting against free-radical damage.
Try eating more: dark chocolate, flaxseeds, and star anise.
4. Potassium: Potassium ion diffusion is a key mechanism in nerve transmission, and potassium depletion results in various dysfunctions relating to the nervous system and—you guessed it—stress!
Try eating more: dark leafy greens, mushrooms, and bananas.
5. Probiotics: Probiotics, or living cultures, are believed to be beneficial for many areas of our health and wellness as well as curing stress and depression.
Try eating more: sauerkraut, miso, and kombucha.
6. Sulforaphane: a powerful antioxidant said to have neuroprotective effects on the brain, thus preventing tension and anxiety.
Try eating more: broccoli, cauliflower, kale, and cabbage.
Lemon Cashew Cream Tartlets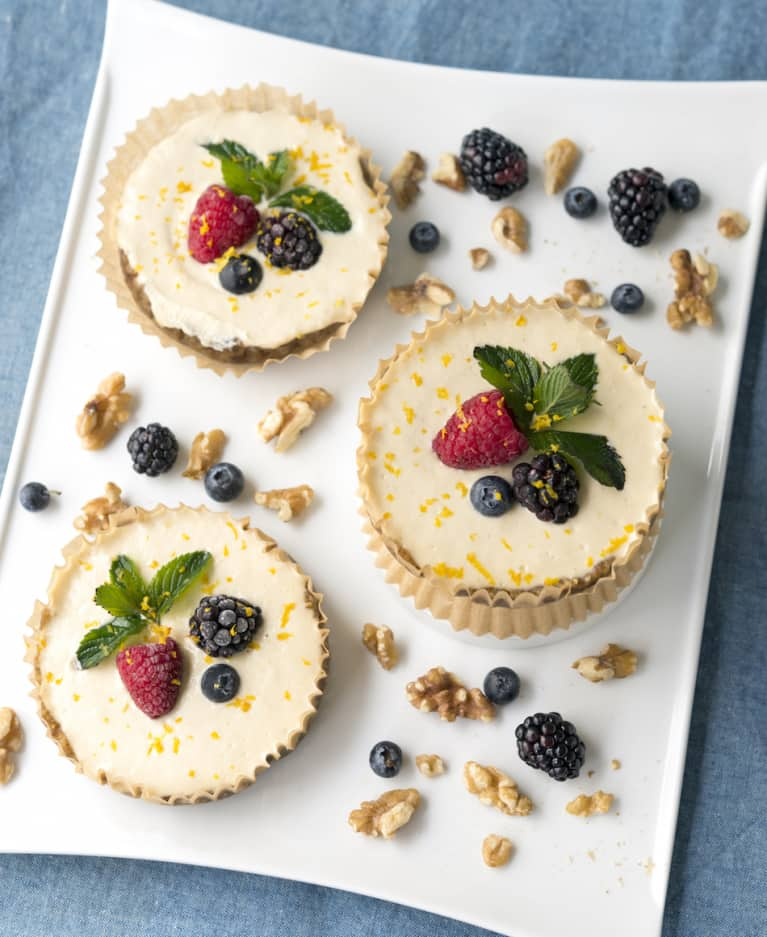 These little cutie patooties are adorable dessert options that will make your smile widen but not your waistline. Lemon is a fantastic stress reliever and lends the perfect tart flavor to the cashew cream.
Cashews have a high concentration of tryptophan, magnesium, and healthy monounsaturated fats, which directly ward off mild depression and anxiety naturally. This recipe is super easy and is a great treat to make for anyone who's never tried raw vegan desserts before. These beautiful baby tarts are sure to steal their hearts!
Serves 3
Ingredients for Lemon Cashew Cream filling
1 cup soaked cashews
1 to 2 tablespoons filtered water, as needed
¼ cup coconut nectar
Pinch of sea salt
1 tablespoon organic virgin coconut oil
1 teaspoon vanilla extract
1 large lemon, juiced and zested
1 cup raw walnuts
5 medjool dates, pitted and chopped
½ teaspoon vanilla extract
Pinch of sea salt
½ cup fresh blueberries
2 tablespoons mint leaves
Preparation
1. To make the Lemon Cashew Cream filling: Blend all ingredients 30 seconds or until the filling becomes frothy and smooth. Transfer to an airtight container and place in the refrigerator.
2. To make the crust: Place the walnuts in a food processor and process for 10 to 15 seconds, until the "dough" achieves a coarse, mealy consistency. Add the dates and process for another 15 seconds. Check the texture to see that the mixture has a malleable, doughlike consistency. Add the remaining ingredients and gently pulse for another 10 seconds.
3. Divide the crust dough into 3 even balls and place them into 5-inch ramekins lined with cupcake paper. Form the crust with your hands, pressing the ball of your hand into the center of the ramekin and using thumbs to work it out into the sides, forming a miniature pie-crust shape. Continue with the other two until complete.
4. Spoon the Lemon Cashew Cream filling into each ramekin evenly and top with fresh blueberries and mint leaves. Transfer to the refrigerator and chill for 2 hours to set.