This Major Hotel Chain Is Getting A Wellness Rebrand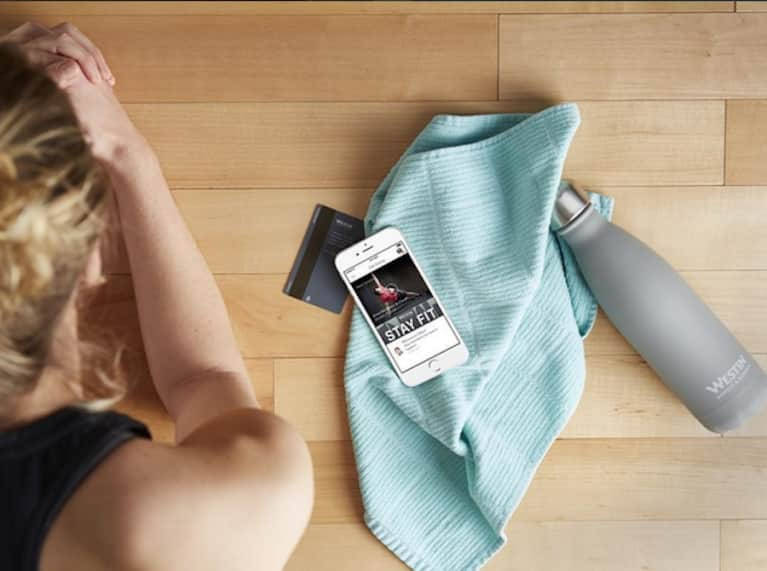 March 11, 2016 — 16:49 PM
Let's be real. The only time you break a sweat while traveling is when you're stressing out about layovers. Spending time on the road usually means putting your healthy routine on pause.
But veteran hotel chains and brand-spanking-new getaways alike are in the process of changing that. They're crafting spaces that encourage people to live well, wherever they are in the world.
Westin Hotels is in the midst of a health-centric rebranding
Westin Hotels is in the midst of a health-centric rebranding that aims to help guests work out, eat right and stay grounded when they're away from home.
Inspired by trends in athleisure, fitness tech and clean eating, the updated design is a bold portrayal of today's wellness world. The brand is hoping that its new aesthetic—one that features complementary workout gear, digital workout routines, and healthier menu options for kids and adults—will appeal to a growing audience of health-conscious travelers.
"About three years ago we saw a shift in consumer mindset: more and more, people were looking at wellness as a lifestyle," Sarah Lipton, Westin's Global Brand Management Director, told mindbodygreen via email. "In lockstep with trends, we pivoted from a position of renewal to one of well-being."
Westin is complementing the new amenities with energetic new imagery. While their aesthetic used to be more relaxed, it's now a lot bolder, brighter and less static—a shift that they think speaks to people's evolving preferences.
"We found there was a tremendous opportunity to evolve our brand's visual language to align with the more holistic and energetic way people are integrating wellness into their lives today," Lipton said.
The Westin team further explained the thinking behind the shift during a design preview in New York City yesterday, saying that today's travelers care about staying active, and they equate physical well-being with material wealth. (We couldn't agree more!)
The new look will eventually spread across everything from Westin's brochures and posters to stationery and key cards. The chain's new website is set to launch in May, and new amenities are already starting to roll out across their 210 global locations.
This rebranding speaks to a larger movement in hospitality—one that new chains like EVEN and 1 Hotel are at the forefront of. These hotels were designed to be wellness sanctuaries for busy metropolitan travelers.
Launched in 2014, EVEN Hotels, a subsidiary of IHG, offers guests state-of-the-art athletic facilities, in-room training zones, group fitness classes and healthy food options across its locations in New York, Connecticut and Maryland.
"Our studies have shown that there are 17 million wellness-minded travelers who find it hard to stay active and eat right, and often fall off the wagon when they travel," Adam Glickman, Head of EVEN, explained.
1 Hotel in Miami and New York appeals to the more environmentally-minded wellness buff, with its organic menus, hemp-based mattresses and open areas full of lush greenery and recycled building materials.
Considering that established names and trendy up-and-comers are both thinking up creative ways to foster a more mobile wellness community, it looks like this trend is here to stay.
So it's time to get excited, because your next hotel visit could be complete with a mini bar stocked full of green juice and kombucha.