The Results From Obama's Latest Physical Might Surprise You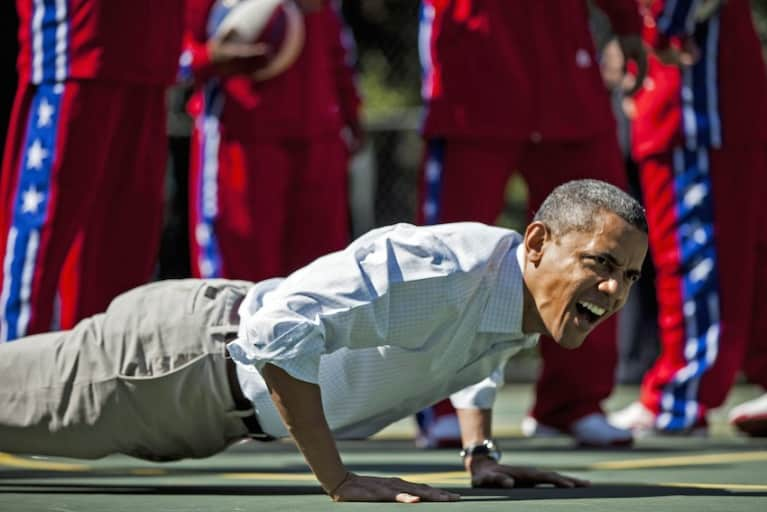 March 10, 2016 — 12:44 PM
As the leader of the free world, 54-year-old President Obama has had a lot on his plate for the past seven years. The stress may have aged him, deepening his wrinkles and graying his hair, but according to his latest checkup, he's in better shape than most men his age.
Apparently he's maintained that beach bod we remember so fondly from 2008.
In fact, the report written up by Ronny L. Jackson (the president's physician) said his overall health has actually improved since his checkup in June 2014. He's five pounds lighter, has a slower resting heart rate, lower blood pressure, and a reduced cholesterol level. Oh, and he's still got 20/20 vision (of "hope" and "change").
But what's his secret? I mean, he has to have missed a few nights' sleep imagining handing off his legacy to Trump.
Unsurprisingly, it's a combination of diet and exercise.
"He eats a healthy diet, remains tobacco free and only drinks alcohol occasionally in moderation," Jackson wrote. "He continues to exercise daily with a focus on aerobic fitness and resistance weight training."
He also said Obama still occasionally chews nicotine gum. He also takes vitamin D tablets daily and Nexium—which, unfortunately, was recently linked to dementia risk— for "occasional acid reflux symptoms."
At 175 pounds, with a resting heart rate of 56 beats per minute, blood pressure of 110/68, and a cholesterol level of 188 milligrams per deciliter of blood, Obama is a near-perfect physical specimen—and according to Jackson, "he will remain so for the duration of his presidency."
Michelle really wasn't kidding when she said, "Let's Move!"—and it's paying off for the president.
You can see the full report here.