Sun Potion's "Mind, Body, Green" Tonic Herb Potion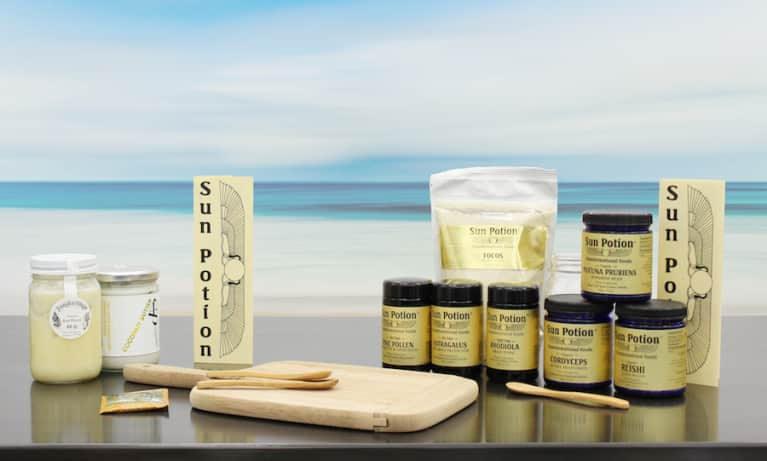 When Scott Linde and Nitsa Citrine, the powerhouse couple behind transformational foods line, Sun Potion, stopped by the mbg offices in February, they were kind enough to concoct a little "potion" for us. Given that everyone seemed to be coming down with a bug, the weather was cold and dreary, and we were deep into the mid-afternoon slump, the pair combined a few of their tonic herbs and medicinal plant powders to give our office just the boost it needed.
Here's the recipe for their "mindbodygreen" blend. It's warming, energizing, and delicious.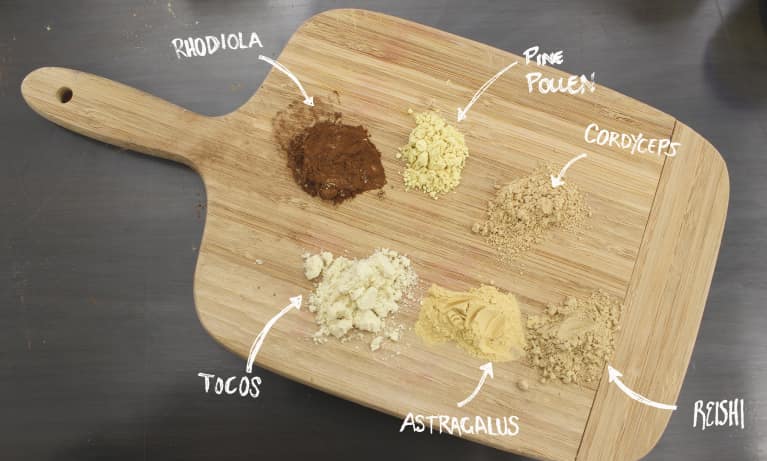 Sun Potion's Mind, Body, Green Potion Blend
Preparation:
Steep the tea bag in 1-2 cups boiled water for about 10 minutes. When the tea has steeped and the water has cooled a bit, add it to a blender or Vitamix. (If you don't want to use a teabag, simply boil the water and add the rest of the ingredients into the warm water.)
Add each of the herbs/powders one at a time to the tea. Then add one scoop coconut oil or coconut butter, and one scoop of raw honey (you can play with the amount of honey depending on how sweet you want it to be).
Let the water cool a bit more, then carefully place the cover on your blender, making sure it's securely in place. Start blending on a slow, gentle speed (pulsing is preferred if that's an option on your machine).
Continue pulsing until everything is blended together and a nice, frothy cap has formed.
Pour into a mug or cup you adore and enjoy!

Want to know a little bit more about why they chose these ingredients? Here's a breakdown from Sun Potion:
Tocos: A healthy way to sweeten any potion, tocos is a bio-available source of vitamins D and E, promotes healthy skin, and can facilitate the removal of toxins from the body.
Astragalus: This traditional Taoist herb may strengthen and protect skin health, metabolism, digestion, immune response, energy levels, and whole body function.
Reishi: Also known as the "queen healer mushroom," reishi is used to support the immune system and longevity, and can also help with stress relief.
Rhodiola: The ultimate brain tonic, rhodiola may facilitate mental clarity, creativity, stamina, immune strength, weight balance, longevity and focus.
Pine Pollen: Thought to be a potent aphrodisiac, pine pollen may support hormonal balance, enhance metabolism, increase libido, improve endurance, and detoxify the liver.
Cordyceps: This active adaptogen can help with the oxygenation of the body, athletic endurance, sexual energy, muscle tone, immune support, and mental power.
Mucuna Pruriens: The "dopamine bean," mucuna pruriens may enhance brain function, elevate mood, refine the senses, soothe the nervous system, and support overall well-being.