Kristy Kowal On Competing At The Olympics, Yoga, And #Wellth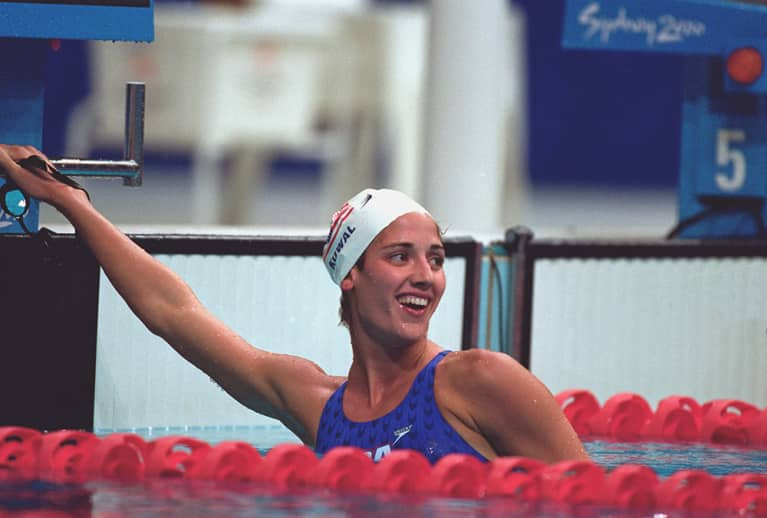 Our editors have independently chosen the products listed on this page. If you purchase something mentioned in this article, we may
earn a small commission
.
I've spent the past year thinking a lot about "wellth" — the idea that success is found in a lifestyle devoted to mental, physical, and emotional health. (I even wrote a book about it.) In this new series, we're celebrating visionaries who embody what it means to be wellthy.
Kristy Kowal is a former competitive swimmer—she won the silver medal for the breaststroke at the 2000 Summer Olympics in Sydney. She grew up wanting to be an Olympian and made it happen!
KK: Oh my gosh, it's hard to pick just one, but if I had to pick the number one favorite, I would have to say mango. I love mangoes, they remind me of sunshine and summertime.
What's your favorite healthy place to eat?
I'm from about an hour away from Philadelphia, home of the cheesesteak and the Philly soft pretzel. But I grew up eating a very balanced diet thanks to my mom. I am constantly seeking out new places to eat, and my favorite "healthy" place I have eaten so far has been in Berkeley, CA at Cafe Gratitude—I loved it there! It's just a shame I live so far away from it.
What's your favorite way to escape to get some nature?
I was a swimmer so naturally I feel connected to water. It's honestly the cure all for me. I can only go for so long before I need to be in it, around it, see it, and hear the waves. One of my favorite days was this past fall on a gorgeous sunny and cold day. I just bundled up, packed blankets and headed two hours east to the Jersey shore. I spent the day there by myself and there were probably only about five other people on the beach. I came home feeling recharged. Any time I can get near water—a lake, the ocean, I always come back feeling energized.
What's your favorite way to break a sweat?
If I would have been asked this question a few years ago, I would have thought the answer needed to be something that involved cardio, or running, or interval training, which I do a bit of. However, recently one of the most challenging things I have been doing is aerial yoga and I have never felt so strong. It's amazing and you do sweat! I LOVE it!
What's your favorite holistic treatment?
A few years ago I discovered just how wonderful apple cider vinegar really is. Since I have incorporated it into my diet, I have noticed things like how much more clear my skin is, how my stomach does not hurt as often.
I am an elementary school teacher, so there's no avoiding cold and flu season. As soon as I feel like I am starting to get sick, I add an extra shot of apple cider vinegar into my day and most often the next day I feel fine. Another thing I do is take magnesium and B2 supplements to decrease the frequency of my migraines. My migraines are directly related to weather, and changes in pressure. I should have been a meteorologist! However, the magnesium and B2 truly help with reducing the amount of migraines I get every month.
How do you de-stress/practice self-care?
Yoga. I am learning as I get older that my health and my self care needs to be a priority. I cannot be a good family member, friend, teacher if I am not taking care of myself, if I am stressed out, or stretched too thin.
I was feeling this way earlier in the year and my good friend Caroline Burckle helped me through this. One of her suggestions was instead of just practicing yoga, to actually join a studio, and it was one of the best things I have done for myself. Yoga has taught me to be more patient with myself and my body. As a competitive swimmer, you are used to comparing yourself to what everyone else is doing, and what I love about yoga is that it is your practice. You have to change that mindset of competing to just focusing on you.
Oh! And I've recently rediscovered the amazingness of coloring books! I forgot how much they chill you out. I used to color on our long flights to Japan and Australia to pass the time, now I color when I'm feeling stressed out—it works!
If you could go back in time and give advice to yourself when you were competing in the Olympics, what would it be?
I was so grateful to finally be on the Olympic team in 2000. I had missed qualifying in 1996 by .17 of a second, and in 2000 in an event by .01. When I made the team I knew that this was something not to be taken for granted and it very easily might never happen again.
I made sure to enjoy every second of every experience I had there. But if I could go back and give the 21-year-old me a piece of advice it would be take care of yourself first. That may sound incredibly selfish, but I've learned that it is not selfish to put your health and nutrition needs first to help you accomplish your goal.
What does wellth mean to you?
To me, wellth means that you have a life that is rich and full, not in money, but in happiness, physical and mental health, love, family, and friends.
Any advice for someone who's looking to build a life that they love and follow their passion?
Yes! It is never too late to follow your dreams, find your passion, or even change the direction of your life. Change is scary, but one thing that is even scarier than change is to never find what truly makes you happy.