DIY Aromatherapy To Calm Anxiety & Improve Sleep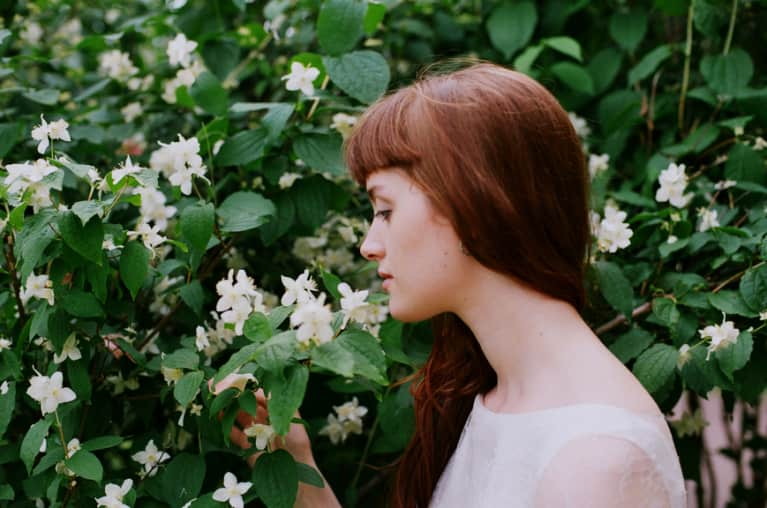 Our editors have independently chosen the products listed on this page. If you purchase something mentioned in this article, we may
earn a small commission
.
A leading voice on modern spirituality, Emma Mildon has traveled the world studying everything from auras to aromatherapy. This week, we're sharing her expertise in a series on how to decode your dreams and apply their insights once you wake up. To learn more, check out her new mindbodygreen class, The Essential Guide to Dream Interpretation.
Once, while traveling through Egypt, I became fascinated with the stories of ancient medical masterminds and altars still masked with the scent of perfumes from hundreds and even thousands of years ago. My soul was drawn to a perfume and essential oil shop.
Walking in, my eyes lit up as I scanned the large room plastered in tiny glass bottles holding a wide array of yellow and clear oils. All the bottles were unlabeled, allowing me to follow the direction of my nose rather than be bombarded with glitzy marketing blurbs, pretty bottles, or packaging.
I selected the scent that resonated with me the most and rubbed the oil into the pulse point of my wrist in a circular motion, heating it up against my skin. When I took the blank bottle up to purchase it, a labeled bottle was presented to me with what essential oil it was. I smiled when I read the handwritten label: "Lotus Flower Essence." Under the label it read: "Open and expand spirituality and meditative insight."
It really does pay to follow your nose!
If you decide to embrace aromatherapy in your day-to-day life, it can help empower and inspire you to be more connected, sympathetic, and loving. Below are a few natural oil blends that stimulate and transform different moods to get you started.
These oils can be burned into the air of your surroundings or placed onto your temple or shrine if you have one. They can also be rubbed into your pulse points (but be sure to dilute with water or a vegetable oil first if the label calls for it!), put on a cotton ball and slipped into your pillowcase, or added to water and sprayed as a mist on your hair and clothes.
The trick to working with aromatherapy is to go with your gut (and your nose, of course) and use scents that you enjoy. This step on your search is almost all about pleasure, so relish it! Sniff it all in.
If you're feeling anxious, depressed, stressed, or scared...
Rescue remedy anyone? Camomile oils are used to help soothe anxious, overactive minds that may lead to trouble sleeping or exacerbate depression. Other relaxing oils include valerian, sandalwood, and lavender. There are also a handful of oils that can not only rebalance a negative state of mind but can also help you get into a more uplifted and happy mood including bergamot, orange, and jasmine oils.
If you're looking to relax and sleep more soundly...
There are lots of elements that need to come together in order for someone to feel relaxed and get a good night's sleep. Similarly, oil blends work best to solve the multifaceted problem of insomnia—blends that include rosewood oil, which is grounding and relaxing and has antiviral properties. I recommend blending rosewood with frankincense, which is a mood stabilizer and de-stresser, and ylang ylang, which is an excellent oil for restoring the balance of your energies and recharging your energy centers.
These oils are perfect when diffused to help clear any hostility, tension, or conflict from a workspace or home. Blend bergamot, ylang ylang, jasmine, mandarin, and coriander oils and diffuse throughout whichever space needs a bad-feelings kick in the butt. These oils are also a great addition to a bath or added to vegetable oil for a relaxing and de-stressing massage.
If you're looking to improve your concentration and focus...
To focus, we must balance and center the mind, so a delicate balance of oils is what we're going for here. Each oil adds a unique benefit to this blend, including frankincense oil, which elevates the mood and helps us to rewind from stress; helichrysum oil, which helps with circulation as well as with the unblocking of thoughts and ideas; sandalwood oil, which is an antidepressant and mood balancer; cedarwood oil, a purifier; lavender oil, which helps to release tension from the whole body; and finally blue cypress oil, which helps stimulate the body and awaken the mind. Citrus oils of all sorts are also great to help give the mind the spring cleaning it sometimes needs to get your focus back.