8 Healthy Ways To Detox + Banish Winter Bloat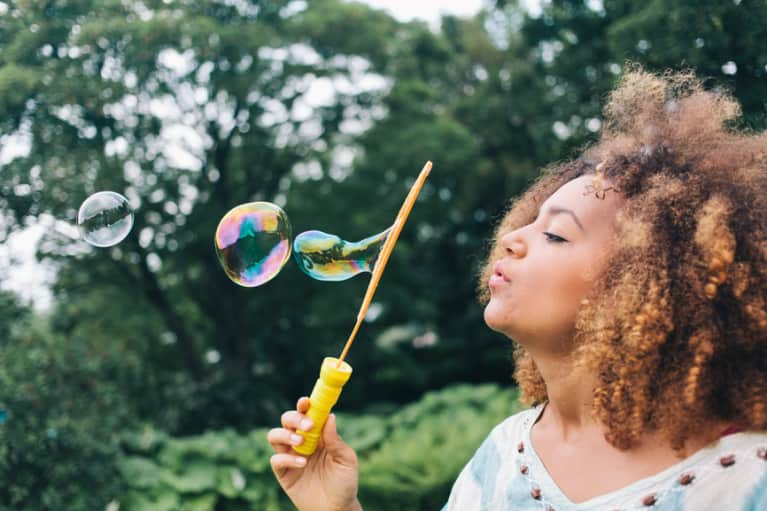 The winter season provides plenty of excuses for loosening the reins on exercise and healthy eating—and along with them, the waistbands of our favorite pants. But while we may have cut ourselves some slack during icy days, the first hint of spring often inspires us to get back on track.
Now, with warmer weather approaching, it's time to renew your intention for self-care. As a health coach, I recommend a gentle reboot to help you detox from winter and get ready for the months ahead.
Here's what you can do to reset from winter:
1. Greet the morning with hot water and lemon juice.
This easy fix jump-starts your digestion, is a great source of vitamin C, and helps balance pH levels. An added bonus: it supports detoxification in your liver.
2. Drink a green smoothie for breakfast.
To let your digestive system rest from its usual routine of chewing and digesting, follow your hot lemon water with a breakfast of oh-so-healthy green juice or a green smoothie. This will give your digestion a short break.
3. Keep drinking throughout the day.
Make a serious commitment to hydrate all day long, every day. My recommendation: drink at least one full liter before noon. This will put you in the groove, and make drinking later throughout the day not feel so daunting. You can perk up your water by adding some flare, like cucumber, orange slices, or strawberries.
4. Spring clean the pantry.
Clear your sugary winter comfort foods out of the pantry and fridge. Then, restock with the colors of the rainbow—dark leafy greens, organic seasonal fruit, and lean proteins. Add in raw nuts and seeds and other healthy snack options. You're more likely to eat well if you have foods all around you that increase your wellness.
Literally. An infrared sauna is relaxing, of course, but it also helps detoxify, improve circulation, and lower blood pressure. And it just feels so good.
Exercise is the fast track to feeling better. Enjoy the now-friendlier outdoors with a daily run or get yourself to a yoga class (emphasis on the positions with twists for extra detox points), go spinning, or get your dance cardio on. Whatever you love doing that gets you going is great.
7. Eat bloat-fighting foods.
Bloat may be the reason your pants are still feeling a little tight post-winter. I recommend conquering it with dandelion tea, adding asparagus to your dinner, and using parsley to top your meals.
8. Forgive yourself, and move on.
We are humans, and setbacks happen. It's part of our DNA to fall and get back up again. So instead of focusing on the less-than-healthy habits you had over the winter, show yourself some love, focus on healthy routines, and you'll soon be moving forward. Here's to a healthy start to spring!
Related reads: