Eat Clean With These Tomato Hummus Collard Wraps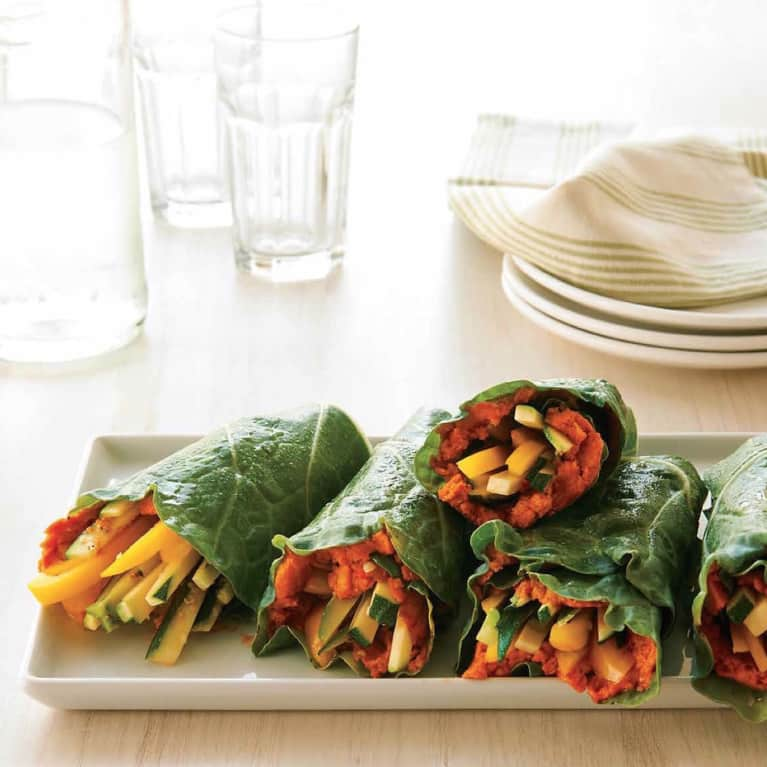 1 cup chickpeas
⅓ cup dry-packed sun-dried tomatoes
3 tablespoons tahini
2 tablespoons olive oil
2 cloves garlic, chopped
1 teaspoon smoked hot paprika
1 teaspoon grated lemon peel
juice of ½ lemon
¼ teaspoon sea salt
8 large collard green leaves
1 large yellow bell pepper, thinly sliced
1 zucchini, cut into matchsticks
½ cup fresh flat-leaf parsley
Preparation
1. To make the tomato hummus: in a food processor, combine the chickpeas, tomatoes, tahini, oil, garlic, paprika, lemon peel, lemon juice, and salt. Process just until chunky.
2. To make the wraps: cut the firm white stalks off the collards. With a sharp knife, slice off the thickest parts of the remaining stalks that run down the backside of the leaves. Put 2 collards on a work surface, head to foot (stalk ends at opposite ends) with the paler side facing up. The leaves should overlap slightly.
3. Spread ⅓ cup of the hummus lengthwise down the center. Top with ¼ of the peppers, zucchini, and parsley. Tightly roll the leaves beginning from the bottom and tucking in the sides as you go. Cut in half on a bias. Repeat with the remaining ingredients.