How Arianna Huffington Rebuilt Her Life To Make HuffPo Happen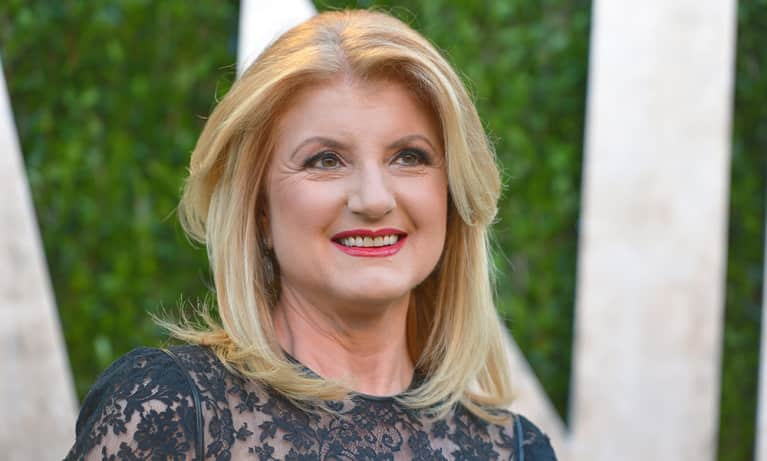 Finally she slept. But this was not the restorative snooze Arianna Huffington had hoped to slip into during the early hours of April 6, 2007, following a workaholic bender. This was sleep the hard way. The bloody way.
Arianna, who was then attempting to power her toddler-age news site and blog The Huffington Post through sheer personal force, had given way to exhaustion. The 18-hour workdays finally caught up to her. As she collapsed in her office, her head crashed against her desk on the way to the ground, breaking her cheekbone.
By most measures, the media magnate was an American success story, a Greek immigrant who had rebounded from divorce a decade earlier to become virtually a household name in her mid-50s. But very few people who wake up in a pool of their own blood feel great about themselves. "I was not living a successful life by any sane definition," she writes in her 2014 book, Thrive.
Arianna realized that the ghastly scare in her office was a clear sign that she needed to change. In the years since, she has taken better care of herself by managing her stress and sleep and never forgetting to seek joy. She has devoted herself to helping the people close to her find health and peace as well. And because of this, rather than despite it, she argues, The Huffington Post has grown to unimaginable heights. Arianna sold the site to AOL in 2011 for $315 million and cut a deal to remain on hand as the leader. HuffPo was valued at as much as $1 billion by tech insiders following AOL's sale to Verizon in March 2015.
A month after the AOL-Verizon deal, she explained the nuts and bolts of her powerful personal transformation in a Success magazine cover story. At first, Arianna recalled, she needed to learn to ask the right questions about her life. What is living well? What steps must be taken to achieve it?
"If you think about it, success in the beginning was really about having a good life. 'What is a good life?' the philosophers would ask. And then we shrunk it down to these two metrics—money and power. And that's really shrinking the definition of what it means to be human."
Recharging, One Decision at a Time
Following her wake-up call, Arianna started to make incremental changes. In Thrive she describes easing slowly from four hours of sleep a night to eight, savoring the newfound peace and energy that she carried with her all day. So, too, came perseverance and resilience in the face of each day's challenges. And, in turn, stress began to slip away.
The gentle shifts in her focus and energy led to living in the moment—to enjoying the distinct textural burst of a blueberry or the crispness of a clean bedsheet. And she found a new appreciation for the people in her life. She saw the business managers, editors, and writers at HuffPo making the same mistakes she had made and realized that she should use her painful experience to inform her leadership.
Arianna believed that what was good for those who worked for her would ultimately be good for The Huffington Post. The idea that to be successful a company needed its executives to work 24/7, she realized, was out of date—and just plain wrong.
To keep her employees refreshed, Arianna, in 2011, opened a pair of napping rooms that are now a hallmark of the HuffPo offices. Rather than guzzle more coffee or energy drinks, employees are encouraged to take an on-the-clock siesta. Weekly yoga, meditation, and breathing classes followed. Healthy snacks abound.
"It's really a culture," Arianna told Success. "We are trying to make sure that everyone knows that after work they're not expected to answer email, for example … Everything can wait; they can unplug and recharge themselves."
Arianna's Thrive mantra has spread beyond the workplace and beyond the pages of the book that explained her story. It is now one of the cornerstones of The Huffington Post. Along with the usual categories like politics, business, and entertainment sits Healthy Living, encompassing topics like "GPS for the Soul," "Moments, Not Milestones," and "Stronger Together." A 2-inch headline one recent evening proclaimed "5 Big Benefits of Being a Doodler."
And maybe the doodling thing is exemplary of the overarching lesson that Arianna learned through her ordeal—to not take work quite so seriously. She actually credits her mother with teaching her as a girl that "angels fly because they take themselves lightly."
As Arianna wrote in a post on her site, "Whenever we find ourselves in a stop-the-world-I-want-to-get-off mindset, we can remember that there is another way and open ourselves to grace. And it often starts with taking a moment to be grateful for this day, for being alive—for anything."
When we are grateful for anything, Arianna reasons, we'll take much better care of ourselves, so we can experience more of it. And there is so much to be experienced!
Work can wait. Really. When you leave the office, silence your phone and turn off your computer. Give yourself the gift of a little downtime every day.
Related reads:
Excerpted from Live Happy by Deborah K. Heisz and the editors of Live Happy magazine. Copyright © 2016 by Live Happy, LLC. Published by HarperElixir, an imprint of HarperCollins Publishers.