Meal-Timing Hacks That Curb Cravings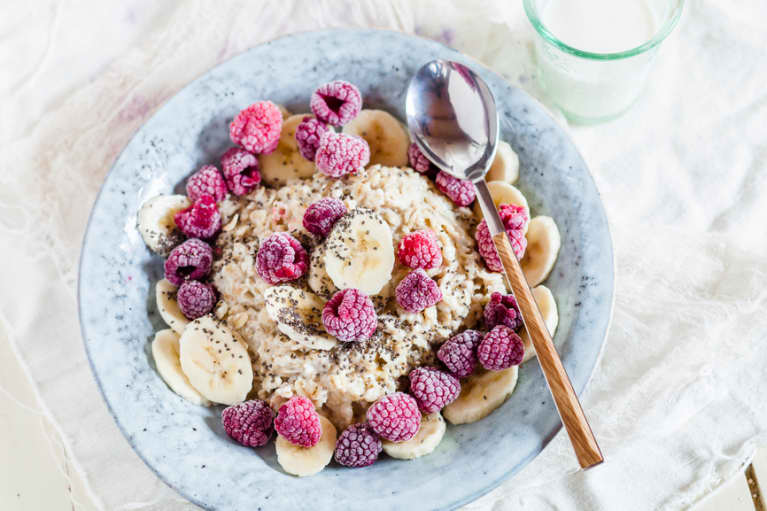 Anyone who's hit the Los Angeles freeway during rush hour, Trader Joe's after work, or the Barneys Warehouse Sale knows timing is everything. The same goes for your eating habits.
While you needn't militantly adhere to an eating schedule, these seven meal-timing hacks become the perfect formula to diminish hunger and cravings while permanently banishing that refuse-to-vacate belly fat.
1. Have breakfast within an hour of waking.
A protein-rich breakfast keeps you full, focused, and burning fat for hours, plus studies show it suppresses your hunger hormone ghrelin better than higher-carb fare like oatmeal. Especially when you're short on time, a protein shake is an ideal breakfast because it takes only minutes to make but keeps you full for hours.
Blend non-soy, nondairy plant or animal-based protein powder with frozen berries, avocado, leafy greens, freshly ground flaxseed, and unsweetened coconut or almond milk to become an all-morning fat-burning machine.
2. Eat a combination of protein, healthy fat, and fiber every four to six hours.
Protein, healthy fat, and fiber become my perfect trifecta for fast, lasting weight loss. Easy meal-assembly formula: fill about a quarter of your plate with protein, another quarter with fat (remember, healthy-fat proteins like wild salmon count as both), about two-thirds with nonstarchy veggies, and the remainder with slow, low carbs like quinoa.
3. Stop eating about three hours before bed.
Eat a substantial dinner and close up the kitchen. No, that does not mean staying up later! Studies show late-night noshers increase their obesity risk, plus let's face it: you're probably not eating wild-caught salmon and Brussels sprouts at 11 p.m.!
4. Drink plenty of water between meals.
One study found that about 8 ounces of water pre-meal helped people lose weight better than using a reduced-calorie diet alone. That doesn't give you permission to deep-dive into three-cheese lasagna, but filtered water can help stave off hunger pangs. That same trick works between meals. You may find that when you get a snack hankering you could simply be thirsty. Aim for at least 64 ounces a day but closer to half your body weight in water ounces daily.
Every time you eat, you raise insulin. Keep this hormone elevated and it becomes an almost guaranteed way to bolt your fat cells rather than burn that fat for energy. One study found that "snacking patterns might also reflect unhealthy eating habits and impede weight-loss progress."
6. Go longer between meals.
One study found that mice that ate within a 9- or 12-hour window became lean and healthier compared to mice that grazed whenever they wanted to. You can easily achieve that same victory by having an early dinner and stopping eating for the evening, creating at least a 12-hour window before breakfast.
7. Try intermittent fasting a few days every week.
When you really want to step up fat burning, employ intermittent fasting (IF). Studies show this "may be an option for achieving weight loss and maintenance." Lots of versions exist, but mine's pretty simple: a few days every week, have a substantial low-sugar impact breakfast and lunch, then skip dinner. You'll create that 16-hour fasting window your body needs to really step into fat burning.
What meal-timing hack do you employ for fat loss? Share yours!
Related reads: