Your Binge-Watching Habit May Be Doing More Harm Than You Think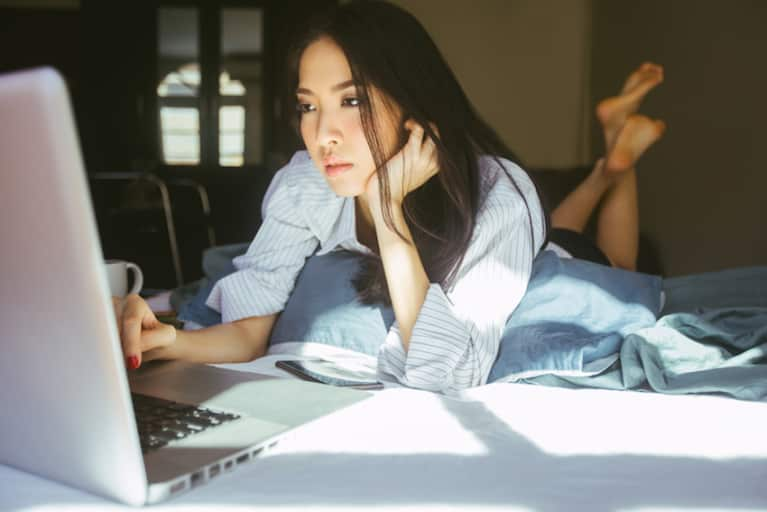 You know what the Monday blues feel like—you're likely experiencing them right now: after a carefree weekend, the responsibilities of the week ahead have hit you like a ton of bricks.
Well, according to a new study from scientists at the University of Toledo, binge-watching TV can make you feel just like that. And no, it's not because of Frank Underwood's stomach-turning actions. Post-Netflix blues are a real thing.
For the study, the researchers polled 406 North American adults online about their viewing habits, mental health status, how rampant it is among their friends, and how their friends view the practice of binge-watching, which they define as two to five consecutive hours of television in one day.
About 35 percent of the respondents reported binge-watching TV. Those who self-identified as binge-watchers were unsurprisingly more likely to report more screen time than non-binge-watchers, but here's the real nugget of the results: those people were also more likely to report higher stress, anxiety, and depression.
The researchers are quick to caution that their study only proves correlation—not causation—but past research has linked excessive screen time to obesity, diabetes, and depression.
But binge-watching just keeps getting more and more socially acceptable. This study showed that an estimated 62 percent of the respondents believed that most people binge-watch and 53 percent indicated that most of their friends binge-watch. People are trading in their cable boxes for Netflix or Amazon Prime subscriptions. Collins Dictionary even declared "binge-watch" its 2015 word of the year.
Think about it: if you invite your friend to go out with you, and she says, "Nah, I'd rather just curl up in bed with Netflix," you wouldn't judge or be surprised at all. You might actually think that plan sounds a lot better than your original plan of bar hopping, and you might ask to join. Why meet up with friends when you already have Friends?
Be careful, though, warn the scientists—because "'binge-watching' is a growing public health concern that needs to be addressed." So, maybe next time you're about to click "Keep Watching," shut your laptop and save it for another day. Think of it as savoring your shows rather than cramming them into your mouth all at once.