I Suddenly Gained 70 Pounds In 5 Days. Here's What Happened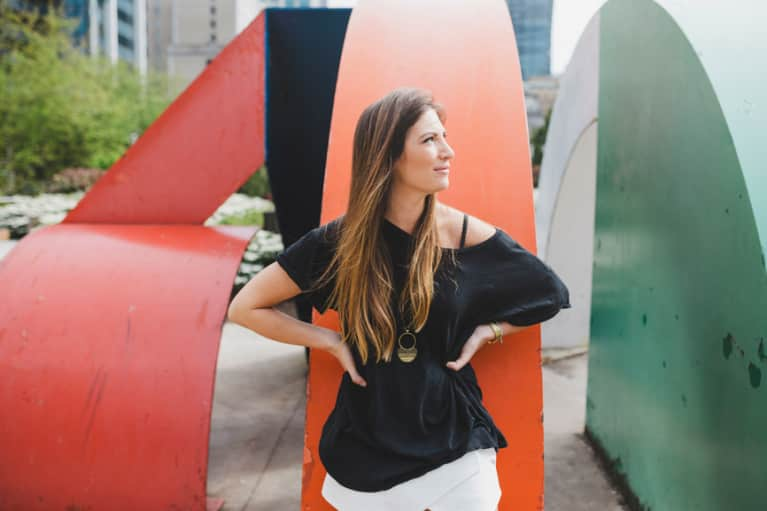 Last January, when I thought I was at the end of my 10-year chronic illness journey, my doctor accidentally overdosed me on progesterone cream and my entire endocrine system shut down. I went from my normal weight of 100 pounds to 170 pounds in five days.
Ask any one of my friends and they'll tell you they didn't recognize me until a few weeks ago (14 months later) as the fluid is still slowly falling off my body, and I'm starting to feel more and more like myself again. My doctor actually didn't even realize what was happening, but I knew something was very wrong.
I was starting to gain weight, feel really tired, sleeping 12 hours a night, craving fat, and having night sweats among other things (all the symptoms of a pregnant woman full of progesterone).
Having gone through my decade-long health battle (I was diagnosed with Lyme, PCOS, adrenal fatigue, Candida, SIBO, parasites, hypothyroidism, leaky gut, C-diff colitis, and more), I knew the tests I needed to get to the root cause of what was going on, so I asked for a saliva hormone test.
I knew it was important to focus on functional medicine testing because traditional Western medicine testing doesn't always give you the whole picture for hormones.
I decided to write my book, Eating Clean, because I wished I had a resource like this during those very painful, expensive, and exhausting years trying to figure how to be healthy in a real way.
While I loved working with all of my doctors (I've seen more than 500 of them), at the end of the day, I had to put together the missing pieces of my chronic health puzzle myself and heal myself.
We know our bodies better than anyone else. I realized that I could get pieces of information from my team of doctors, but, ultimately, I had all the answers I needed within me—and so do you.
It's important to take the time to get quiet with ourselves and put those puzzle pieces together. I'm telling you this not for you to self-diagnose but to start to listen closely to your body and to understand what's going on in your body.
The key is listening to that gut feeling telling you to look for another solution.
If it wasn't for this last major setback with my health, I would have never started meditating, listening to myself, trusting myself, and knowing there is a reason that this was happening for me.
Of course in the moment, I cried, I was embarrassed, I felt like my life was ending, and I could barely function. I went from a size 0 to a size 10 in five days, and I was booked for media, events, and speaking engagements.
With the weight gain, I was worried about what people would think of me (I looked nothing like the pictures on my website), but I had to forget about all of that and move forward.
So, what did I do? I learned how to love myself. I knew I wasn't sitting on the couch eating ice cream and bonbons, so I knew this weight was temporary and that my body needed help and love.
I learned how to support my liver even more than I thought I had already been doing. I learned how to slow down, I learned how to believe in myself, and I learned the power of healing.
If you're struggling with your health, I want to inspire you to take charge, take time for yourself, discover why this is happening FOR you (not TO you), and take the actions you need to heal each and every day.
For me, 2015 was about sleeping 14 to 16 hours a night to get all the progesterone out of my body. I cut a lot of excess external things out of my life, learned how to say NO even more, and focused on my body.
Was it easy? Heck no. Did I want to give up and die? Yes, about 100 times. But I didn't. I surrendered. I meditated. I learned how to be with myself and love myself as I am. I knew who I was hadn't changed—and that small shift in my perception transformed my whole world and I started to heal.
Our bodies can heal themselves—I'm living proof. It's magical when you can see the changes taking place after so many years of not seeing anything budge.
Eating clean and living clean feels incredible every day. Once you see life this way, you'll never got back. When you figure out what works for you and makes you feel amazing, why wouldn't you do that every day?
And no more progesterone cream for me!
In my new book, Eating Clean, is a road map to detox your food and your life no matter what symptoms you may have. Inside, I show you how to learn how to fight inflammation and support your body's ability to detox on a daily basis.