Why It's Time To Start Drinking Wild Herbs & Medicinal Plants
mbg Contributor
By Allie White
mbg Contributor
Allie White is a freelance writer and editor who covers news, lifestyle, health, beauty, and entertainment.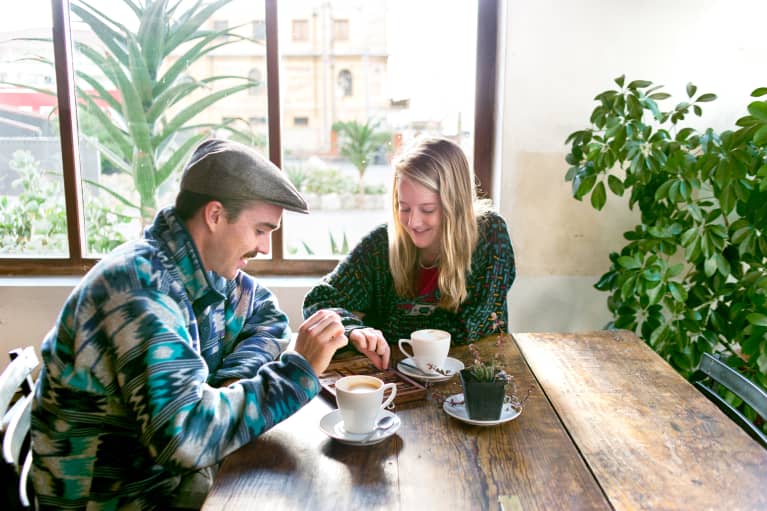 Living barefoot in the California mountains for years can lead to myriad outcomes. Launching an uber-successful "transformational foods" company is not one you'd expect.
But that's exactly what Scott Linde did with his Santa Barbara-based company, Sun Potion.
While walking around sans-shoes, Linde developed a deep fascination with the interplay of plants and humans, and how healing these natural things could be if we humans only let them in.
"These plants want to work with humans," he said. "There is definitely an intelligence behind each of the products we offer that is bigger than the brand. Sun Potion is a vehicle for these plants and individual humans to begin a relationship together."
Along with his fiancé/business partner Nitsa Citrine, creative director for the company, Linde is out to spread the word that "superfoods" aren't always found in the produce section. When it comes to powerful foods that are truly transformational and good for you—mind and body—sometimes powders can be the most effective.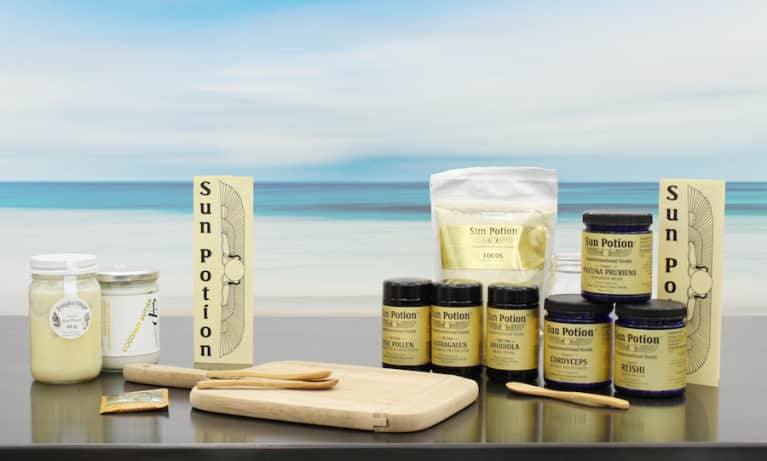 Firmly rooted in Chinese, Ayurvedic and other ancient medicinal practices that have been around (and working) for thousands of years, Sun Potion operates on the idea that pretty much anything can be cured with the right blend of herbs, known to the initiated as "potions."
It's through these high-quality, bioavailable substances that Sun Potion is out set the standard for a "new normal" as far as health food goes. After all, a growing body of medical research on the health benefits and therapeutic uses of tonic herbs can't be ignored.
We were lucky enough to have Scott and Nitsa stop by the mbg office a few weeks ago during a particularly cold, gray spell in New York. The Mind, Body, Green Potion they whipped up certainly had a warming effect on our frigid Brooklyn bones, but even just their presence brought a warmth, light and calm.
Seriously, these two are like magical sprites, glowing with good health, gentle in their approach to a topic a lot of people don't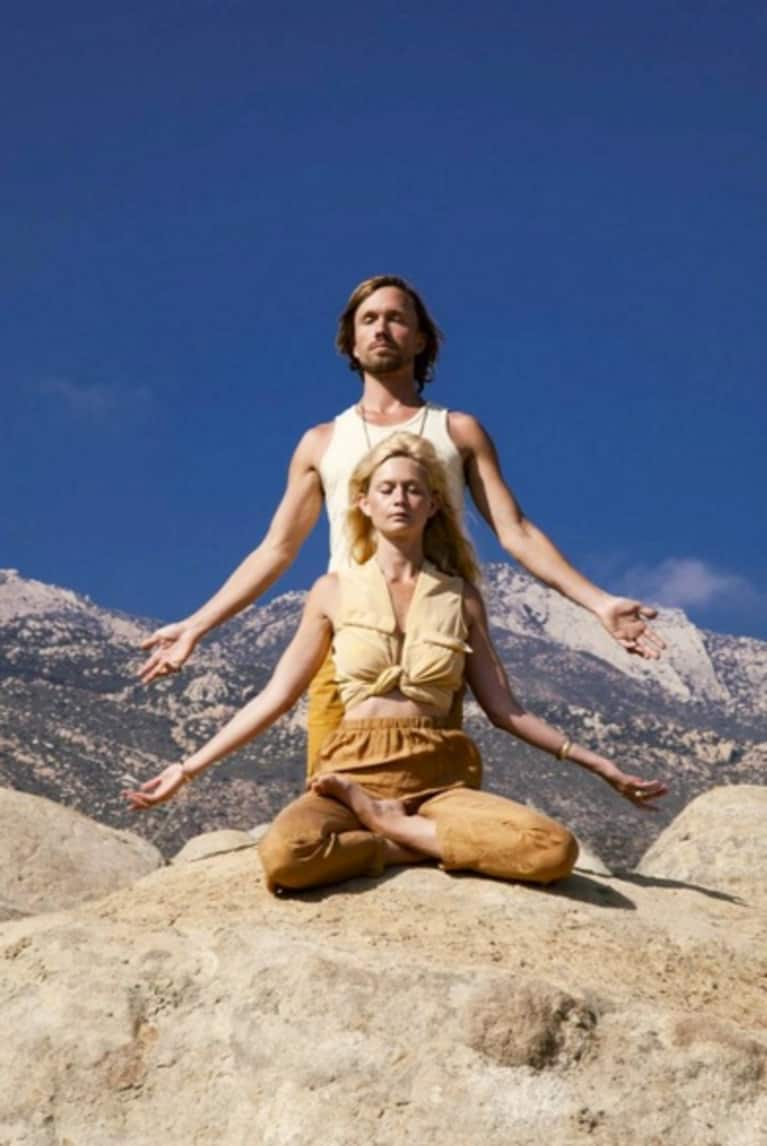 understand, and incredibly passionate about what they're doing.
Whether it's chaga mushrooms from birch forests in northern Canada, rhodiola from the Tibetan mountains, super-antioxidant ashwagandha from small organic farms in Northern India, or Ghanaian shea butter, these organic, wild-crafted tonic herbs and medicinal plants deserve a place in your kitchen.
mbg: How and why did you decide to start Sun Potion?
Scott: Sun Potion evolved from my love affair with the best-quality healing and therapeutic plants. I wanted others to have access to some of the feeling states and experiences that tonic herbs had given me. There was also a desire to be of service and to have a lot of fun while doing it. We just celebrated the company's fifth anniversary, and it is a joy to see so many other people having their own felt experiences with the plants that I love.
Why do you think it's so important to incorporate these things into a daily wellness routine?
Tonic herbs are one of the most simple and direct ways to nourish the current and future, dynamically empowered, radiantly healthy people of the world. These plants contain information that speaks directly to our nervous system, brain, hormone balance, immune system, and other parts of our body, making it easier for us to adapt to the stressors of modern living, and overcome in a ease-filled and powerful way. This information is not found in the rest of our food chain, even if we are eating organic, local, etc. For me, tonic herbs represent an easy way to feel amazing and to show up as the best example of one's self. (You just have to remember to take them daily to reap the many benefits!)
Do you notice a difference in how you feel if you skip a day? Or, do you notice a difference in how you feel depending on what you take?
The biggest thing with a preventative approach to health and wellness is remembering to do it. For this reason, I've found it much easier to be very committed to having my herbs everyday. They simply don't work the way that I know that they can if I'm not taking them daily. It's not to say that I feel "off" if I don't have my daily potion, yet I do miss it. It's a lot easier to receive the full benefits by having Sun Potion and Tonic Herbs be a part of my daily lifestyle, rather than the potions being something I try to remember to do each day (and may or may not actually do).
Nitsa: Definitely. The herbs are best taken in small doses, over a long period of time (lifetime(s)). This why we created the "A Potion A Day" ritual, which began as a hashtag #apotionaday on Instagram, but has evolved into this fluid, open sort of catalog of all the different ways and recipes in which our health-curious community incorporate the herbs into daily life. Of course, each plant is unique and will work in its own way with the body, but the overall function is to bring the whole system into a state of balance and resilience. If I want to enhance my energy, will reach for things like the Pine Pollen or Cordyceps, whereas to relax and unwind, I will take the Reishi.
What's your favorite blend?
S: Mucuna Pruriens (to support my nervous system and elevate my mood), He Shou Wu (because it is deeply nourishing to the life-force in the body), Reishi (to support my immune system and balance my Spirit), and Pine Pollen (because it's great for my brain), all combined in my morning tea. Sometimes I'll add a little honey and/or Ghee.
N: Aways super-fond of our Anandamide "Bliss Alchemy," which is a blend of heirloom cacao, freshly ground spices, and tonic herbs. This formula makes a delicious and activating warm or cool potion. I like to blend up a spoonful of Anandamide in raw coconut milk for breakfast. The cacao charges up the system and mind, while the herbs work to bring the bodying a state of balance and sustained energy.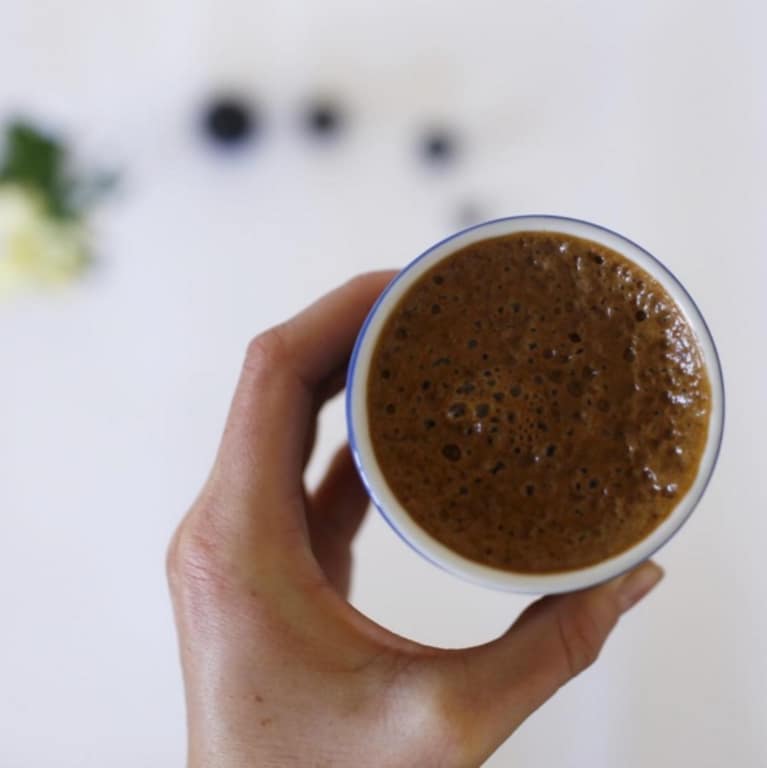 Can you recommend a few herbs for common ailments, and why? Like, what would you take for a headache?
For headache + brain fog: Rhodiola. This wild root promotes oxygenation of the whole body and brain, which helps to move through a headache and establish mental clarity. (Try this once before reaching for coffee!)
For cramps: Ashwagandha. As an adaptogen, Ashwagandha constantly works to restore the body to a place of balance hormonally, and by relaxing and strengthening the muscles which is great for easing menstrual cramps.
For muscle soreness: Eucommia Bark. The cold water extract of the Eucommia bark is a source of bio-available latex and may support the joints, connective tissues, lower body, and whole-body flexibility. Great to take before or after exercise, or when healing an injury.
For fatigue: Reishi Mushroom + He Shou Wu. Reishi may support immunity, adrenal function, and overall stress relief. The He Shou Wu replenishes one's energetic reserve, and works to rejuvenate the body inside and out, starting with the kidneys! Rather than putting a bandaid over the fatigue with stimulants or energy-activating supplements, I try to incorporate foods that encourage deeper rest and eventually, a renewal of healthy energy levels.