I Took Care Of My Skin Like Gwyneth Paltrow For A Week. Here's What Happened
mbg Contributor
By Allie White
mbg Contributor
Allie White is a freelance writer and editor who covers news, lifestyle, health, beauty, and entertainment.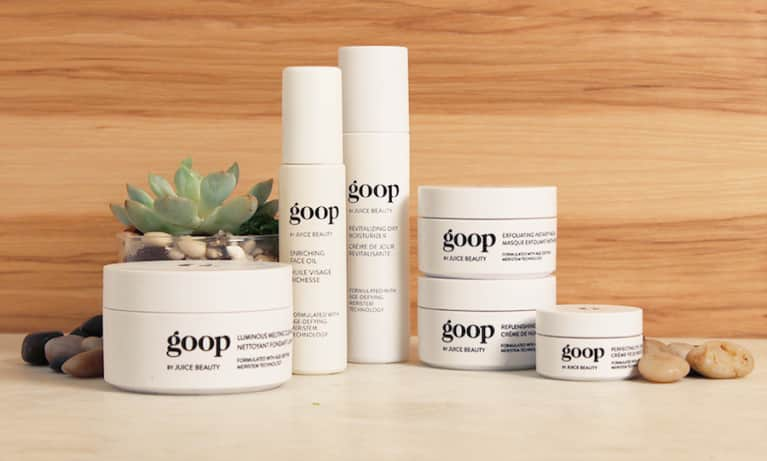 When Gwyneth Paltrow releases a skin care line—and an all-natural one at that—you try it.
In conjunction with Juice Beauty, Paltrow released Goop's inaugural skin care line last week to mixed reactions. Some felt the prices were unrealistic ($90–$140), while others wondered if nontoxic, vegan products were really necessary.
Is it pricey? Sure, but when you compare it to other really fantastic natural products, it's nothing to balk at. Is it luxurious? The cleansing balm comes with its own cloth and small spoon, so yeah. Is it necessary? Yes, nontoxic skin care is crucial to your health, so if you're not going to rely on Gwyneth for it, make sure it's coming from another clean, green, organic brand.
And finally: to Goop or not to Goop? Read on to find out.
Let me start by saying this routine takes some dedication. It's not a wash-and-go kind of operation, but in the words of Teddy Roosevelt, "nothing in the world is worth having or worth doing unless it means effort." And we all know he was talking about skin care.
With Teddy's words in mind, I dove into the routine on a Thursday night, starting with the Luminous Melting Cleanser.
Despite a yearslong, inexplicable dislike of cleansing balms, this one surprised me. Solid in the tub, it melts almost immediately as you rub it between your hands and massage onto your skin. Unlike some cleansing oils that drag the remnants of your makeup around your face until you wipe it all off, this balm seemed to dissolve makeup and grime on contact (it's smooth, not slippery). The cleansing cloth that comes with the balm is a nice addition and does a good job removing the balm/makeup residue when it's time.
After my face was makeup-free, I applied the Exfoliating Instant Facial. I'm a big fan of all things exfoliating, so I was a little disappointed I didn't feel this one more while I was rubbing it around (I know, I know, anything too harsh will ruin your skin, but I'm a glutton for exfoliant punishment). However, upon rinsing, the results were pretty startling. My usually-red post-exfoliant skin was calm and normal but incredibly clean, soft, and—dare I say?—glowing.
I did miss actually washing my face with a non-balm cleanser, but the combination of the Cleanser and Instant Facial seemed to do the trick just as well, if not better, than my standard nighttime charcoal and clay soap.
Because I'm a creature of habit, I used a non-Goop toner and serum before applying the Replenishing Night Cream and Perfecting Eye Cream, both of which felt incredibly luxurious, like I was wrapping my face in cashmere before bed. (Do we think Gwyneth sleeps on cashmere sheets?) I didn't even mind the somewhat "earthy" scent of the Night Cream. (I skipped the Enriching Face Oil to let my skin adapt to the new line slowly.)
Since I usually finish my nighttime routine with a face oil, I was nervous I'd wake up dry, but my face felt decidedly hydrated on the morning of Day 2.
Though the Cleanser can technically be used morning and night, I tend to think of balms like that as a stand-in for oil cleansing/makeup removal, so I only ever use them at night. Also, I don't like using an oil-based cleanser in the morning for fear that it'll make me feel gross throughout the day, so I relied on my standard non-foaming morning cleanser before applying the Revitalizing Day Moisturizer. Blessed with skin that likes to get oily as the day goes on, I worried the moisturizer might be a bit heavy for my 27-year-old skin since it's meant for drier, more mature faces.
But come 3 p.m., my face was no more or less oily than usual, so I'd call that a win. My makeup also went on smoothly and stayed put throughout the day. Even my co-workers remarked that I "definitely had a Gwyneth glow" in a morning meeting (verdict is still out on how genuine this was since they knew I was test-driving the line).
On Sunday afternoon, I read an interview with Queen Gwyn herself in which she stated her favorite product is the Exfoliating Instant Facial. Though I'd been using the stuff every night as a quick, gentle scrub, I still hadn't used it as a leave-on mask. As I was getting ready for bed that night, I applied it as I would a regular mask and let it sit for one minute (less than half the recommended amount of time) before washing it off.
What greeted me was intense. The alpha and beta hydroxy acids had gone to town on my sensitive skin, leaving behind an angry red mask. It looked like I'd been out in the sun all day without any SPF. Fortunately, this has happened to me before with particularly potent acid-based masks, so after a few calming breaths, I very gently applied the Face Oil and Night Cream (both lovely) and crawled into bed hoping my boyfriend wouldn't look at my face too hard.
But even in the darkness of our bedroom, he said, "Your skin looks kind of insane." I told him it was Gwynie's fault, rolled over, and fell asleep hoping my face wouldn't fall off while I dozed.
By the time I woke up, the angry redness had disappeared. My skin felt soft, smooth, plumped, and "revitalized," just like the packaging promised it would. After touching my face in awe for far longer than I care to admit, I experimented with mixing the day cream with some Phyto-Pigments Flawless Serum Foundation from Juice Beauty (a line Gwyneth creative directed). The few times I'd used the foundation, I found it a little caky, but swirling it together with the moisturizer made a big difference.
I finished out the week using the entire line morning and night as directed. I even threw caution to the wind and left the Instant Facial on for one minute again. The results were the same (read: red), but I was prepared this time, and the next morning my skin looked bright and plumped.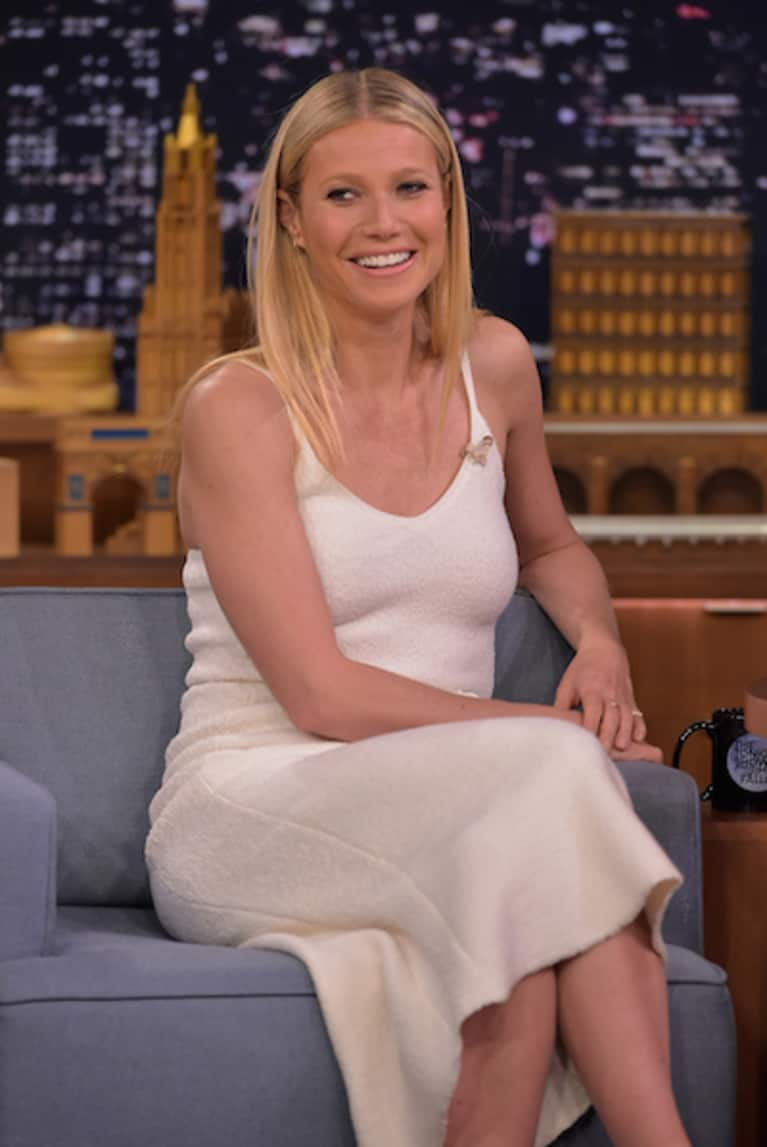 Final Verdict: To Goop (With Caveats)
As a 27-year-old with sensitive, oily skin, some of the "age-defying" ingredients were a little heavy for consistent use. But the cleansing balm was a makeup-removing revelation, and despite the redness it leaves behind, I'll definitely continue using the exfoliator.
Overall, I was pleasantly surprised by the line: not only were the products super-clean (EWG scores below), they were also a pleasure to use. The consistency of each was just right, the scents didn't cloy or linger, and the packaging fulfilled every minimalist dream I've ever had. Yes, it's pricey, but it's full of safe, effective, natural ingredients that truly do what they're supposed to.
Side note: I'm thrilled to report that after a week of using Gwyneth's line of skin care, I've grown five inches, am now a blonde, and an Oscar appeared on my dresser overnight. That's truly transformative skincare. (wink wink)
EWG scores: