14 Things You Need To Know Today (March 5)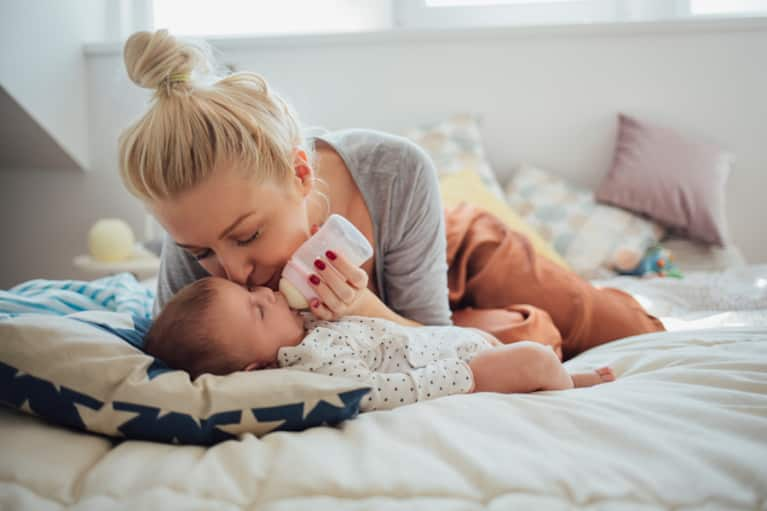 1. Just because you don't breastfeed doesn't mean you're a bad parent.
Even doctors think a mom's health and happiness shouldn't play second fiddle to her baby's, even if it means not breastfeeding. (Washington Post)
2. Jillian Michaels wants to help moms-to-be and their babies get healthy.
And she'll do so via her upcoming book, Yeah Baby! The Modern Mama's Breakthrough Guide to Mastering Pregnancy, Having a Healthy Baby, and Bouncing Back Better Than Ever. (PEOPLE)
3. Apparently, "obese" plants are a thing.
Ironically, as we struggle with an obesity epidemic, plant breeders are trying to make crops eat more. (CNN)
4. Getting a virus can actually be beneficial.
Scientists have found that some fragments of viruses have become part of human biology and perform tasks that benefit us. (NY Times)
5. For women of color, finding the right makeup shade just got a lot easier.
After spending tons of money on cosmetics that didn't work for her skin, Ofunne Amaka launched Cocoa Swatches, an app that "provides access to the latest makeup swatches on various skin tones, beauty inspiration and informative tutorials" with a focus on complexions that are "underrepresented in the beauty industry." (Mic)
6. Science is on to you, selfish people.
It's often difficult to understand why people behave the way they do (hidden motives!). But a recent study regarding the interplay between different brain regions reveals that empathetic motives increase altruistic behavior in selfish people. (The Atlantic)
7. Is alcoholic seltzer the cure for hangovers?
Probably not, but it's still fun! Two companies — SpikedSeltzer and Wachusett Brewing — are launching spiked seltzer with "cold-pressed citrus essence." The beverage is also all-natural and gluten-free. (Grub Street)
8. A new report confirms the harmful effects of factory farming on the environment.
It found that Tyson Foods alone is responsible for dumping 104 million pounds of pollutants into America's waterways over four years. (Grub Street)
9. Finally, a plant that's actually impossible to kill.
This new self-watering potted tomato plant is a gardening novice's dream. (Fast CoExist)
10. If you've ever dreamed of the perfect birth playlist, it's your lucky day.
Spotify teamed up with Jacques Moritz, M.D., an ob/gyn at Weill Cornell Medical Center, to craft the perfect "push playlist." (Refinery29)
11. Lady Gaga continues to show her support for sexual-assault victims.
After her powerful Oscars performance Sunday, she's taken her Instagram account to anti-sexual-assault PSAs. One example is a photo of a recording studio with a text overlay that reads "This is not a bedroom. This is my office." (Instagram)
12. Lead poisoning is even worse in Cleveland than in Flint, Mich.
The peak percentage of children in Flint, Mich., with an elevated level of lead in their blood was 7 percent, while in Cleveland it was 14.2 — but no one knows about that. (NY Times)
13. Scientists found cancer's "Achilles heel" — and your body could be trained to attack it.
Scientists at University College London have found that as tumors develop, they carry "flags" on their cell surface that can be recognized by specialized cells in the immune system. They hope that future cancer treatments could tell your immune system to target these universal markers. (Cancer Research UK)
14. There's a link between mindfulness and glucose levels.
Researchers at the Brown University School of Public Health have found a correlation between mindfulness and plasma glucose levels. The data is limited, but this is the strongest data we have to show that people who are more mindful tend to be less obese and have lower glucose levels. (The Brown Daily Herald)