5 Questions You Should Ask Yourself Before You Have Kids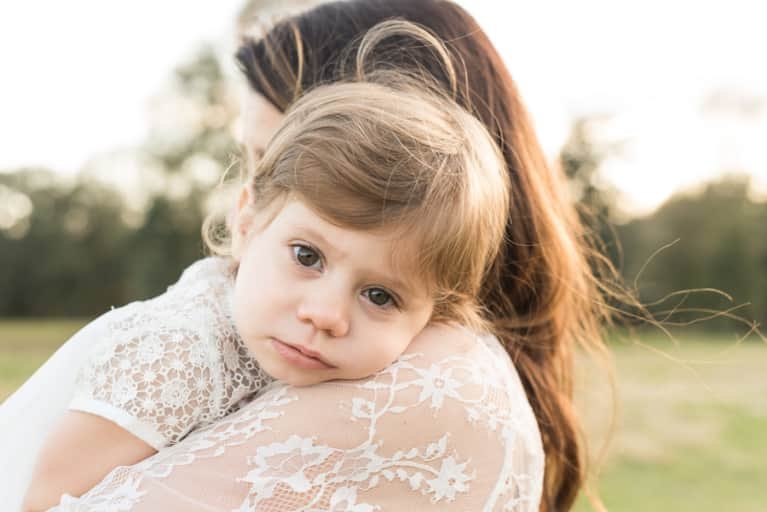 It doesn't matter if you've been dating for one year or married for 10 years; If you're in a serious relationship you're bound to get the, "So when are you having children?" question every once in a while.
I would know. I get it all the time.
I've been married for six years, which may not be that long in the scheme of a lifetime together, but apparently it's enough time to put my husband and me decades behind in the world of starting a family. People automatically assume that we don't want kids, or we're miserable in our marriage. In reality, neither of these assumptions is true.
Family is incredibly important to both of us, but a happy marriage is our number one priority. We make decisions together as a team that best fit both of our timelines. Over the last six years, we have shared unforgettable memories, unforeseen obstacles, and extreme heartache together—moments we feel will make us a couple that's proud to be an example for our children.
If I've learned anything over the years, it's that people love to think they know how you can live your life better. And their judgment and criticism can hold you back from living in a way that makes you truly happy.
So before you dive into having kids for other people, answer these five questions for yourself:
1. Are you ready? (Or does everyone else think you're ready?)
True happiness comes from making decisions in your own time and being confident in who you are and what you want. But it's easy for the line between making a choice for you and making it for someone else to get blurred. Starting a family is one of the most life-changing decisions you'll ever make, and it deserves to be taken very seriously.
Ask yourself whether you're making this decision because of a timeline that society has created for you, or if you genuinely feel ready because you and your significant other have worked really hard to prepare yourselves—individually and as partners—to be everything your child will need. Your kids will ultimately benefit from this way of thinking as well.
2. What are you giving up?
Everyone knows that huge lifestyle changes come with having kids. It's not selfish to take the time to do the things you really want to do before you have children—whether it's traveling to the places on your wish list, going back to school to get your degree, working longer hours to get that promotion, or just enjoying being young. Your needs and desires are so important to your happiness.
True happiness comes from making decisions in your own time.
3. Are you hoping that your children will "fix" your relationship?
Too often we let a fear of confrontation allow us to brush issues under the rug and turn to the next quick fix instead. I've met a lot of women who decided to have kids because they hoped a child would bring them closer to their partner. Raising a child comes with enough stress on its own, and adding this sort of pressure to the mix is never a good idea.
Take the time to work through the things that are pushing the two of you apart before you start a family. This will bring you closer together and make you a stronger team for your kids in the long run.
4. Do you and your partner have a strong foundation?
You can pour every ounce of your heart and soul into your children, but if they grow up in a household where the parents struggle to communicate and express intimacy, they will likely battle those issues as well.
Children require an immense amount of time and energy—as they should—and this is time and energy that may have otherwise been dedicated to your relationship. Therefore, you and your partner should enter parenthood with a strong foundation.
5. What do you want out of your future?
Your family is going to be the most important thing in your life, but it's important to have other hopes and dreams as well. Those do not have to be sacrificed for children. The more time you take to invest in yourself, your relationship, and your future before you have children, the more successful you will be at managing all of them without going crazy.
After all, if you want to raise independent children, you need to remember that the lessons they take into adulthood do not come from what you told them but what you showed them.
Related reads: