An Olympic Gold Medalist Shares Her Healthiest Habits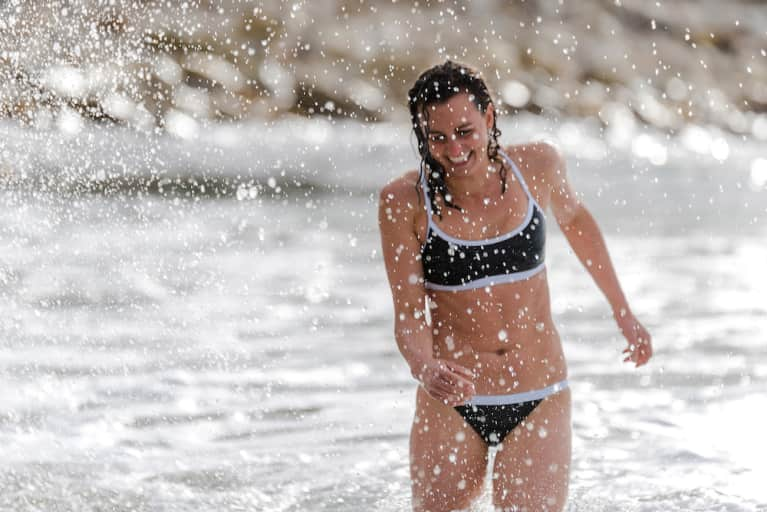 Rebecca Soni is an Olympic swimmer (2008, 2012) who has three gold medals and three silver ones, too. Though she might be a retired swimmer, fitness is still a huge part of her life — she's even launched a mentoring program for athletes called RISE Elite. Here, she shares a few of her tricks for keeping fitness fun.
1. Keep your diet simple and load up on fruits and veggies.
I love to experiment in the kitchen and at the same time keep it really really simple. Living a plant-based lifestyle helps me prep for an active life. I'm a lot more laid back now than when I was competing. I know more and understand nutrition better, which allows me to let go of the constant analysis and just enjoy what I eat and how it makes me feel.
I'll up the nuts and more dense foods pre- or post-workout. I've learned to listen to what my body is actually asking for, in real time, instead of trying to guess.
2. Switch up your workouts regularly.
My workout routine constantly changes! If the weather is nice, it's a beach run day. I also incorporate lots of ocean swimming, and the occasional and brief pool session, for the feel and flow of being in water. Yoga is a part of my foundation, so I try to fit it in daily.
A strong mind-body connection makes all the difference for an athlete. It's being able to HEAR. It's taking a few seconds to slow down and listen to your body. And it's trusting what you hear over the latest fad or what anyone else is saying.
4. Look at your workouts as valuable "me time."
Now that training is no longer a full-time job for me, my motivation comes from a different capacity. I consider everyday movement an opportunity to spend some quality alone time, a chance to build on the understanding of my self and of my surroundings. The motivation is not to get out of bed and go sweat to look good and feel good (though that's a welcome side effect) but instead a commitment I've made to myself that this "me time" is the glue that holds everything together. Without the glue, things start to fall apart. Without my workouts, I am just not the same.
My workouts have changed and taken on a much more integrative feeling that sometimes culminates in my daily "workout" being a long walk with my dogs. But hey, who says you have to be "the best" all the time, anyway?
5. A regular morning routine is important.
Before things get crazy, I meditate. Then I'll either head to the gym for my daily physical therapy and strength building or maybe a spin class. Once I'm home I'll make something yummy to sip on (maca or yerba latte, or just a blend of all sorts of teas and spices). To wrap up the morning routine, I spend about 10 minutes writing to kick my day off in the right direction before jumping into some work or calls with my athletes.
Related reads: