8 Inventive Ways To Get More Superfoods Into Your Diet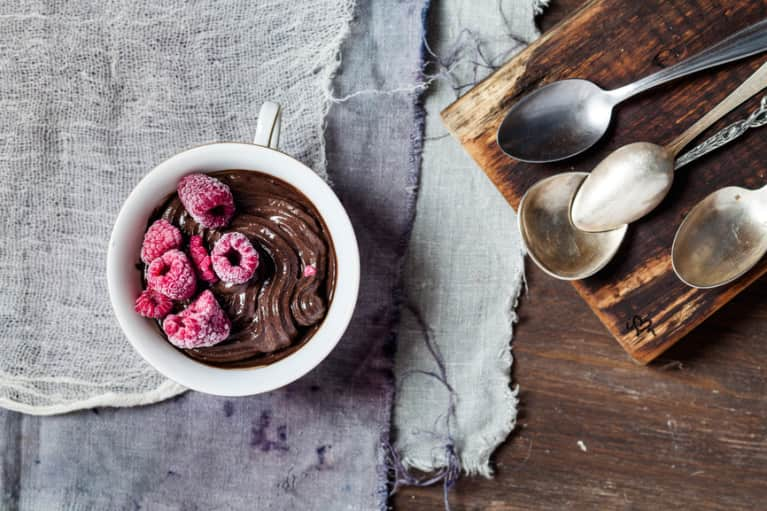 Once you become an adult, playing with your food is frowned upon.
Mom was likely talking about the play that involved pushing food around on your plate in an effort to avoid eating it. But let's talk about how to play with your food in a way that will get you to eat more of the right types of foods to support your health and vitality.
Here are a few ideas that use these foods in fun new ways—not only are they delicious, but they're also kid approved!
These omega-3, fiber, and protein-rich seeds are a great addition to your everyday diet. It's trendy to make chia seed pudding or chia drinks, but these lovely seeds can also elevate the everyday pancake to a superfood.
Try these Blueberry Oat Chia Seed Pancakes.
In addition to using avocados as a nutrient-rich moisturizer, you can also use them to turn a rich chocolate truffle or pudding into a dessert that's high in fiber, a variety of vitamins and minerals, and super healthy fats.
Try this Chocolate Avocado Mousse.
For many health-conscious folks, the old-time comfort dish mac and cheese has been taken off the table.
But adding some pureed white beans to the sauce adds just the right health twist to turn this comfort food into a dietitian-approved family meal.
Questioning how this might be received on your table? Give it a try; I think you'll be pleasantly surprised.
Chickpeas are also an awesome source of protein and fiber to add to a cookies, muffins, and pancakes to boost the nutrient density of these otherwise indulgent treats.
This earthy spice has been getting a lot of attention for its powerful anti-inflammatory properties, and it's been cited for its role as a cancer-fighting agent.
Adding turmeric to your everyday diet can take some creativity. Turmeric is an easy addition to eggs, rice, or any type of curry. The power play here comes from adding turmeric to your smoothie. This spice pairs well with berries, beets, and bananas.
Give this healing smoothie a try.
Like chia seeds, these tiny morsels are becoming a common kitchen staple. I love adding them to yogurt or a smoothie.
Try playing with flaxseeds as an egg substitute to bring it to the plate in a new way: 1 tablespoon ground flaxseed + 3 tablespoons of water = 1 "egg."
Let the mixture sit for a few minutes before incorporating it into your sweet or savory dish, such as these vegan cookies.
Tart cherries are a great post-workout food because they help reduce pain and inflammation because of their high levels of anthocyanin, a class of flavonoid that naturally fights inflammation.
If you enjoy a cocktail at the end of the workweek, tart cherry juice is just the right superfood mixer. Sub out sugar-filled cranberry juice for 4 ounces of tart cherry juice. If cocktails aren't your thing, tart cherry juice limeade is a refreshing change of pace from traditional pink lemonade.
In spite of the word sweet in the name, most of us are used to eating sweet potatoes in a savory application such as sweet potato fries or as part of Thanksgiving dinner.
These nutritional powerhouses also play nicely in baked items like bars, scones, and muffins. Sweet potatoes are loaded with beta-carotene, a powerful antioxidant, making them totally acceptable as a breakfast or snack option.
Try making these sweet potato brownies or one of these great recipes.
Nutritional yeast is a B-vitamin-rich condiment that's a frequent favorite of health-minded popcorn eaters. The zesty, salty nature of nutritional yeast makes it a great swap for Parmesan cheese in any risotto recipe and you still get to enjoy a creamy, rich, and nourishing dish at substantially higher nutritional value.
Combining healthful foods with treats makes it easy to get more of these foods. When you bump up the health value of your favorite foods, you can have your cake and eat it, too.