Being Impulsive Could Be Really Good For Your Relationship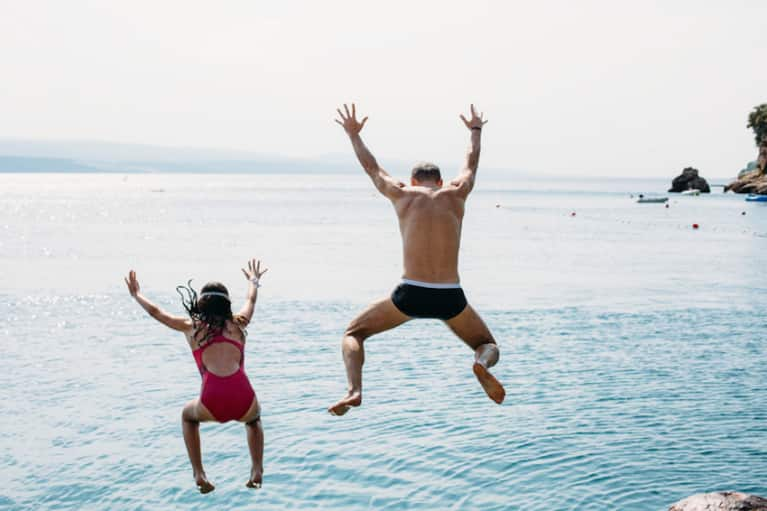 Last week, we learned that boredom might actually be good for your relationship because it could inspire a necessary change. But what should that change be?
Well, according to new research from the University of Buffalo in the Journal Of Research In Personality, it might be impulsivity.
What does this mean in terms of a relationship? Instead of just going to your typical date night spot, pick something spur-of-the-moment instead—perhaps a Star Wars-themed workout class with lightsabers?
The research also found that while spontaneity can be beneficial for a relationship, it's only a positive thing if both partners are into it. If you suggest the aforementioned lightsaber class at the last minute and your significant other insists on combing through workout reviews before committing to a class in a week, that's not a good sign.
In fact, the more you differ in terms of impulsivity, the lower your relationship satisfaction may be. But, if you and your partner are both down to dive in without testing the water, it's likely you're happier in your union.
To come to this conclusion, researchers collected a series of behavioral and self-reported measures of impulsivity from a bunch of couples. According to New York Magazine, they investigated three hypotheses:
If only one partner is impulsive, they're more likely to fight.
If a couple's impulsivity is the same, it would strengthen their relationship.
The more a couple's impulsivity differed, the worse it made a relationship.
You'd assume that two people would be crazily-volatile together if they both had the tendency to make rash decisions. Fights would be completely unproductive barrages of unfiltered insults. But, surprisingly, this study's results beg to differ.
Instead, they found that because both partners have a similar act-now-think-later attitude, they're more likely to adopt the same values, strive for similar goals, and appreciate the same things than a couple whose spontaneity differs.
Of course, that doesn't mean you necessarily need to dump the dude you're with because, like Aziz Ansari, he refuses to go to a taco truck unless he's certain it is the best in the city. But it does help to explain why he gets so pissed off when you say, "This place'll do just fine!"