I'm A Doctor & Mom Of Two. Here's My Secret To A Healthy, Balanced Life
Gastroenterologist
By Roshini Raj, M.D.
Gastroenterologist
Dr. Roshini Raj is a board certified gastroenterologist, national media personality, and co-founder of Tula healthy-living brand and skincare line. She received her medical degree from New York University, where she also completed her residency in Internal Medicine and a fellowship in Gastroenterology.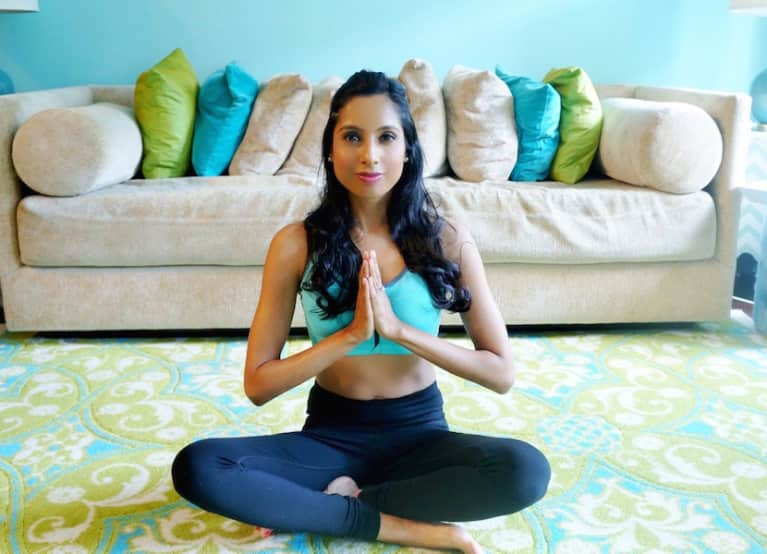 Balance is something we all strive to achieve to live a happy and healthy life. I'm a practicing gastroenterologist, TV medical correspondent and media personality, associate professor at NYU School of Medicine, brand adviser, co-founder of a beauty line, wife, and mother of two children under the age of 9 — so I definitely realize it's often easier to speak about creating a balanced routine than to find it. And even more so, to stay on top of it.
But the secret I've found is that balance in one aspect of life can lead to mindful stability across all others. And the best place to start is with your physical health.
You're probably familiar with the undeniably strong connection between the brain and the body. Now, accumulating studies are finding more evidence of how the physiological processes of your body affects the psychological state of your mind. That means that if you're treating your body with the respect it needs, your mood and your ability to find balance in your work and relationships will also improve.
Of course, the key to finding this stability is different for everyone. But here are five tips I've personally found useful in finding and maintaining a balanced, healthy life:
1. Eat right with the 80/20 rule.
What you put in your body reflects who you are on the outside. And eating healthy will keep both your body and mind functioning well throughout a busy day.
This means starting with gut health, especially through fiber. A diet rich in insoluble fiber not only prevents constipation, but it also allows your body to retain the important bacteria that keeps your gut, and you, happy. I recommend consuming 25 grams of fiber per day. Stock up on fruits and veggies that are brightly colored and nutrient-packed.
It's also about creating realistic habits. For me, I've found balance by following the 80/20 rule: I eat healthy 80 percent of the time and use 20 percent of my daily calories to indulge in my favorite snacks, like popcorn.
2. Find a workout that fits into your current lifestyle.
For me, staying active is one of the best ways to keep my mind and body in balance while juggling my various roles. To avoid added stress, I identified a workout routine that fit into the lifestyle I already had. Now, I walk briskly to and from my office every day, which means that even if I can't get to the gym, I know I've had 30 minutes of cardio already.
I also do crunches and other ab exercises at home on the living room floor while my kids eat dinner. This way I can chat with them about their day while getting a workout in.
Overall, it's important not to pick someone else's life and try to emulate it. Remember, you are in control. What you eat and how frequently you exercise are your healthy habits, and you know what works best with your lifestyle.
3. Always have a game plan for busy days.
The stress of a last-minute decision can easily cloud judgment. For many of us, it's what leads to making the wrong choice for our health and wellness. But having your balance thrown off by making last-minute decisions can be easily avoided if you create a plan ahead of time.
A great example of the effects of poor planning is with your diet. Sometimes I'm rushed, running straight from a TV appearance directly to see patients. In these cases I always pack raisins, walnuts, or almonds for a snack, so I don't end up grabbing a soft pretzel or bag of chips. I've also found apps like Lose It! with meal-planning functions to be extremely helpful. You don't have to think about healthy food choices when they've already been made.
4. Remember that it's OK to be selfish.
Too often, we lose sight of our own goals when we try to please others. It takes strength and courage to be selfish sometimes and put yourself first.
Prioritize your goals and your well-being. If someone asks you to join them at an event and that means you have to sacrifice your special gym or meditation time, don't be afraid to say "no." I say "no" a lot, and for me it means that I'm being true to my needs.
5. Give yourself a break.
Pressure is antagonistic to a balanced lifestyle, so don't let it derail you. We all slip up and a poor decision should not be a catalyst for self-hate or loss of motivation. Every journey has its ups and downs, and overcoming challenges in one aspect of life is what makes us better equipped to tackle them in another.
That being said, there are ways to arm yourself for facing those challenges. Eating right, getting enough sleep, and exercising will all help you feel your best. That's why starting with your health is a great foundation for achieving overall balance.
Related reads: